Lady Macbeth of Mtsensk, English National Opera |

reviews, news & interviews
Lady Macbeth of Mtsensk, English National Opera
Lady Macbeth of Mtsensk, English National Opera
Searing music drama from soprano, director and conductor for ENO's new era
Sunday, 27 September 2015
Passion and abasement: Katerina (Patricia Racette) tries to communicate with lover Sergei (John Daszak)
"The music quacks, hoots, pants and gasps": whichever of his Pravda scribes Stalin commandeered to demolish Shostakovich's "tragedy-satire" in January 1936, two years into its wildly successful stage history, didn't mean that as a compliment, but it defines one extreme of the ENO Orchestra's stupendous playing under its new Music Director Mark Wigglesworth. On the other hand there are also heartbreaking tenderness, terrifying whispers and aching sensuousness.
A fuller picture of Shostakovich's murdering heroine as 20
th
- or even 21
st
- century Russian woman couldn't be imagined; soprano Patricia Racette and director/designer Dmitri Tcherniakov help to focus the mind no less unsparingly on what she represents.
Lady Macbeth of Mtsensk was a masterly choice to usher in the new era of a company which conductor Edward Gardner has left in peerless artistic shape (he returns to conduct Tristan and Isolde next summer). Wigglesworth made a stunning impact in a 2001 ENO revival of David Pountney's flagship production with its red policemen and frantic activity. Tcherniakov's, first seen in Dusseldorf seven years ago but apparently rethought "as new", couldn't be more different: where Pountney's vision was often caricatural and busy to the point of overload, this Lady Macbeth is outwardly poised, though not static, and stylized when violence erupts, ruthlessly symmetrical in a way that only our own Richard Jones can achieve, and unpredictable so that the last act comes as a real shock (probably it's as well that no production images were available of this scene).
Tcherniakov's Katerina Izmailova, the merchant's wife who murders for passion but also reacts to oppression and brutality, is no feminist icon. The way she's made to kneel at her husband's feet in a replay of the scene in Ostrovsky's The Storm - set to music by Janáček as Katya Kabanova, a very different role Racette has already played at ENO to perfection – gets mirrored for real in her abasement before the dominant presence of John Daszak's compelling worker Sergei: the Magdalen who washes her wounded lover after his flogging to the music of Shostakovich's shattering Passacaglia – never more intense than here, a great fusion between sound and vision – becomes a slave to love, a mare mounted by her stallion (as one of the libretto's many animal images puts it).
Racette (pictured above right) is compelling from the start, motionless in a box room of orange oriental carpets while factory life goes on around her, crumpling and seething in passion – but still with very measured physical movements – and ending up rocking in a filthy prison cell, the very image of extreme torment (the steppes on the way to Siberia are suggested only by an encompassing black through which Matthew Best's Old Convict and the chorus project). The bright voice can spread under pressure, but whose wouldn't in Shostakovich's insanely taxing and harsh vocal writing? I also wonder, incidentally, if the original Russian text fits as awkwardly as David Pountney's English version, created from a rough translation; maybe it was time for a new one.
This Katerina keeps her dignity and delivers her proto-feminist manifesto to the depraved workers with superb aplomb; the passion, which comes quickly when it comes, is charted through careful illustration of Shostakovich's magnificently various interludes. The denouement is as haunting to perfection as was that of Katarina Dalayman's Katerina in Richard Jones's equally unconventional Royal Opera production (pictured below: Racette and Daszak in the final scene). There's a shocking attempted suicide, and a double murder which is very far from what Shostakovich imagined, but of unparalleled bleakness and horror.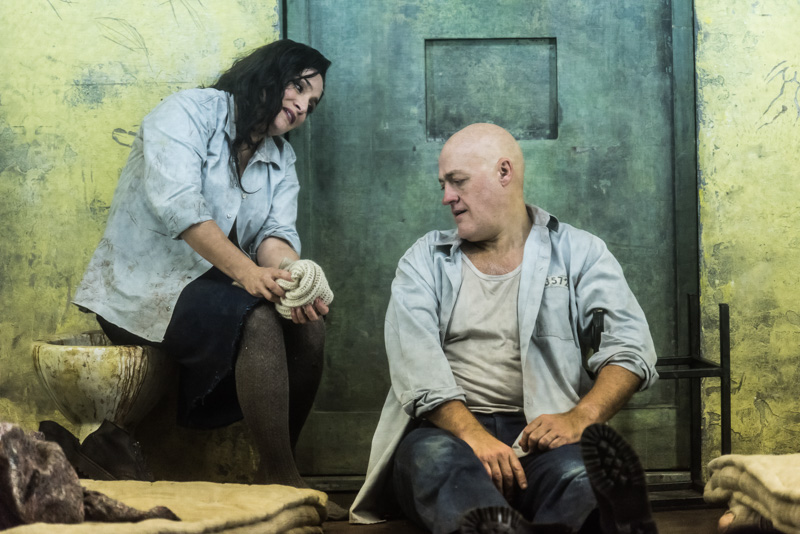 The men, of course, are all shits. While we want more of the splendid Peter Hoare's caricatural husband - Shostakovich gives him little music to sing - Robert Hayward needs a bit more bass heart-of-darkness as disgusting father-in law Boris Izmailov. Daszak's clarion Sergey makes us hate him at the end even more than usual, though the disgust is motivated by the fact that when the Chief of Police (a true bass, Per Bach Nissen) comes to arrest the murderers at their wedding, his preparation to offer a massive bribe is forestalled by Katerina's confession. There are spot-on characterisations of debased women by Rosie Aldridge (pictured below on the left with Racette and Hoare) as a worker who's come to expect her abuse and Clare Presland, with tones reminiscent of Sally Burgess who also, if memory serves, played the role of the convict Sonyetka. The chorus is, as throughout last season, tirelessly impressive.
There's nothing in Tcherniakov's distressing drama or Gleb Filshtinsky's choreographic lighting which doesn't match Wigglesworth's vision. And a conductor could go no further in eliciting from his players six pianos or five fortes, a noise so loud it set me on the brink of tears with sheer terror. Solos, from first violin down to contrabassoon, manage to sound unlike the instruments in question, which is a compliment. The extra brass in the boxes, one slight out-of-synch on the first night apart, are resplendently awful.
In his quest for extreme symphonic illumination and depth, Wigglesworth may set himself and the singers challenges of co-ordination – a lighter-sprung style would be easier for those on stage to follow – but correspondences between stage and pit should sharpen up as the run progresses. Compassion is almost drowned out by disgust – there must have been a serious sado-masochistic streak in Shostakovich – yet ultimately triumphs. It's not a comfortable evening at any point, but this is exactly what great music-theatre should be doing.
From tomorrow (28 September), David Nice devotes five two-hour sessions of his Opera in Depth classes at the Frontline Club to Lady Macbeth of Mtsensk. Mark Wigglesworth visits to discuss both this and The Force of Destiny on 2 November. Further details on David's blog
Tcherniakov's Katerina Izmailova, the merchant's wife who murders for passion but also reacts to oppression and brutality, is no feminist icon
rating
Share this article