La Sonnambula, Royal Opera |

reviews, news & interviews
La Sonnambula, Royal Opera
La Sonnambula, Royal Opera
Vocal pyrotechnics from the girls - Gutierrez, Xanthoudakis and Sikora - rescue a dull time up the slopes with Bellini
Thursday, 03 November 2011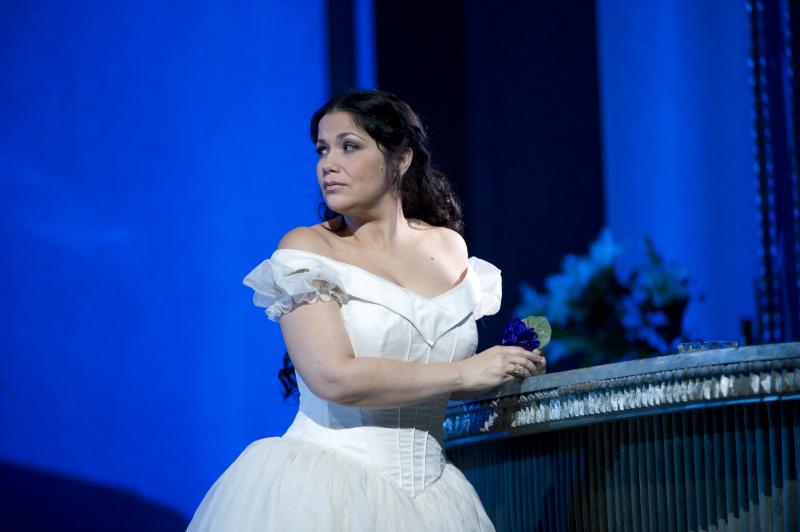 The vocally ravishing Eglise Gutierrez as bride-to-be Amina
Imagine what John Cleese might have done with the tale of a slutty sleepwalker who finds herself staying at a packed provincial guest house? Bellini doesn't even touch on farce, let alone psychological investigation. He instead follows the archetypal bel canto formula: dramatic thinness and vocal display.
That
La sonnambula
doesn't even for one second pretend that it is anything other than a vehicle for showy pyrotechnics (something that was underlined in last night's overly literal Royal Opera House revival) means that one sits through the dramatic torpor with remarkable good humour.
Theatrical boredom was also alleviated by a rather lovely (if a little inflexible) set from director-designer Marco Arturo Marelli. The 1970s Alpine retreat was a pleasing symphony of cold greys, whites and blues, blushing in each act as the sun set and the moon rose. No attempt was made to exploit the numerous opportunities for cleverness. Little attempt was even made to make sense of the theatrical basics. But off-piste activity was to be had. From the voices.
A revelation came in the wise and powerful interventions from Amina's mother, Elizabeth Sikora's Teresa
No sooner had the curtain lifted than Lisa (Elena Xanthoudakis), in a fit of wedding envy, was reaching up into the stratospheric heights in self-pitying Bridget Jones moaning. Amina (Eglise Gutierrez), her maid, is about to marry. And in the numerous ecstatic, pitch-perfect hops, skips and jumps of her ravishing coloratura, Gutierrez made sure we knew it.
The challenges for Amina keep coming as she sleepwalks into a compromising embrace with a fellow hotel guest, Count Rodolfo (a solid if spunkless Michele Pertrusi), and sends her Elvino (Celso Albelo) into a spin. Gutierrez delivered all her vocal fireworks in an exquisitely sleepy state, engaging in some extremely fine legato bel canto. Her dreamy voice, coloured by the small warming palpitations of her vibrato, aided this fluidity. Most astonishing, however, was how she was able to deliver all the highest roulades and trills (on Cs, Ds and E flats) sotto voce or fortissimo. Most singers can only do one or the other.
Next to this Albelo's stiff, strained, warthoggy contributions as Elvino were about as welcome as a police siren. Xanthoudakis continued to offer a first-class vocal slalom throughout. A revelation came in the wise and powerful interventions from Amina's mother, Elizabeth Sikora's Teresa. Listening to her flawless vocal technique, watching her considered and confidant stage presence, glorying in her lusty voice - suggesting a woman half her age - I was left wondering why I've only just heard of this extraordinary lady.
The chorus's dumb intrusions (never a strong point for the bel canto brigade) are kept to a minimum, though last night - which saw the choir on unusually poor form - it was not nearly minimal enough for me. Conductor Daniel Oren did what he had to do, but no more. There were some lovely small solo contributions from the flutes and horns. But without the contributions from the female vocalists I might have somnambulated out the door.
La sonnambula continues at the Royal Opera House until 18 November
Next to Gutierrez, Celso Albelo's stiff, strained, warthoggy contributions as Elvino were about as welcome as a police siren
Explore topics
Share this article