La finta semplice, Classical Opera, QEH review - consummate musicianship stokes early Mozart |

reviews, news & interviews
La finta semplice, Classical Opera, QEH review - consummate musicianship stokes early Mozart
La finta semplice, Classical Opera, QEH review - consummate musicianship stokes early Mozart
At 12, he was a very clever boy rather than a genius, but style carries this comic opera
The company: Božidar Smiljanić (Simone), Sophie Rennert (Giacinta), Thomas Elwin (Fracasso), Regula Mühlemann (Rosina), Lukas Jakobski (Cassandro), Chiara Skerath (Ninetta), Alessandro Fisher (Polidoro)
You can always be sure of impeccable casting and spirited playing as Ian Page takes his Classical Opera through Mozart year by year. Just don't expect more than the glimmer of genius to come in 1768, though.
It doesn't matter in those admirable showcase programmes highlighting the young Amadeus alongside more mature voices of the year in question. A three-act opera is rather more a vexation to the spirit, though. If the composer had no more than a few flashes of genius in his pre- and early teens, the libretto for
La finta semplice
could have been written by an average 10 year old (horrifyingly, it turns out to be supposed master of comedy Goldoni not too heavily adapted by one Coltellini).
Was a fine team enough to carry it? Eventually, though you wait through a long first act for more than the very basic mechanics of opera buffa. The overture has a lively third section (the three movements made up an early symphony). It's good to get a quartet serving as a cheap chorus to steel us for the perfunctory arias to come, though in the first of many contradictory sentiments, the tenet "freedom is better than love" doesn't seem suitable for this amorous imbroglio. Giacinta (lustrous Austrian mezzo Sophie Rennert, perhaps the most vivid actor of the company) wants to marry a Hungarian captain oddly called Fracasso (Thomas Elwin, perhaps the least relaxed in Page's perfectly competent staging) but she needs to get her mysogynist and idiot brothers to accept him. How? Set Fracasso's sister Rosina on them as the "feigned simpleton" of the title who will promise to marry them both.
The ensuing shenanigans could be sharp and funny. They aren't, but one of the two dupes and their guller have some good music. Rosina seeks to be guarded against the arrows of little cupids in an Act 2 aria, "Amoretti che ascosi," complete with surprisingly sophisticated sighs and trills from the strings. Soprano Regula Mühlemann (pictured above on the right with Chiara Skerath and Alessandro Fisher) sings it, and all else, exquisitely. And the fall guy Don Polidoro gets a schizoid number pointing forward to the two-gear "Tradito, schernito" of Ferrando in Così fan tutte. In it, he's ardent and tender to the woman he supposedly doesn't know how to woo ("Sposa cara") while railing against his drunken brother. Given tenor Alessandro Fisher's honeyed tones, Rosina might have done better to choose him; why she falls for Don Cassandro is a mystery, especially since Lukas Jakobski overplays his hand, if resplendently.
There are pretty ditties for maid Ninetta, delivered by Chiara Skerath with style and bags of character, and bluff ones for her reluctant wooer Simone (engaging bass superb Božidar Smiljanić). Giacinta, clearly the terza donna or third lady in Mozart's pecking-order, gets a belated, brief but precociously intense Sturm und Drang number as she quails at the thought of one brother's wrath, and a G major plea for forgiveness in a finale of many tempi, backed up by Ninetta, which may have rung anticipatory bells for many listeners familiar with the Count's similar asking towards the end of The Marriage of Figaro.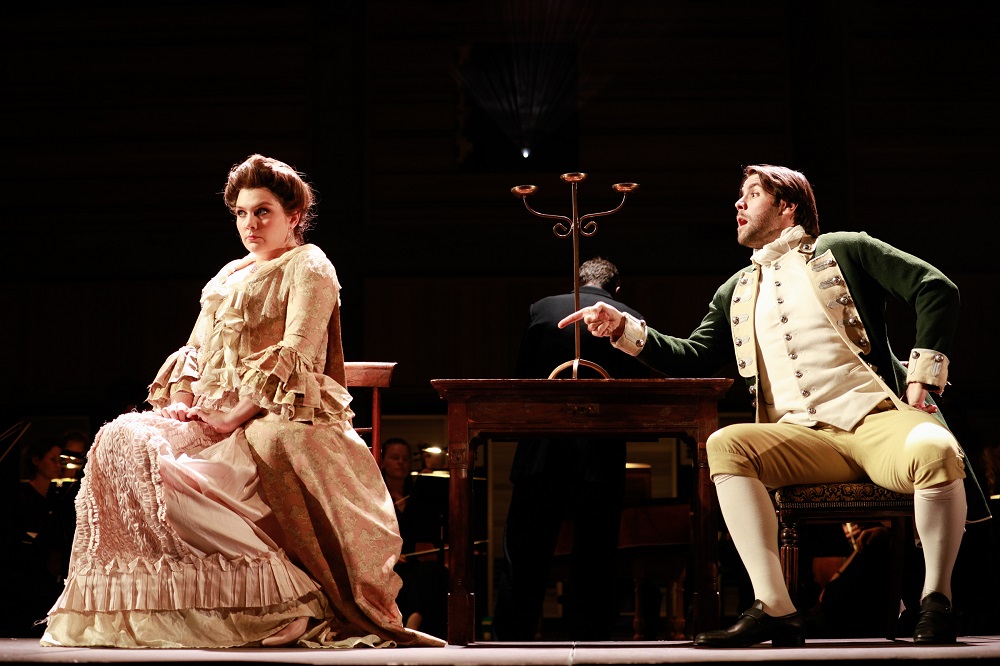 Rennert (pictured above with Smiljanić) delivered both impeccably; we wait to see her here in something more substantial (she gave the most moving account I've heard of Dido's lament in the 2014 Europe Day Concert, and was superb as Handel's Lotario at the 2017 Göttingen International Handel Festival). And the whole evening passed tolerably at worst, vividly at best, with fabulous continuo support for the keenly articulated recitatives from Pawel Siwczak, Alex Rolton and the vivid double bass of Cecelia Bruggemeyer. The acoustics of the revamped Queen Elizabeth Hall can be a bit too swimmy for this music, and Page posed a few problems by having the singers so far in front of the orchestra, but he was quick to catch them when togetherness threatened to falter. When the recording eventually emerges, it will be the one to have if you want this in your Mozart discography.
A plea for forgiveness may have rung anticipatory bells for those familiar with the Count's similar asking in 'The Marriage of Figaro'
rating
Explore topics
Share this article