Kiss Me, Kate, Opera North |

reviews, news & interviews
Kiss Me, Kate, Opera North
Kiss Me, Kate, Opera North
Brushed up Shakespeare in a sizzling new production
Quirijn de Lang and Jeni Bern sparring in Kiss Me, Kate
Opera North have an excellent track record when it comes to staging musicals, and Jo Davies's Kiss Me, Kate is among the best things they've done. Cole Porter's score and lyrics are flawless, though the book (by husband and wife team Bella and Samuel Spewick) is a little clunky. Act 1 is overlong, and the show's close is a tad perfunctory. But what an erudite, wise piece.
Many successful new musicals are little more than jukebox compilations, whereas
Kiss Me, Kate
is a sophisticated, multi-layered drama, and one which expects its audience to have a working knowledge of Shakespeare. The smartest number in the whole show is delivered by a pair of hired thugs. How can anyone resist a musical whose lyrics rhyme 'puberty' with 'Schuberty', and which contains couplets like "Unless you know Shelley and Keats and Pope/Dainty Debbies will call you a dope"?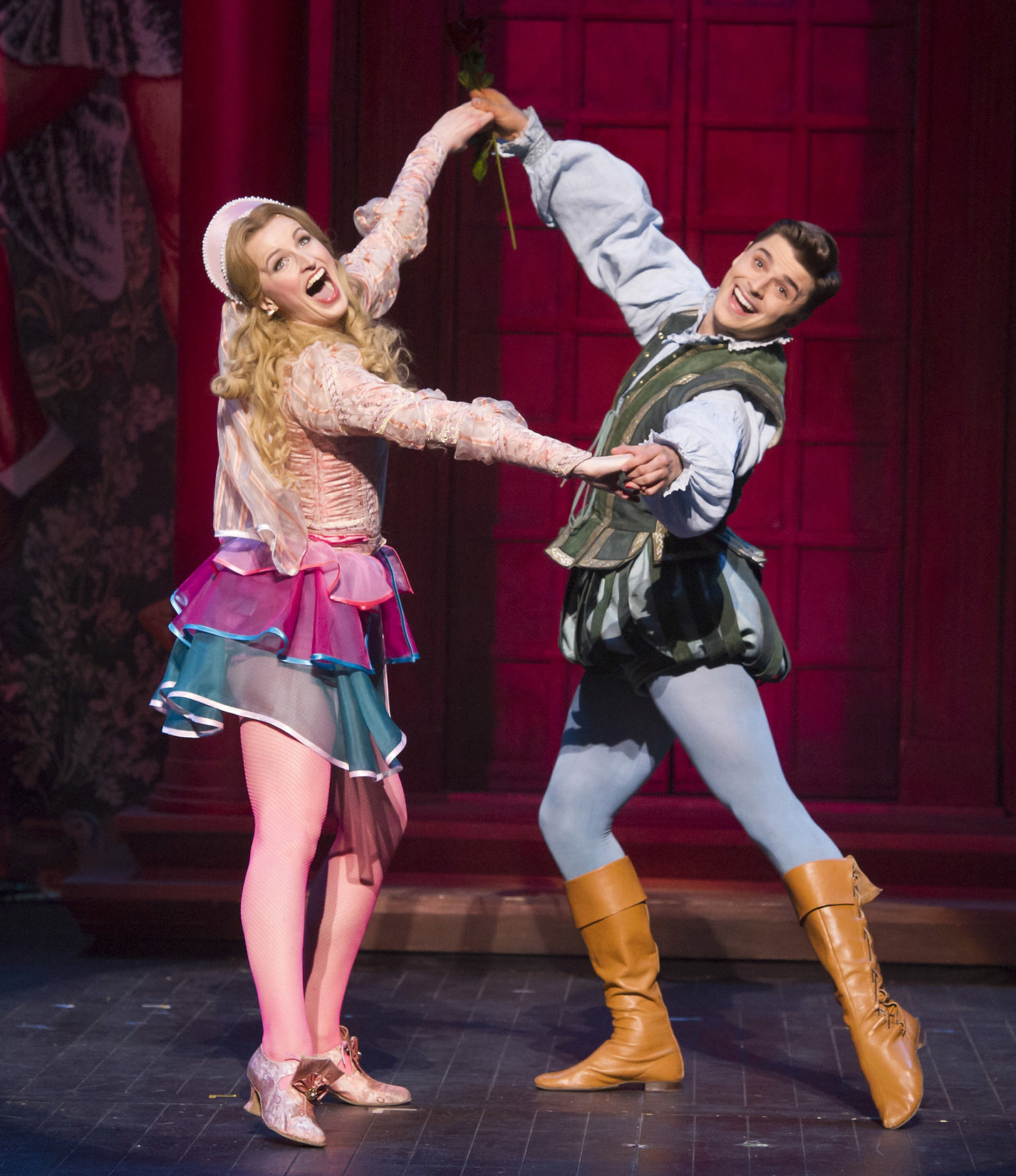 Davies' staging is thrillingly real. Backstage grubbiness is brilliantly evoked, and choreographer Will Tuckett's contribution shines. "Another Op'nin', Another Show" must have taken weeks to assemble; that no characters collide is little short of miraculous. Despite the shabbiness and chaos, the backstage sequences have a colour and vibrancy that's noticeably missing from the garishly lit scenes from The Taming of the Shrew that we see onstage. Colin Richmond's stylish designs are effective, Padua effortlessly invoked with little more than a vast tapestry and some comically over-the-top Shakespearian costumes.
Bernstein's ghastly West Side Story recording demonstrates how operatic voices can wreck a piece of musical theatre. This production is very well cast; there's no obvious divide between the classically and theatrically trained voices. Quirijn de Lang is a near-perfect Fred Graham/Petruchio. The backstage accent is flawless, the slicked hair and pencil moustache suggesting an arrogant leading man who fully deserves to be put through the mill. He's got sufficient charisma to get away with a hideous pair of black leather trousers as Petruchio.
Jeni Bern's Lilli Vanessi/Kate is a terrific foil, imperious but vulnerable. Ashley Day's Bill Calhoun/Lucentio, as the klutz whose unpaid gambling debt sets the backstage plot in motion, is a likeable presence. He also looks convincing in tights. His thunder is stolen by the brilliant Tiffany Graves as Lois Lane/Bianca (pictured above right, with Day), the 'Broadway hoofer' whose inexperience adds to the fun of the onstage action. "Always True to You in My Fashion" is a showstopper. As is Wayne Robinson's "Too Darn Hot", one of several numbers so laden with innuendo that you wonder how on earth they got past the censors in 1948. Joseph Shovelton and John Savournin (pictured below left) have fun as the pair of gunmen, never funnier than when they're unwittingly squeezed into period costume at the end of Act 1.
The strength of Porter's score will surprise many. Wisely, he employed the great Robert Russell Bennett as his orchestrator, who in turn was helped by his colleague Don Walker. Celeste, guitar and mandolin all have their moments, and how wonderful to hear a full complement of winds and brass cushioned by a large string section. Conductor David Charles Abell uses the critical edition which he co-edited, opening up several cuts and reinstating an attractively quirky ballet sequence in Act 1. The supporting characters, however slight, all feel fully-formed. The chorus are a joy. Funny, smart and wise – this is a peach of an evening. Catch it while you can. And then see it again.
The smartest number in the whole show is delivered by a pair of hired thugs
rating
Explore topics
Share this article