Carousel, Opera North |

reviews, news & interviews
Carousel, Opera North
Carousel, Opera North
The greatest of musicals? Jo Davies's production makes a convincing case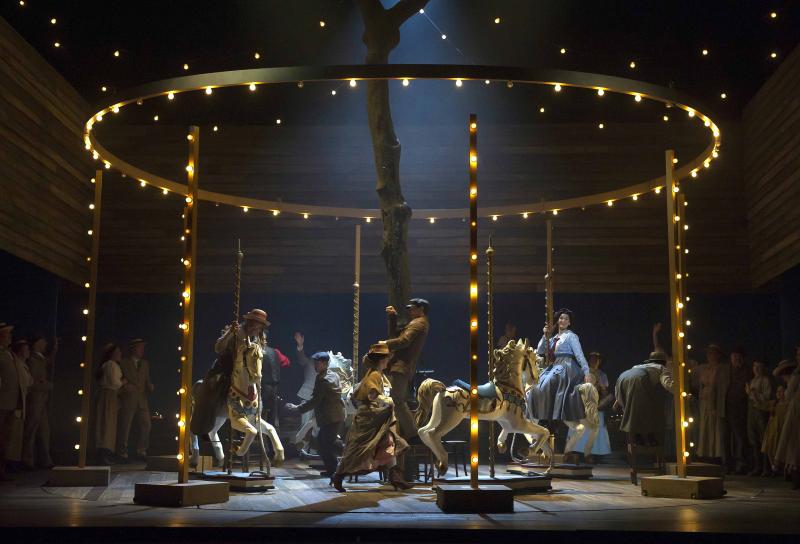 What goes around, comes around; Opera North's intense new Carousel
Feeling apprehensive about opera companies tackling Broadway musicals is understandable. So if you're still wincing at the memory of Leonard Bernstein's excruciating 1980s recording of West Side Story, relax - director Jo Davies's intention was to cast "opera singers who can really, really act" and avoid the potential pitfalls of a fully-fledged operatic approach. And the singing in this new production is consistently good; brilliant in places.
There's also the luxury of hearing James Holmes's full orchestra play Richard Rodgers's score, though you can't help feeling that Don Walker's recently restored orchestrations are largely responsible for the sonic thrills. Does any mainstream piece of musical theatre sound this sophisticated – those flecks of harp, the stopped horns, the chilly bitonal winds heard just before the Carousel Waltz lurches into motion? Carousel is a fairly close adaptation of Ferenc Molnár's 1909 play Liliom. Puccini had previously wanted to turn the script into an opera. But Molnár refused to give his permission, happily leaving Rogers and Hammerstein free to finally acquire the rights in 1943.
As a piece of mainstream entertainment, this is not a comforting experience. Davies's recent Ruddigore displayed her alchemical talent for taking lightweight source material and giving it real depth. Carousel is a deeper, darker work, and this is a sombre production at times – Bruno Poet's lighting is appropriately subdued and Anthony Ward's inventive, versatile set designs can feel claustrophobic, hemmed in. The crowd scenes are a joy to watch. Nobody just stands and sings – each character, no matter how minor, appears fully formed and vivid. Eric Greene's Billy Bigelow, (pictured right, with Gillene Herbert) the feckless fairground barker whose tortured redemption gives the piece such clout, is an impressive reading – he really can convey the character's instability. His restlessness and despair stem from his own harsh upbringing. The moment when his violence towards his wife Julie is revealed comes as a shock, and his entries in Act 1 often send a chill wind through the proceedings. We know that he'll be redeemed, but watching his descent is still painful. Greene is magnetic – the voice is ripe, rich, and he can act, can move. You despise him, but want him to atone. Gillene Herbert's Julie is an effective foil, a woman so ground down by her meaningless job in a cotton mill that she'll grasp at any chance to escape, prepared to marry someone she knows is a bad choice.
Supporting roles are consistently well cast. Joseph Shovelton and Claire Boulter (pictured left) offer welcome light relief as Carrie and Enoch, and Michael Rouse's Jigger exudes sly menace. You forgive the odd bit of flatly delivered dialogue, or the rather perfunctory way in which Bigelow meets his death, for the electrifying final scenes. The moment when the identity of William Kenning's Heavenly Friend is revealed sends shivers down the spine, nicely preceded by Elena Ferrari and Gillene Herbert's hesitant, moving rendition of "You'll Never Walk Alone". John Woodvine's Starkeeper, dressed in spats and cream suit, suggests a 1930s Hollywood mogul. Davies's neat use of scratchy film footage to give Bigelow a glimpse of his grown-up daughter is magical, as is the moment when the screens lift, revealing her for real. And as we're exhorted to stand on our own two feet, to go out and give life its best shot, only the hardest of hearts could fail to be moved. Timothy Burke's well-drilled chorus adds to the pleasure; this is a deeply satisfying evening.
Watch the trailer for Opera North's Carousel
We're exhorted to stand on our own two feet, to go out and give life its best shot. Only the hardest of hearts could fail to be moved
rating
Explore topics
Share this article