Idomeneo, English National Opera |

reviews, news & interviews
Idomeneo, English National Opera
Idomeneo, English National Opera
Strong ENO ensemble struggles to project the emotions of Mozart's sacrificial drama
True, it's not easy both observing and working against the formalities of opera seria, that frozen foundry for the manufacture of musical gods and heroes, as the 24-year-old Mozart slowly but surely did in 1780. The first act only really springs to operatic life as we know it when princess Electra, for some strange reason washed up in Crete and deeply jealous of her Trojan rival for the love of prince Idamante, starts spitting blood and whipping up a storm; and even then it retreats into pretty ritual for an anticlimactic finale. Nor did the raw material of the four main voices, for those who didn't already know and admire them, promise much: to whit two sopranos, one too edgy and unsensuous, the other too plummy, and two tenors with very pronounced vibratos. All that, combined with what for some is still the shock of divine Mozartino dressed up in contemporary sharp suits, may have been what drove away swathes of the audience after the first act.
They should have hung around to be taken beyond the limitations of Mitchell's staging and to hear what strong musicianship on stage could achieve against the odds, allied as best it could be with Edward Gardner's fiery-sensitive conducting - a big step forward from his more tentative Mozartian debut at ENO in La Clemenza di Tito. Granted, there's method in the director's austerity. The sea is going to dominate, so the malleable effect of the dropcloth's rippling waves is a good start - infinitely preferable to Anish Kapoor's obstinately claustrophobic, migraine-inducing reds and blues for Peter Sellars at Glyndebourne. The curtain rises on a clinical lounge in beige marble with the sea beyond the big window: I read contemporary Crete or Sicily, a hunch confirmed by the ferry waiting-rooms of Act Two. The symmetries may suit the music; the low, rectangular set designs of Vicki Mortimer and Alex Eales, placed way behind the proscenium arch, hamper the communication of those on stage with both the pit and the audience. As in Mitchell's Jephtha at ENO, the singers have trouble conveying their characters' innermost feelings, especially when so much has to be over-acted out by the besuited supernumeraries.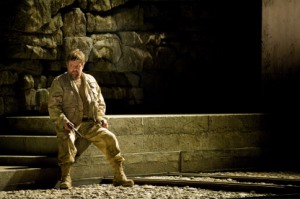 That may have been what set the usually relaxed Sarah Tynan on edge as Trojan Ilia. Lost on the infinite ocean of the notoriously anti-Mozartian ENO stage, neither she nor her Idamante - Robert Murray as the tenor alternative to the sometime en travesti mezzo, a castrato at the Munich premiere - could easily establish their characters against all the business. You began to see the point when Emma Bell's Electra, consumerist southerner with a shock of 1980s-style red hair, seethed at the dinner table unobserved by the object of her contempt: interior monologues constrained by the diplomatic fallout after the "Trojan" war. The stalwart Paul Nilon (pictured above) is the hero-king of the opera's title, suddenly and shockingly confronted with the son he hasn't seen for 20 years and knowing he has to offer him up as sacrifice to Poseidon for a becalmed sea. He briefly sparked with Murray against a towering granite rock face (how much easier in Mozart's day when illusionist sets could be flown in and out with a minimum of stage noise to work against his brilliant musical interludes).


The bigger musical guns began to fire in Act Two. Tynan and Murray - granted Idamante's formal alternative aria with obbligato violin, again an orchestral partner not easily contacted across the stage gulf - relaxed into a lyricism tenderly supported by Gardner, even though those supernumeries, now waltzing and smooching at the end of a peace party, threatened to smother their sofa-bound meditations. Bell's unique timbre took flight as Electra becomes a tipsy sex kitten, on the brink of seducing a waiter (pictured above)- well staged business, that - and Nilon showed us what he was there for: possibly the only English tenor left after Philip Langridge and Anthony Rolfe-Johnson able to rise to the mighty decorative waves of the big set-piece we know and love - and tenors fear - as "Fuor del mar" ("In my breast an ocean rages" didn't fit so well, though the English translation based on Amanda Holden's original worked as well as it could elsewhere). Great intensity, perfect ornamentation: a feat that duly set the house on fire for the first time. Mitchell didn't do badly, either, at the ferry port with the way Mozart then eases the tension in a zephyr-fluttering chorus and trio, again lovingly underpinned by Gardner and the rippling of the ENO Orchestra, only to ratchet up the tension as Poseidon's anger over the father who stalls in sacrificing his son erupts again.
You knew Mitchell was going to have everyone stumbling around in bewilderment when the music beams joy and reconciliation
Yet for all the sterling video work of ENO's now-indispensible collaborators Fifty-Nine Productions, I couldn't quite believe in the elemental disaster as I had, once only in the theatre, with Johannes Schaaf's far more shocking Royal Opera staging. And how are you going to make the ultimate ritual ring true with raincoats and a pistol? Again, all that led up to it, culminating in the great quartet, paradoxically the most intimate moment in the production, allowed musical warmth to flood into the alienating concept, which did at least soften a bit in the wooden bunker where the royals have taken refuge.
Another noisy scene-change, and we're back to the rock face. The musical procession is grave and strange, but again the threat and horror of imminent sacrifice - Idomeneo's of his son - were defused in this contemporary setting. The deus ex machina moment of the sea-god's appeasement didn't work - the bass's declamation needs to be more imposingly amplified - and you knew Mitchell was going to have everyone stumbling around in bewilderment when the music beams joy and reconciliation. At least the chorus, on top form throughout as it has been all season, shone vocally while managing to look disoriented. No twelve-minute ballet to conclude; a pity, as Gardner's orchestra was the one thing I could have gone on listening to for at least another hour at the end of a long evening.
Explore topics
Share this article
Subscribe to theartsdesk.com
Thank you for continuing to read our work on theartsdesk.com. For unlimited access to every article in its entirety, including our archive of more than 10,000 pieces, we're asking for £3.95 per month or £30 per year. We feel it's a very good deal, and hope you do too.
To take an annual subscription now simply click here.
And if you're looking for that extra gift for a friend or family member, why not treat them to a theartsdesk.com gift subscription?