Götterdämmerung, Opera North, Southbank Centre |

reviews, news & interviews
Götterdämmerung, Opera North, Southbank Centre
Götterdämmerung, Opera North, Southbank Centre
An outstanding Ring goes out in a blaze of glory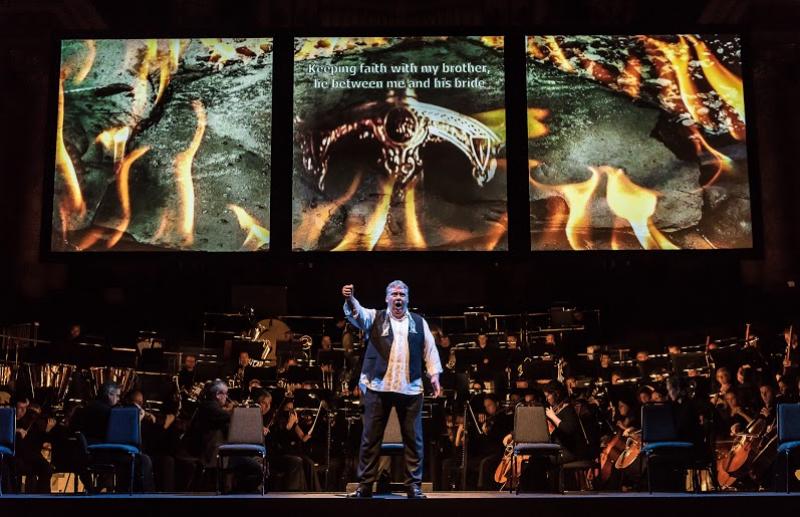 Siegfried (Mati Turi) fulfils his destiny against Peter Mumford's evocative projections
And so it ends: Hagen drowns, Valhalla burns, and the ring returns to the Rhine, while somewhere beneath – Wagner's dawn trumpets sounding faintly in the distance – the dwarf Alberich continues his lonely scheming. It would be hard to find a more apt conclusion to a week of power-grabbing and back-stabbing than Götterdämmerung, and harder still to see its climactic conflagration as anything other than horribly prophetic.
But where politics wreak chaos, so art must console, and this Ring cycle is consolation at its absolute purest and most ecstatic.
Opera North's Ring has been such a triumph that it's easy to forget that it was a project forged as a creative response to lack – an austerity Ring that has proved that less really can be more, if only you get your priorities right. Hopefully the powers that be at English National Opera have been taking notes from this ambitious distillation of Wagner's gesamtkunstwerk into a cycle of concert stagings where simple projections and superb acting fill the space where elaborate design and directorial concept would normally be.
The staging may be a concert one, but the performances are of opera house intensity and conviction
Director Peter Mumford's deft blend of symbols and landscapes, split across three giant screens at the back of the Royal Festival Hall stage, helps not only evoke but anchor the action playing out below. Short narrative summaries (written, oddly, in the past tense) also help, minimally intrusive in the context of so much musical drama. But none of this would satisfy if the cast couldn't carry the show. The staging may be a concert one, but the performances are of opera house intensity and conviction. Delivered directly out to the audience, and at such close proximity, it's Wagner with the whites of its eyes visible, gloriously, intrusively intimate.
From the three glassy-eyed Norns (thrillingly sung by Fiona Kimm, Yvonne Howard, Lee Bisset, pictured right) searching for meaning somewhere above the Stalls, to the brooding Hagen (Mats Almgren), enlisting the audience as co-conspirators in his plan, we're complicit here are we never are in the opera house. The desperate glances of Andrew Foster-Williams's increasingly disturbed Gunther fall directly on us, pleading for deliverance from a plan spiralling swiftly out of control.
Once again, conductor Richard Farnes plays a long game, only rarely letting Opera North's brass section off the leash, and even deploying thicker brushstrokes of woodwind and chorus colour sparingly. While this approach (sensitive though it is to the needs of the singers) has drawn criticism earlier in the cycle, here, with such a climax to build to, it makes for deliciously deferred pleasure. It also goes a long way to solving both the issues of balance and acoustic clarity in this awkward space, drawing the ear consistently to the middle of the orchestra, in contrast to the dominant texture of tenor and soprano among the voices.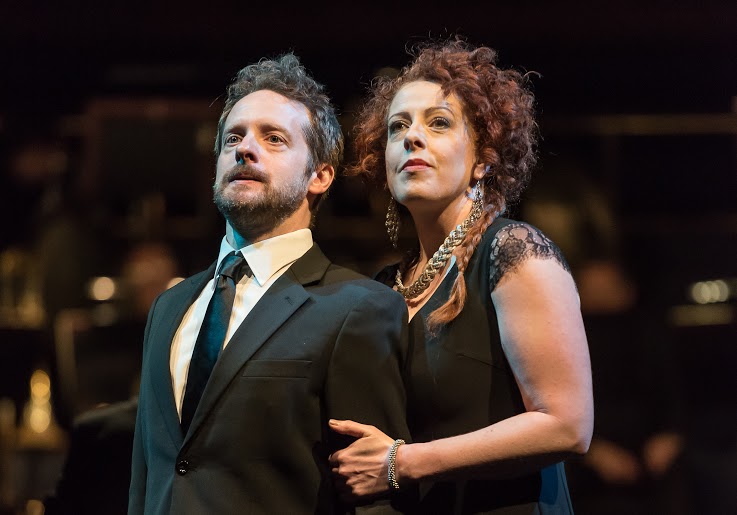 A large part of the pleasure of this cycle has come from Farnes's world-class company of singers, often returning in different roles through the sequence of operas. Here Giselle Allen (a glorious Freia earlier this week) donned her third guise, this time as Gutrune. Passionate and awkward in equal measure, she discovered all the human warmth lacking in Foster-Williams's exquisitely chilly and self-controlled Gunther (pictured left with Allen). Mats Almgren swapped Fafner's greedy ambition for Hagen's, prowling up and down the thin strip of stage with simian ease and matching the double-basses for chalky blackness of tone.
But Götterdämmerung belongs to Siegfried and Brünnhilde, and never more so than in the hands of Mati Turi and Kelly Cae Hogan. Where Lars Cleveman couldn't quite match Hogan in Siegfried, Turi certainly can, and the result is an ecstatic, heavyweight battle of emotions and voices. Hogan's legato spins evenly, uniting the sweetness and glow of the top of the voice with the dryer, more brittle bottom. Turi's homespun, bonhomous hero gives her poised heroine plenty to bounce off, and there's real poignancy in watching this Brünnhilde try to bridge the gap in the feminine softness of her Act I music.
Staged in the opera house, the Ring never travels light, laden as it is with historical, conceptual and technical baggage. Stripped of much of these, Richard Farnes, Peter Mumford and their team have discovered a lighter, more aerodynamic Ring for a new age and a new audience.
Read more opera reviews on theartsdesk
An ecstatic, heavyweight battle of emotions and voices from Turi and Hogan
rating
Share this article