Götterdämmerung, Longborough Festival review - from the hieratic to the mundane and back |

reviews, news & interviews
Götterdämmerung, Longborough Festival review - from the hieratic to the mundane and back
Götterdämmerung, Longborough Festival review - from the hieratic to the mundane and back
Wagner's gallon in a pint pot with mixed results
Lee Bissett holding the stage as Brünnhilde
Götterdämmerung is not only the grandest of Wagner's Ring operas, it is also the most varied. Siegfried's journey down the Rhine transports him in a short quarter-hour from the hieratic world of the Norns and the World Ash to the soap-opera of the Gibichungs and their anxieties about marriage and political standing (opinion polls?).
The second act culminates in a revenge trio worthy of Meyerbeer. Siegfried's squalid onstage murder – shades of Bizet's exactly contemporary Carmen – is followed by a thirty-minute disquisition on the end of the world.
I exaggerate, but only a little. Götterdämmerung is a masterpiece of synthesis on the grandest scale, and it presents problems that, in general, Amy Lane's would-be final production in her Longborough Ring cycle reveals without exactly solving. As with Rheingold and Siegfried (we still await her definitive Walküre, thanks to the pandemic), she comes to the piece without broad preconceptions, takes it at face value, but decorates it with aperçus and visual effects that seem to interrogate it in random ways. Tim Baxter's spectacular back-projected video sequences, for instance, sometimes look like scenery (for the moonlit Rhine, or the third-act woodland), but often have an epic character that could suggest some symbolic reading – huge avalanches at moments of crisis – or might just remind one of a computer screen-saver.
What Götterdämmerung needs that Longborough has trouble providing is space. For some reason, Lane and her set designer Rhiannon Newman Brown reduce this small stage still further with stepped blocks to either side and a false proscenium framing the videos, when opening it out would, one feels, allow more movement and more fluid interaction between the characters.
What we get instead is a certain inertia punctuated by explosions of febrile energy, a good deal of face-front, stand and deliver, alternating with flurries of over-acting, notably from Freddie Tong's splendidly sung but wildly theatrical über-tramp Alberich, and from Siegfried (Bradley Daley) and Gunther (Benedict Nelson) in their blood-brotherhood scene, played like a pair of inebriated schoolboys. Hagen meanwhile (Julian Close) maunders around so slowly that one despairs of him ever arriving, and Lee Bissett finally plays the Immolation scene as a solo spot direct to the auditorium, culminating in flashing house lights on the audience and the mysterious reappearance of Wotan and the supposedly dead Siegfried, thereby converting Wagner's four-part tragedy into a deus ex macchina happy ending. At least the audience isn't invited to join in.
Well, it's a long afternoon and evening, and as always Longborough does the music proud, within the unavoidable limitations. Bissett, above all, is a superb Brünnhilde, vocally perhaps not quite in the top rank, but so intelligent and thoughtful (not to mention watchable) that minor vocal inadequacies fade into insignificance. Her coming to terms with Siegfried's apparent betrayal is perfectly paced, and more moving than I can ever remember it, so skilful is her use of facial expression and gesture – things that assume importance in this small theatre. Her command of the stage in the Immolation was unforgettable, whatever one thinks of the production idea.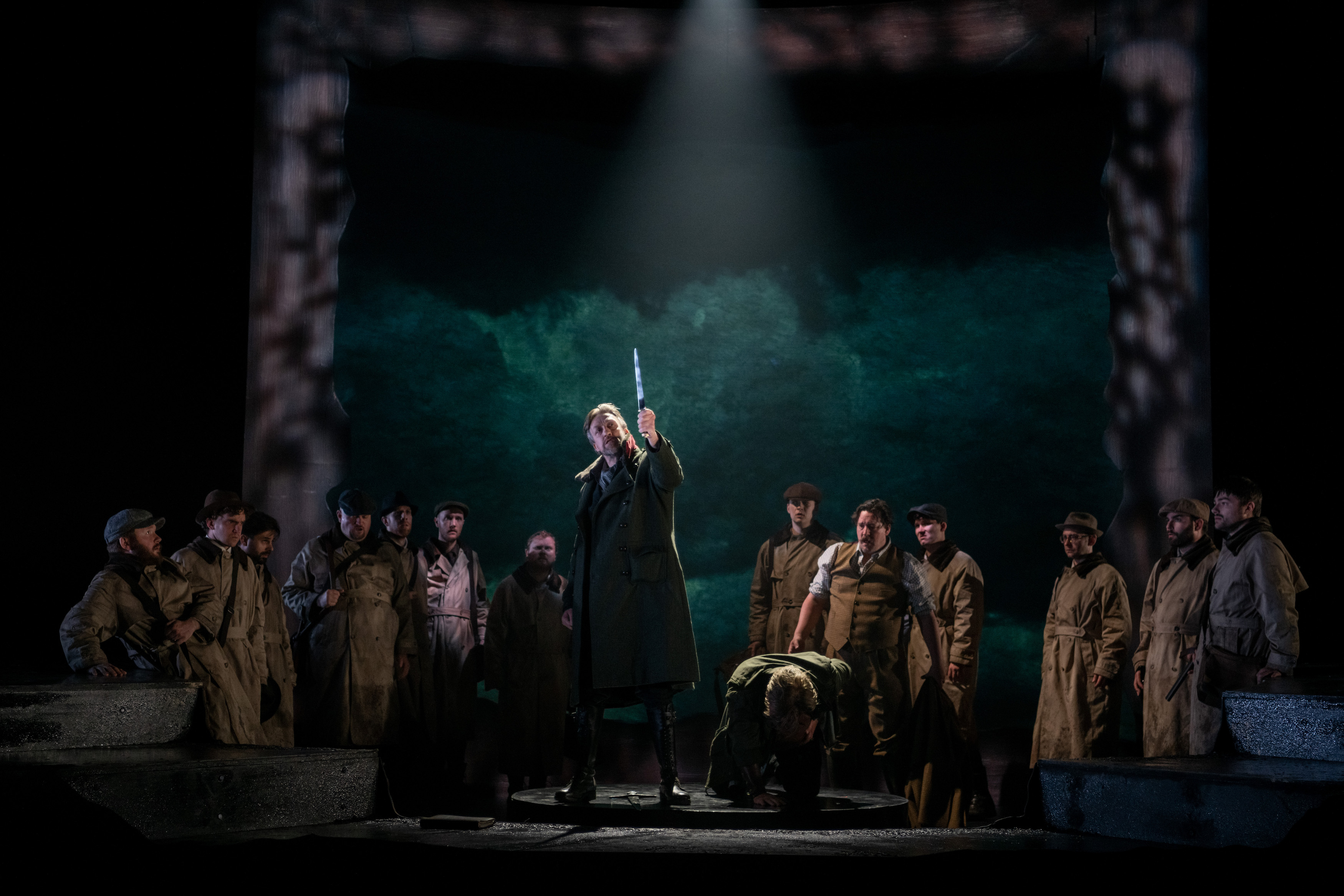 Of the rest, Close's Hagen (pictured above with vassals) is vocally majestic, a big black-voiced Wagner bass in the Gottlob Frick tradition, at his best in the tremendous Watch scene (set, for some reason, in an artist's studio), brilliantly manipulative, perhaps inclined to shout against the Vassals (but the music invites it rather and the Vassals rightly give it the gun). Nelson's Gunther is an exact portrait of the well-meaning ruler devoid of moral force, while his sister Gutrune is a vulgar housewife dressed to kill in floaty whites. But both sing stylishly. Catherine Carby is a strong, touching Waltraute in her unavailing assault on Brünnhilde's family loyalties.
But Daley's Siegfried is disappointing, vocally one-dimensional, visually prone to absurdity, as when he appears on Brünnhilde's mountain looking like a Dickensian lawyer in a red frock coat and top hat – designer Emma Ryott's idea of the Tarnhelm. On the first night, moreover, he struggled to sustain the part into the third act, losing pitch and focus badly in the narration leading up to his murder. Of course, it's a tough sing, but that, as they say, is showbiz.
The orchestra, under the great Anthony Negus, was also not without its troubles, especially early on, in the tricky opening chords for wind, and at the very end, where perhaps the reduced orchestra can't quite achieve the balance necessary for Wagner's sumptuously textured scoring. But overall Negus has the work at his fingertips, feels both its range and its detail, and one always feels in safe hands in this long-drawn, wonderful if unforgiving music.
Further performances of Götterdämmerung on 31 May and 2, 4 and 6 June