Flight, Opera Holland Park |

reviews, news & interviews
Flight, Opera Holland Park
Flight, Opera Holland Park
Jonathan Dove's airport opera takes off in this glossy new production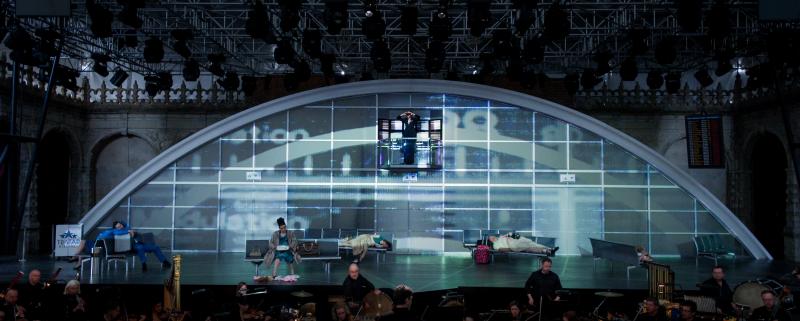 Departures and arrivals collide in Jonathan Dove's drama-packed airport
Connections are missed and made in Jonathan Dove's Flight – a giddy airport fantasy of what might be and what never was. Not yet 20 years old, this contemporary score is quite a departure from Opera Holland Park's staple fare of well-aged verismo and bloodily rare Italian drama, but in a glossy new production by Stephen Barlow it pulses with all the same urgency and human interest – and not a suicide/secret pregnancy/long-lost parent in sight.
Driven by propulsive motor rhythms and percussion ticks, Dove's score has the same slick statelessness as Andrew Riley's designs. Here a bit of Copland (alright, a lot of Copland), there some Ravel, a bit of bel canto funny business and a handful of Mozartian ensembles, and you've got music that has no right to sound as idiomatic and coherent as it does. The opera's unity of place – confined within the airport terminal – helps anchor its more diffuse elements, and Opera Holland Park's broad stage space comes into its own for a piece that keeps so many of its cast on stage for so much of the evening.
Dove drives the action with deft ensembles and breathtakingly intricate layered writing
The conceit is simple: trapped in the airport by an electrical storm, a disparate group of travellers (warring couple hoping to rekindle their love, a single lady of a certain age hoping to meet her much younger lover, a diplomat and his wife) find themselves thrown together with a refugee, kept there by his lack of papers, two over-sexed flight attendants and the glacial airport Controller, watching over all from her panoptic glass tower.
Though a little too gleefully glib at times, April de Angelis's libretto pulls off a trick few contemporary operas achieve. What sets out as a sunny social comedy (genuinely funny, for once) morphs in the opera's closing moments into something altogether more tender and expansive – a shift all the more potent for Dove's lyrical restraint up until this point. Unbending briefly for an exquisite aria for the Minskwoman (sung with such simple intensity by Victoria Simmonds), Dove otherwise keeps his melodic cards close to his chest, preferring to drive his action with deft ensembles and breathtakingly intricate layered writing that sees stories and vocal lines weave in and out of one another more neatly than the crowds in any departure lounge I've ever seen.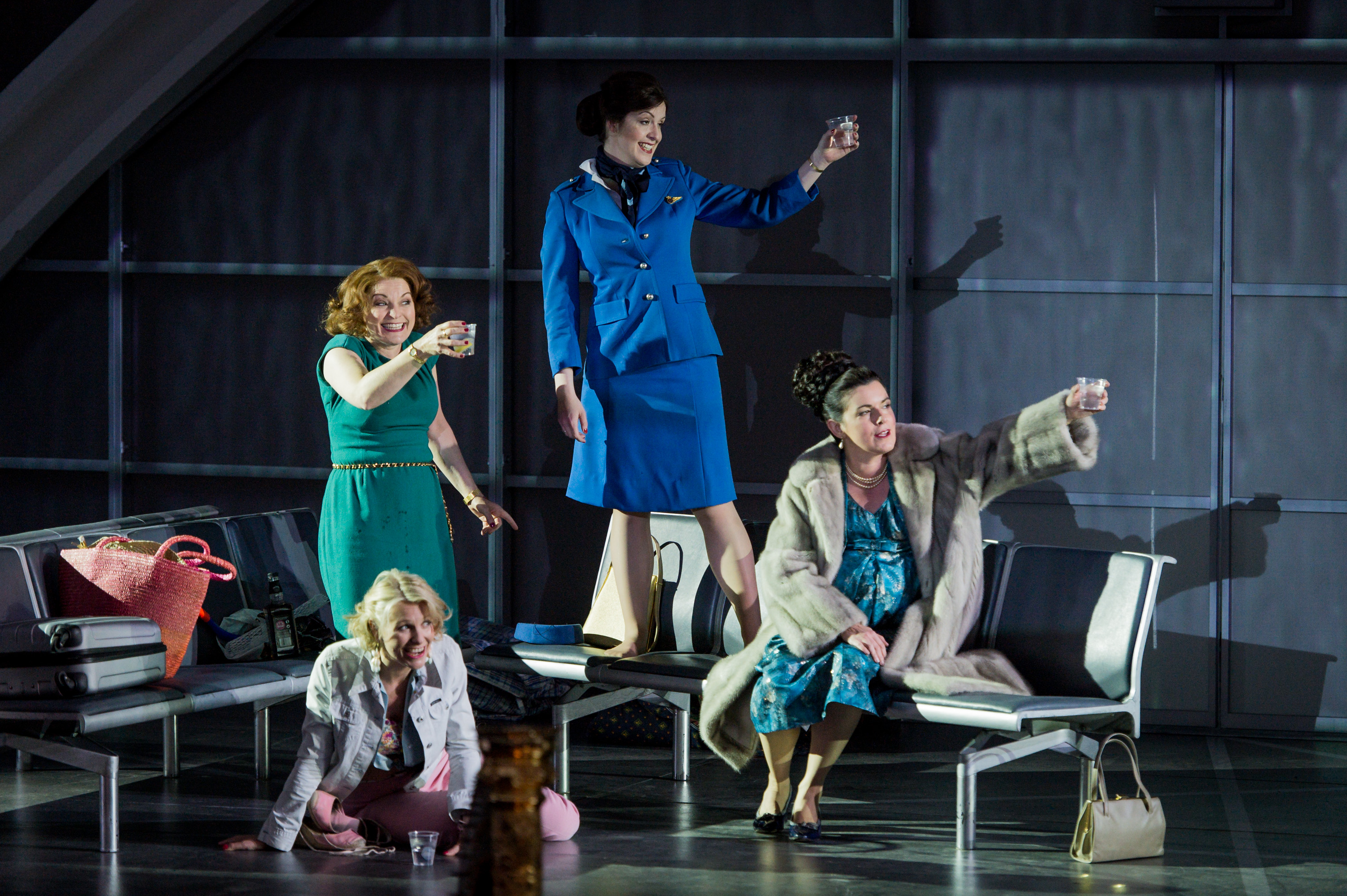 Archetypes become a loveable (and laughable) group of people thanks to a superb ensemble cast – surely among the finest we've heard recently at OHP. Lucy Schaufer's older woman is by turns brittle and complicated, incontinent with emotion and affection, her loneliness set against the Steward and Stewardess (George von Bergen and Kitty Whately), caught up in the banality of lust – "You have identical eyes"/"You have thighs" – but better at the "straying" than the "staying". Their comedic energy ripples outwards through the cast, energising Jeffrey Lloyd-Roberts and Ellie Laugharne's bickering couple and drawing them into one of opera's more unexpected comic denouements.
All of this operatic chatter might sustain a one-acter, but giving Flight full-length heft are the twin figures of the Controller (Jennifer France) and Refugee (James Laing, pictured below left with Ellie Laugharne). Set apart from the action – she by some stratospheric writing, he by that otherness the countertenor voice still suggests – they tell a tougher and more halting story. Things are lost as well as found in this liminal space, and in the glassy purity of the Controller's hermetically-sealed soundworld and the Refugee's own – texturally alien, folk-simple in delivery – we feel the voids.
Laing gets better with every passing season, but this is a role that suits him especially well, showcasing not only his growing power but also his presence – carrying, almost alone, the opera's closing twist of the dramatic knife. France too is glossily secure, filling this tricky tented space with a pealing tone that matches the gilded brilliance of Dove's writing for tuned percussion and brass. Brad Cohen directs the City of London Sinfonia (on stonking form) with sensitivity both to the composer's moments of quasi-Broadway release and his matter-of-fact dramatic patter, revelling in Dove's colourful and meticulously characterised orchestral writing.
There aren't many performances left of Flight, so grab a ticket and take this first-class operatic trip while you still have a chance. Opera Holland Park have done the opera proud with this, its first professional London staging, edging Dove's piece ever closer to that elusive status of "contemporary classic".
Flight is at Opera Holland Park until 19 June

Laing gets better with every passing season, but this is a role that suits him especially well
rating
Explore topics
Share this article