Lucia di Lammermoor, Opera Holland Park |

reviews, news & interviews
Lucia di Lammermoor, Opera Holland Park
Lucia di Lammermoor, Opera Holland Park
A superb cast do their best to redeem a passionless production
Giving it a red hot go: Arturo (Aled Hall) prepares for his wedding night
Out-characterising anything on stage last night, London's weather certainly did its bit to celebrate the start of the Opera Holland Park summer season. No Scottish heath could have been more blasted, no moorland more battered by the wind than we were in the shadow of "Lammermoor Castle" (aka Holland House) for the company's Lucia di Lammermoor.
The backdrop of Holland House – originally built in 1605, and determinedly crenelated and decorated – gives Opera Holland Park's auditorium its particular character; it's an unwise director who chooses to ignore it altogether. Seasons past have proved that you can successfully work with this built-in backdrop (it became a surprisingly plausible Sevillian cigarette factory for Carmen) or kick against its classic Englishness (as Don Pasquale so effectively did last season), but there's nothing neutral about it. Pretending it's not there is simply not an option if it's not to become the architectural elephant in the room.
One of the very strongest casts we've seen at Opera Holland Park
Unfortunately denial was the approach taken by director Olivia Fuchs last night, and her non-committal engagement with the space set the tone for a production that felt curiously unmoored and lacking in concept. Designer Jamie Vartan contributes a Neolithic slab of rock that dominates the stage. Opening up to reveal a giant fissure (symbolism only marginally less subtle than the red gloves sported by male and female chorus alike, and waved threateningly around during Act III) through which Holland House becomes visible. Add some wire-netting screens (a la West Side Story), faithfully Victorian costumes and a disproportionately prominent library-style staircase for Edgardo's revenge aria, and you have enough to drive any self-respecting heroine mad.
Which makes it all the more frustrating that Lucia di Lammermoor features one of the very strongest casts we've seen at Opera Holland Park. Elvira Fatykhova's Lucia is beyond technical reproach, battling aeroplanes, children's playground chants and the elements to deliver an impressive performance. Deploying her vocal colours with care, she balances turbo-powered money-notes at the top with glowing pianissimos, romping through the mad scene (and eerie cadenza duet with the glass harmonica) with ease. Only in this climactic episode did her pristine girlishness become an issue, failing either to release into ravings or to intensify into manic joy.
If Fatykhova's Lucia was something of a cipher, the same could not be said for David Stephenson's Enrico, who led the cast dramatically with his charged restraint. While Aled Hall's pantomime Arturo loaded the dice emotionally, Stephenson was allowed to inhabit an altogether more interesting No Man's Land of character, pitting duty and self-interest against each other. Strongly sung, he was more than matched by Aldo Di Toro's Edgardo (pictured below). Personable in manner, Di Toro's tenor is also unusually attractive, blending the warmth of its lower registers all the way up through the voice to the resonant top. Nothing is too bright or too forward, and the contrast with the sheen on Fatykhova's tone shows both voices to advantage in duet.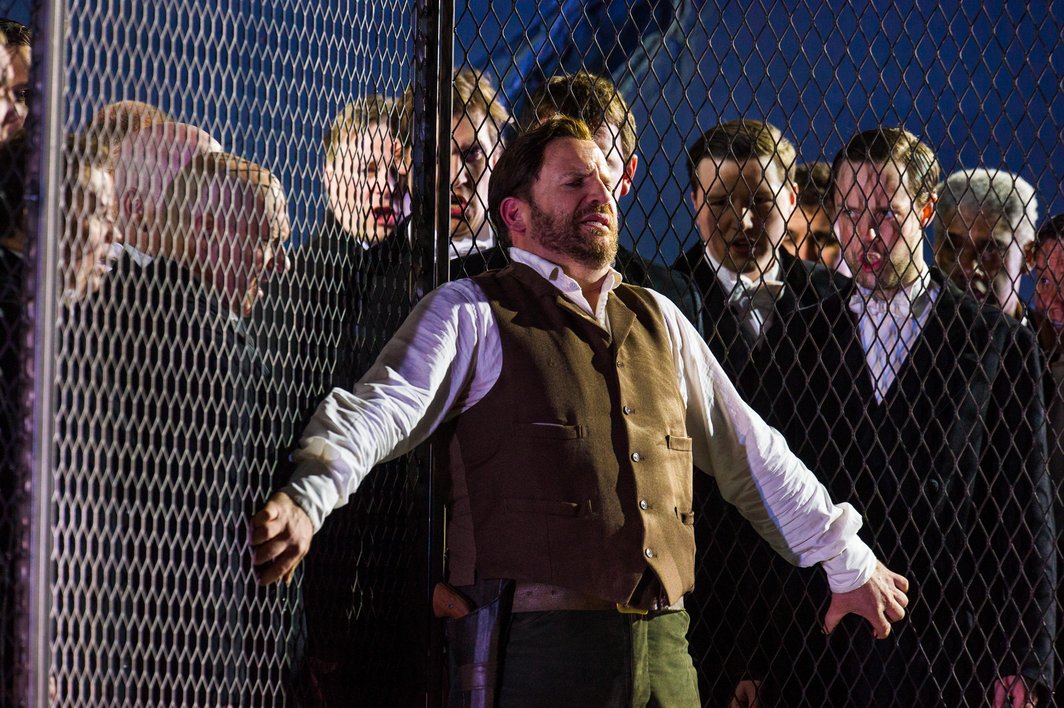 Splitting horns across the pit from trombones and trumpets was a bold move, but a few moments of ensemble juddering aside, Stuart Stratford kept his band together – no small challenge in the tricky space. Without a sunken pit to cushion the sound however some entries were just too loud though, pushing the soloists's dynamics (the excellent young chorus were more than a match for anything the orchestra could generate) rather than balancing down to them.
Lucia's balance of psychological Gothic horror and musical ebullience rather defies staging; it's an opera that lives most fully in the suggestive vividness of the recording studio. Close your eyes and Opera Holland Park's latest production punches well above its weight, delivering a clean and vivid account of Donizetti's finest score. Open them however and this fragile tragedy gets bogged down in its attempts to be clever. In a piece that glories in sensation, emotion, immediacy, it's a crime of lack-of-passion – as calculated as it is unforgiveable.
Close your eyes and Opera Holland Park's latest production punches well above its weight, delivering a clean and vivid account of Donizetti's finest score
Share this article