Die Meistersinger von Nürnberg, Glyndebourne |

reviews, news & interviews
Die Meistersinger von Nürnberg, Glyndebourne
Die Meistersinger von Nürnberg, Glyndebourne
This Meistersinger brings the camera in close for an unusually intimate drama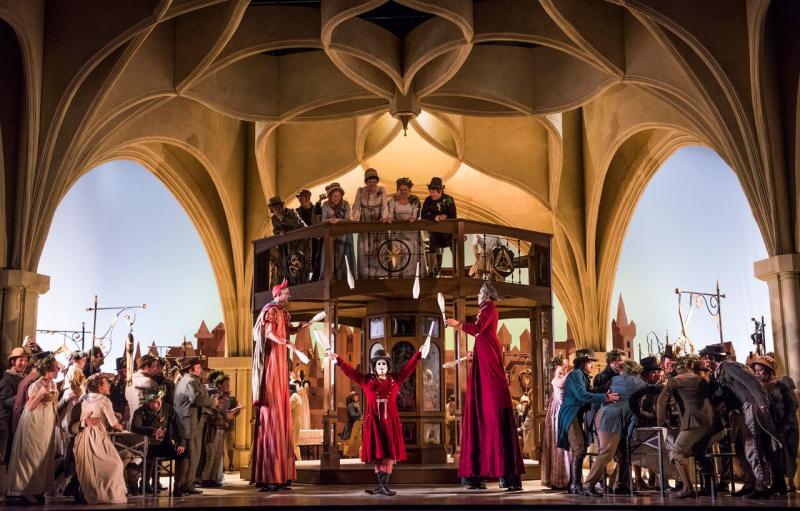 Midsummer Day: the Nuremberg festivities are lavish in Vicki Mortimer's generous designs
A celebration of the power of words and music (leaving aside, briefly, that more troubling business about the Fatherland), Wagner's Die Meistersinger von Nürnberg is a natural opener for the summer opera season.
Art triumphs over all, but in David McVicar's production it's a triumph of peculiarly human complication – a victory that leaves a hero in tears, that crowns some of opera's most reactionary stick-in-the-muds with laurels, and leaves us asking: did Eva really pick the right man?
It has been well over a year since Richard Jones's Mastersingers came to English National Opera, but it's still a production that thrills in the memory, a hard one to move past. But where the brilliance of Jones's Mastersingers is all about the collective – the massed choric forces of Nuremberg's citizens, the ranks of Guild members, viewed widescreen – McVicar's production (first seen in 2011, and revived here for the first time) lives in its close-ups.
The quality of the human observation here, the emotion push-me-pull-you between Sachs, Eva, Walther and even Beckmesser is such that even a broadly comic treatment can't prevent the ending from delivering a gut punch of sudden tragic violence. While McVicar's direction does its part, it's Gerald Finley's Hans Sachs (pictured right) who really carries the emotion of this production. Here is a man whose loneliness is horribly, intrusively evident, whose bitter anger at his loss all but overwhelms him in the opening scene of the final act, but whose affection for Eva is so gentle, so plausible in its gradual onset that we feel genuine uncertainty as to whether he'll help Walther or woo her himself.
The knock-on effects – the subtext of the Cyrano-like prize song episode, the friction between the exuberance of the Midsummer festivities and Sachs's loss – are telling, and help anchor a production whose trappings and spirit are that of a children's legend. Updating the setting to post-Napoleonic Germany not only makes political sense of the opera's nationalism, but also pretties things up nicely. Nuremberg, in Vicki Mortimer's gorgeous designs, is all shady squares and cool churches, a rounded-up, smoothed-out version of small-town Germany. Apprentices and villagers cavort in Commedia dell'arte too pristine to speak of any serious mischief, and even Beckmesser (Jochen Kupfer) is less buffoonish outcast than awkward loner.
Musically again it's Finley who dominates, calibrating his vocal energy so carefully that it's only in his final speech that we glimpse the bottom of the tank. Infinitely sensitive in his phrasing, replacing heft with colour and shading, his is a Sachs still more comfortable in this small house than last time, and one it would be a pleasure to see return for a third.
Both Michael Schade's Walther and Amanda Majeski's Eva (pictured below with Hannah Hipp as Magdalene) present more problems. Majeski's voice has an inhaled ease to it, blooming with no obvious strain or overwork, but as yet lacks the breadth of tone that a fully-formed Eva needs. Schade, by contrast, has to work hard through the evening, and it shows in jagged, breath-pitted phrases that often dash forwards ahead of the orchestra, and tone that's far from easy at the top. Tiring audibly through the evening, his was a prize song whose victory was by no means a given.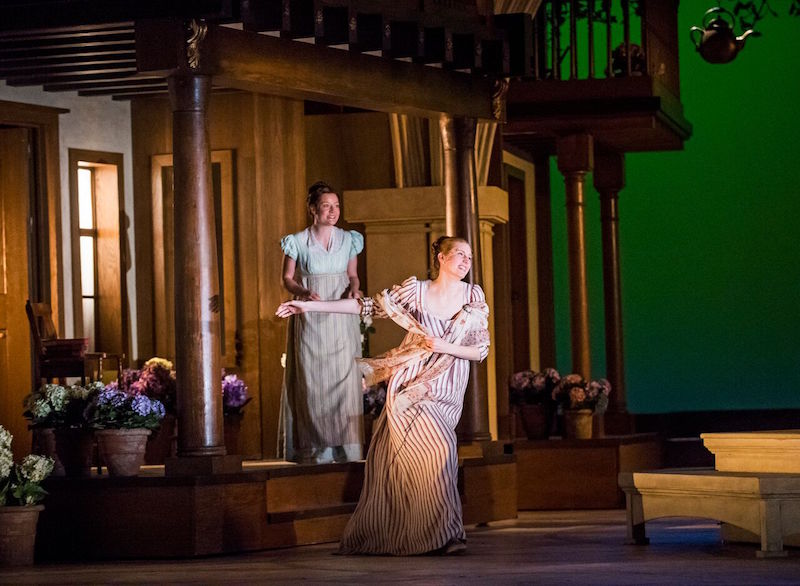 If occasionally blighted by a too-thick spreading of slapstick, Kupfer's Rowan Atkinson-esque Beckmesser is oddly endearing, aided by some lovely singing and a wiry physical wit. Along with Darren Jeffery's beautifully sung Kothner, a pert Magdalene from Hanna Hipp and David Portillo's radiant David, he's the pick of the supporting cast. The Glyndebourne chorus are good as ever, and after a slightly too matter-of-fact start, the orchestra under Michael Guttler settle into a slightly more generous and flexible momentum.
Shunning national politics in favour of personal ones, McVicar's Meistersinger sits perfectly in Glyndebourne's small house – a music-drama whose unexpectedly intimate angle refocuses a work with plenty to say about men and women in particular, as well as their collective counterparts.
Majeski's voice has an inhaled ease to it, blooming with no obvious strain or overwork
rating
Explore topics
Share this article