The Cunning Little Vixen, Welsh National Opera review - family night in the forest |

reviews, news & interviews
The Cunning Little Vixen, Welsh National Opera review - family night in the forest
The Cunning Little Vixen, Welsh National Opera review - family night in the forest
Janáček's life cycle comes up fresh and inspiring after four decades
Saturday, 12 October 2019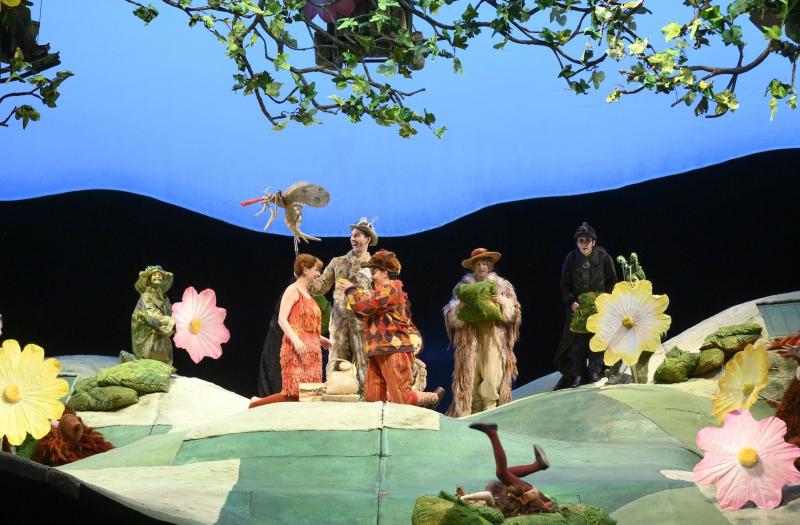 Vixen (Aiofe Miskelly), Fox (Lucia Cervoni) and company
Considering that Janáček's Vixen is, among other things, an allegory of the passing and returning years, it's appropriate that WNO continue to recycle David Pountney's now nearly 40-year-old production, and that it comes up each time refreshed, with this or that altered or added detail, but quantum-like the same general image. This second night was like a mass family outing, perhaps because of the associated outreach event, the designs for which adorned the foyer. Children all over the place, onstage (of course), and in the audience, helped create a particularly lively, inspiring atmosphere.
Admittedly this isn't exactly a typical kid's show, being almost entirely about sex – a problem, I suppose, less for the kids themselves than for the squirming grown-ups next to them, the Internet and Facebook being what they are. Janáček's subject started life as a strip cartoon in a Prague newspaper, and in its operatic form it retains the snapshot character of the original, a sequence of vignettes in which all the components of the life cycle are brought in without ceremony or the usual narrative build-up. "Have you ever made love?" the Fox enquires of the Vixen five minutes (at most) after they've met, and in the flash of a spider's eye they've vanished into her lair, only to emerge another five minutes later with her in that condition where – in nice bourgeois circles – a priest is urgently needed (today it would be a doctor, but let that pass).
And so it goes on. The Forester's dog tries to roger the Vixen, the cockerel inseminates his hens while the Vixen lectures them about women's rights. And all the male humans dream about the mythical Terynka, who dances across the stage semi-naked, the embodiment of that spirit of birth and rebirth who they know they will never again hold in their arms. Near the end the Poacher shoots the Vixen. But this is no tragedy. The dragonfly dies in a day and life comes round to the next dragonfly and the next vixen.
Janáček's late style adapts brilliantly to this lapidary type of narrative, with its montage of brief melodic figures alternating and repeating, often within a static, unchanging harmony. But narrative is perhaps not quite the word. Fragments of story flit across the seasonal canvas, with its swarming array of creatures wild and domestic – insects, birds, foxes, badgers, people.
It's wonderfully easy on the eye, in the late Maria Bjørnson's witty anthropomorphic designs, but less easy, I've often thought, on the singers, who, apart from the Fox and the Vixen in their one long scene, have little chance to get into their roles in between the dancings and prancings of the fancy-dress animals, enchantingly played here by a whole regiment of the young and not quite so young, and beautifully choreographed by Elaine Tyler-Hall on Stuart Hopps's original scheme.
All the same, the singing – in Czech, for the first time here – is both eloquent and stylish. The Northern Irish soprano, Aoife Miskelly, sparkles as the Vixen, as athletic vocally as she is physically, jitterbugging around the stage in authentic twenties fashion. Claudio Otelli is likewise an outstanding Forester (pictured above, centre, with Martin Lloyd, Peter Van Hulle and Wojtek Gierlach), in big, vibrant voice, and giving the impression of having spent his entire life in the woods with a gun in his hand. David Stout repeats his sly portrait of the Poacher Harašta, who does, it seems, marry Terynka, but surely not the same one. Peter Van Hulle is a splendidly bibulous schoolmaster, Lucia Cervoni a smooth, stately soprano fox, the sort you might (unwisely) trust with your chickens.
Too many others to name individually: all excellent. And no praise can be too great for the orchestra, whom Janáček favours with his most exquisite instrumental entomology, captured here with microscopic refinement under the composer's fellow Moravian, Tomáš Hanus, back on top form after a less than brilliant Carmen.
Subscribe to theartsdesk.com
Thank you for continuing to read our work on theartsdesk.com. For unlimited access to every article in its entirety, including our archive of more than 10,000 pieces, we're asking for £3.95 per month or £30 per year. We feel it's a very good deal, and hope you do too.
To take an annual subscription now simply click here.
And if you're looking for that extra gift for a friend or family member, why not treat them to a theartsdesk.com gift subscription?