The Cunning Little Vixen, Rattle, LSO, Barbican review – dark magic in the woods |

reviews, news & interviews
The Cunning Little Vixen, Rattle, LSO, Barbican review – dark magic in the woods
The Cunning Little Vixen, Rattle, LSO, Barbican review – dark magic in the woods
Janáček's evergreen fable enchants and disturbs
Wisdom and folly down in the woods: Gerald Finley with Saoirse Exelby
As midsummer night's dreams go, it would be hard to surpass the darkly enchanting collaboration between Sir Simon Rattle and Peter Sellars that will bring The Cunning Little Vixen to the Barbican again this evening and on Saturday. Janáček's spellbinding vision of humans and animals caught up in the inexorable cycles of nature and time has its rough and scary side, of course.
And you will probably hear and see gentler, more obviously charming, versions of the opera that in 1924 proclaimed Janáček's late-life burst of untamed creativity.
Sellars's semi-staged production (originally mounted in Berlin in late 2017) features some fairly brutal and even farcical action on the raised platform around which the London Symphony Orchestra plays. Meanwhile, the videos on a giant screen behind (designed by Nick Hillel and Adam Smith, jointly known as Yeast Culture) spare us few details of nature – and humankind – red in tooth and claw. As well as sun-dappled glades, looming giant moons and rushing torrents, we see horrific woodland traps, slaughtered hares and even close-ups of human souvlaki-munching to symbolise the survival-instinct urges that plant deathly rivalry within these magic woods.
Whether or not you agree with every one of Sellars's choices as director (and he never quite loses the capacity to annoy as well as illuminate), the LSO with Rattle, on this form and on this terrain, brook no argument. Janáček's music is of course a marvel from from first to last – earthy yet ethereal, folkloric but mystical, its visionary treetops firmly rooted in the Moravian soil. It received a wonderfully alert and agile reading from Rattle, who deeply loves and understands the work. This Vixen ran without a break, well-paced, studded with dramatic twists, and swift-flowing as the filmed streams and waterfalls that intermittently reminded us of the onrush of change that denies permanence or security to the life of any mortal thing. Both lush and lithe, as the scenes demanded, the LSO commanded both the ecstatic rapture of the orchestral interludes – as moon and sun rose and set over the vixen's lovely, fatal forest – and the almost cabaret-like wit and flair of the writing that partners the drama. From David Elton's cheeky trumpet and Gareth Davies's rhapsodic flute to the uncanny muted brass and the spine-tingling string shimmer that guest leader Tomo Keller drew from his crew, Rattle and his forces could on their own transport us into the trackless heart of the woodlands where Janáček's creatures live, love and die.
In Berlin, some critics thought the videos a superfluous addition, as filmed images of real beasts double the singing animals in their humanised guise – foxes, owl, frog, badger and so on – that we see in front of them. True, the natural-world footage does occasionally have the quality of David Attenborough out-takes, but it still makes sense. Janáček modernises the traditional beast-fable. Both the action and the music blur the lines between authentic and allegorical creatures, as the russet rebel Vixen Sharp-Ears becomes the Forester's animal captive and (for a while) his human lover too. As in a Shakespearean dream, the forest becomes a place of constant metamorphosis. Those sequences plucked from some wildlife doc hinted – as does Janáček's ceaselessly inventive music for the beasts – at the natural forces that seed, bloom and expire beyond the reach of human art.
As Ms Sharp-Ears herself, Lucy Crowe (pictured above with Gerald Finley) prowled, flounced, leapt and slunk with a feisty repertoire of bad attitudes that made a delicious contrast with the refined, silvery sheen and swoop of her soprano. It's eat or be eaten in this wood, and I especially loved her cynical recruitment of the gormless chickens into an animal-rights campaign as a prelude to – you know what. Her moments of solitary yearning had an eerie glamour and mystery, while the entrancing love duet with Sophia Burgos's full-toned and finely-sung soprano Fox captured both the snarling and the sensuous sides of their liaison. As prisoner of Gerald Finley's droll but moving Forester, Crowe joined smouldering ferocity with an erotic fizz and crackle. The pair wrestled and they nestled, in keeping with the physicality of a production that imagined all these creatures bound tightly together by bonds of need, desire and curiosity that, for better or worse, will override their fears of being devoured.
Doubling human and animal roles, Paulina Malefane's Forester's Wife (and Owl), and Anna Lapkovskaja's Mrs Pasek (and Dog), offered robust support. As the poacher Haraschta, the superb bass-baritone Hanno Müller-Brachmann made the most of his peach of a part, especially as he roamed through the audience while singing of his Gypsy love Terynka. Peter Hoare made a suitably absurd but sympathetic Schoolmaster, yearning for the love that surrounds him in nature but that he, that bookish "old broomstick in the corner", has never tasted.
The London Symphony Chorus under Simon Halsey both sang gorgeously, and niftily managed the manoeuvres that their arrivals and departures demanded. As the younger animals, the children's chorus of the LSO Discovery Voices (pictured below as the fox cubs) absolutely stole their scenes, with impeccable solo turns from Saoirse Exelby and Theo Smith. The mass disco that accompanied Vixen and Fox's wedding was a joyous wonder to behold.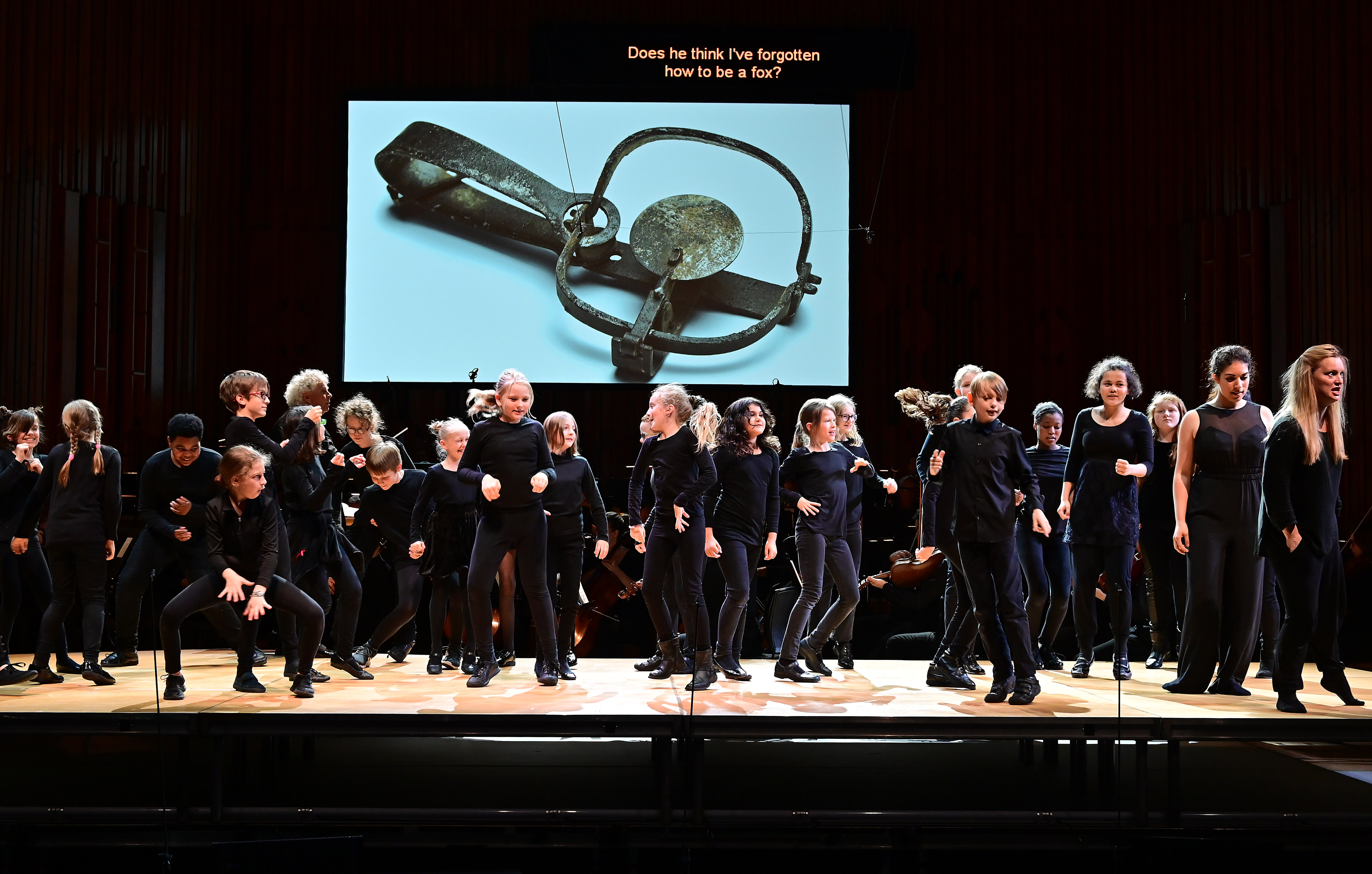 "Is it a fairytale or real?" reflects Finley's meditative Forester, his boots in the mud but his soul in the skies, after Sharp-Ears falls to the poacher's gun while the irrepressible cycle of rebirth and renewal continues. Any version of the Vixen worth its name has to deliver both. Rattle and his colleagues indisputably did that. In the end, I don't think that my minor niggles over one or two of Sellars's tricksier ideas count for much, given the sheer vigour and vibrant colour of the performances – musical and vocal – on show at the Barbican. As the Forester sings that "new life is stirring", and the Vixen's offspring scamper on stage, the orchestra swells and swoons in an extraordinary, pantheistic Liebestod that blows all doubt away. The relentless struggle for survival, and the threat of violence behind every tree or beside every human hearth, mean that Janáček's forest can offer no shelter to sentimentality. Still, as the Forester insists, "it fills your heart to see the evening sun break through". And Rattle certainly filled ours.