Ariodante, Britten Theatre, Royal College of Music |

reviews, news & interviews
Ariodante, Britten Theatre, Royal College of Music
Ariodante, Britten Theatre, Royal College of Music
A darkly intense production of Handel's almost-tragedy
Girl talk: Ginevra (Sofia Larsson) and Dalinda (Galina Averina)
The London Handel Festival is back, and instead of ploughing their usual furrow of rarely-seen works, this year's opera is a classic. If the rest of Ariodante doesn't quite live up to the promise of its two often-excerpted arias ("Dopo Notte" and "Scherza Infida"), then it's still a deeply satisfying evening of music, with a large cast perfect for showing off the talents of the Royal College of Music's student performers.
James Bonas's production is a moody affair, distilling Handel's Scottish setting down to its emotional essentials. There are hints of snow and of the original sea-coast in Molly Einchcomb's post-apocalytpic designs that pivot around a series of moving curtains (effective but criminally noisy), creating a wonderfully fluid sense of place. Dark browns, blues and blacks, all flecked with mud, give this tented space an edge, and even the trees are fragmented – amputated boughs suspended gracefully in the air.
The cast, decked out in what looks like the entire A/W 15/16 Brora collection, are all dreadlocks and natural fibres – a royal court turned rogue pack of live-by-their-wits adventurers. It's a context – on the edge of life and death – that makes some sense of the extremity of a plot that condemns its heroine to death for a single supposed transgression, and climaxes in a bloody duel.
Laurence Cummings drives the performance with all his usual verve and rhythmic attack, supporting a cast who, if not the finest we've seen at the festival in recent years, certainly give the audience plenty to look forward to in opera's future. I can't remember the last time I went to a Handel opera and came away most excited about the tenor, but Peter Aisher (Lurcanio) is an exception. It helps that Handel writes some of his most athletic and attractive music for this role of the warrior Ariodante's brother, but it's Aisher who seizes these challenging coloratura showpieces and really sells them. Added to his vocal agility is a lovely baritonal colouring to the voice, and even tone-colour from top to bottom.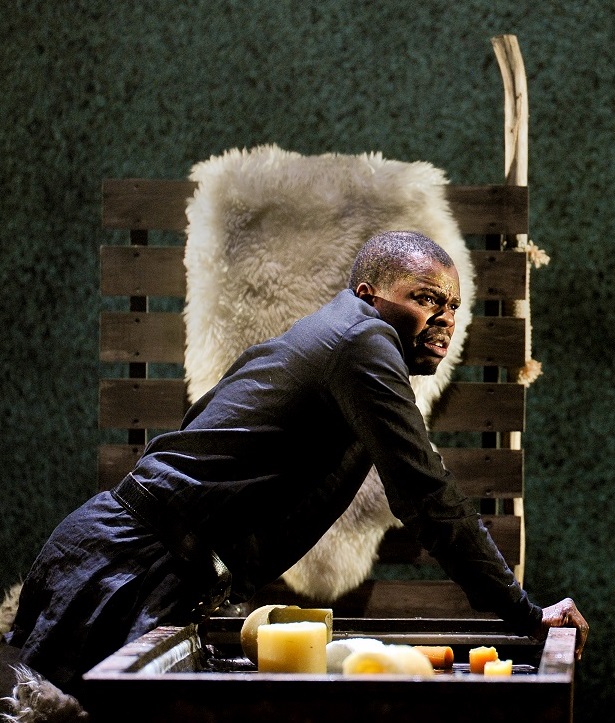 Although not the slightest bit warrior-like, either in vocal tone or physicality, Katie Coventry's Ariodante is bewitchingly charming. There's a youthful ardour and intensity to her, an emotional directness, that will make for a natural Cherubino or Dorabella, but which doesn't quite carry off Handel's rather sterner hero. Vocally it's all there though, and a delightfully frisky "Dopo Notte" makes the most of her lighter, more athletic approach to the music. Arguably more suited to the role in terms of tone, Elspeth Marrow makes rival lover Polinesso a really nasty piece of work, but villain's music does seem to sit a little low for her, hampering projection at times. A fine balance for so many upper voices, Simphiwe Simon Shibambu's King (pictured above left) makes you want to hear more – an ailing, Fisher King-type figure, whose own tragedy is only glimpsed.
Galina Averina's Dalinda is a real find, reinventing herself vocally as she moves from innocent woman-child to vengeful scorned lover. Her "Neghittosi or voi che fate?" is blisteringly rageful and completely assured. Where Bonas's direction leaves some cast members pacing back and forth without obvious intent, she manages to invest each movement with authority and character. As Ariodante's wrongly-accused Ginevra, Sofia Larsson is less consistent. "Il mio crudel martoro" was a triumph, and the latter, tragic half of the opera was generally much more successful than the early joy, which exposed a lack of vocal control. Her coloratura never quite felt secure, and both tone and pitch proved wayward at speed.
Later on in the festival there's a chance to hear operatic rarity Berenice, as well as oratorio Alexander Balus – both with superb casts. But, even though Ariodantes do come round rather more frequently, it's worth making time to see this fine show, especially in a theatre that suits this material so well.
Ariodante at the Royal College of Music's Britten Theatre 12, 14 March 2016
I can't remember the last time I went to a Handel opera and came away most excited about the tenor
rating
Explore topics
Share this article