Ariadne auf Naxos, Royal Opera |

reviews, news & interviews
Ariadne auf Naxos, Royal Opera
Ariadne auf Naxos, Royal Opera
Two nymphs are the real revelation in this revival of Richard Strauss's evergreen hybrid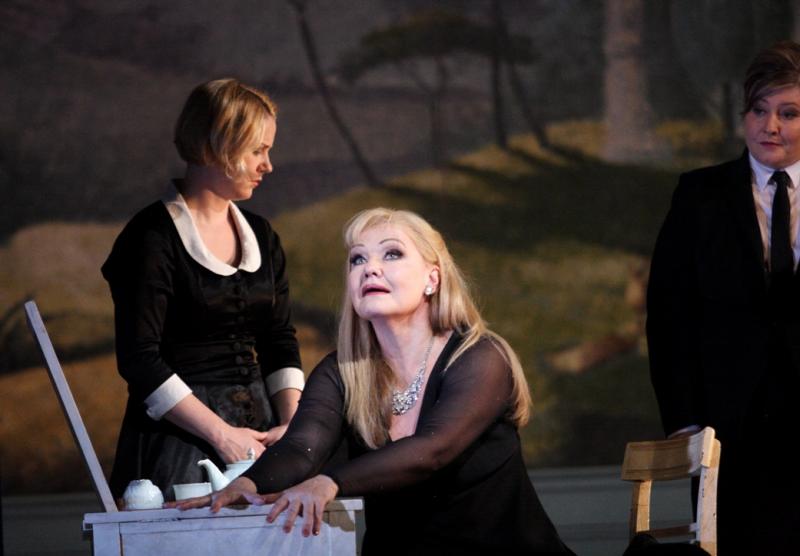 Outstanding 'nymphs' Sofia Fomina and Karen Cargill flank Karita Mattila's histrionic Ariadne
Can it really be 12 years since Antonio Pappano inaugurated his transformative era as the Royal Opera's Music Director conducting Strauss's Ariadne auf Naxos? Christof Loy's production seemed so radical at the time.
We were put off our guard by seeing opera stars in the backstage Prologue preparing for an 18
th
century
opera seria
– to be famously interrupted by common or garden song and dance in poet-librettist Hofmannsthal's ingenious misalliance – but what we actually got in the "performance" was a modern Ariadne slumped on a dressing table in a hotel room the walls of which only suggested a desert island, peopled by female staff and jack-the-lad troupers.
It felt true and poignant and innovative then. That it doesn't this time around is largely due to Karita Mattila's Ariadne. She gives her passionate all, in great if sometimes gauzy gusts of prima donna opulence; but I didn't believe in her suffering as the poor woman who's been deserted by her lover and longs for death. If anything, she more resembles an especially crazed Salome ranting over the head of John the Baptist. This is Ariadne as sacred monster, not the kind of real human being we could believe in when Petra Lang and above all Anne Schwanewilms sang in the same production.
Mattila's Ariadne might as well be stuck in front of a cave on a hokum desert-island set. It's a bad start for an opera proper where Ariadne has not just one lament in the vein of Monteverdi's prototype, but two big arias one after the other. How the first-night audience coughed and fidgeted through them. True, the commedia dell'arte troupe led by "the fickle Zerbinetta" make their interjections early on and take over for an extended intermezzo but that, too, which seemed so pointedly anarchic first time round, now feels like an aimless mess, and even Harlequin's charming little serenade comes across as unduly aggressive from Markus Werba, maybe in line with the interpretation..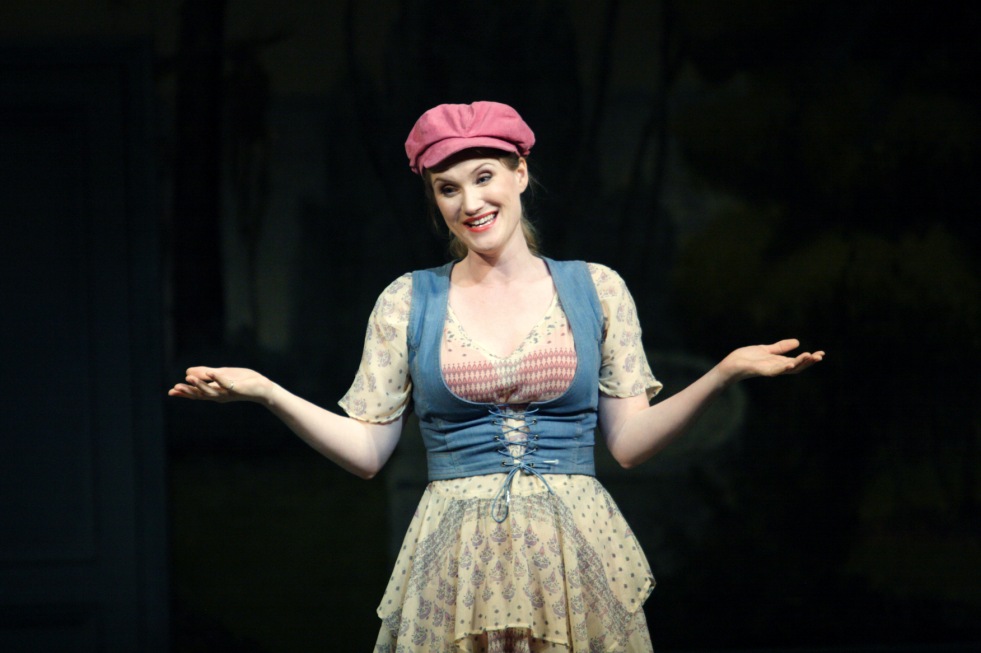 Jane Archibald (pictured right), the latest contender for the coloratura crown in Zerbinetta's ne plus ultra sermon of easy loving, is characterful but not always very clear toned, accurate but never as brilliant up top as one of the two true stars of the evening's longer half for me, Russian light soprano Sofia Fomina. Her personality in the Greek-chorus nymphs' trio is matched by the luxury casting of Karen Cargill, a truly great mezzo and, or so Robin Ticciati told me he hopes, a future Berlioz Dido. With Kiandra Howarth just fine as Echo to their Naiad and Dryad, the Rhinemaidenish passages are the musical highlights of the opera Ariadne auf Naxos this time round.
Fortunately there's also the backstage Prologue, which sparkles, seethes and coruscates under Pappano's now expert guidance. Solo string detail is exceptional, especially from the principal viola, while lower colours inform the slightly gone-to-seed wisdom of the Music Master (Thomas Allen, razor-sharp as ever despite an early pre-emptive cue) and the despair of his impetuous adolescent protégé the Composer. Ruxandra Donose (pictured below with Allen) is a true mezzo with the necessary ardour for the top notes originally destined for a soprano. Again, like Archibald's, the voice can be a little under-defined in the middle register, but it's a committed assumption, its wings clipped only slightly by Pappano's tendency to press the great hymn to music's holy art, as he does the climax of the parallel outpouring in the opera proper.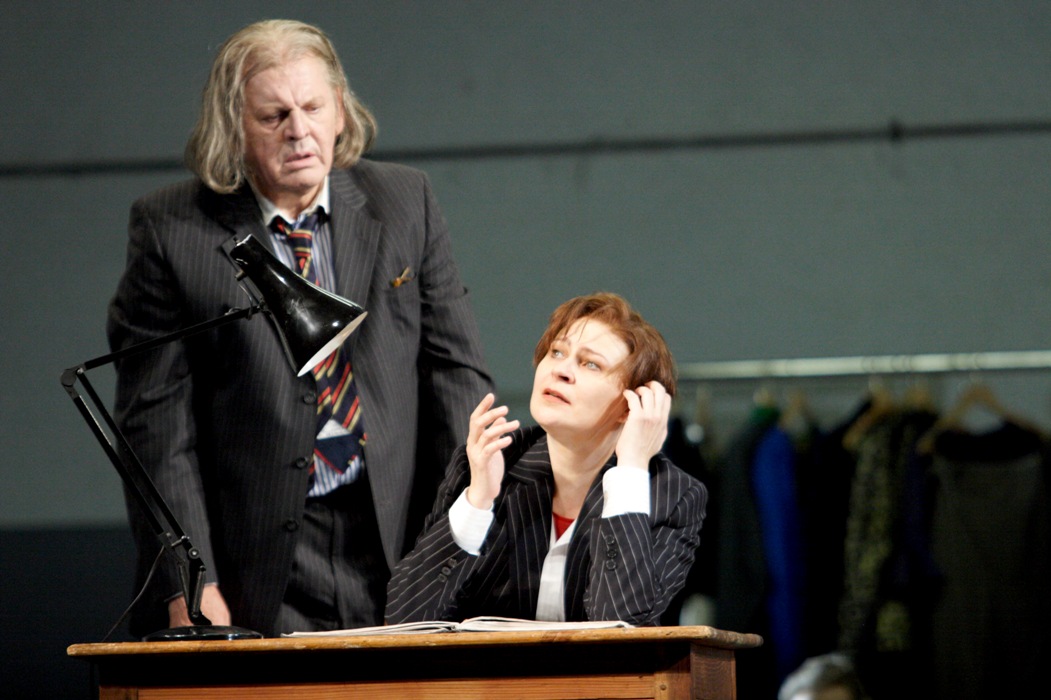 Loy's production doesn't make much sense there of Bacchus as the transformative new love, much as Roberto Saccà has what it takes for this insanely written and usually thankless part. There's plenty of bit-part work for the house's Jette Parker Young Artists, with Jihoon Kim making his mark as an impudent lackey, and Ed Lyon camps it up as the character-tenor Dancing Master, nicely abetted by Pappano in a solemn reminder to the Composer of how greater masters than him have had to swallow their pride before first nights.
Unfortunately his smug declarations that there are passages in the young chap's work which will be perilously boring come true owing to uncertain characterization; the singing and playing just aren't enough on this occasion. I'm in a minority here, but I found much greater truth and pathos in the Blitz-time country house hospital meeting of Soile Isokoski's stricken patient Ariadne and Sergey Skorokhodov's airman Bacchus at Glyndebourne. But at least Director of Opera Kasper Holten has voted confidence in that fascinating experiment's director, Katharina Thoma, by inviting her to direct Un ballo in maschera next Royal Opera season. The Loy era, a Tristan revival next season apart, may be over, though this production is a reminder of the risk Pappano took all those years ago. It's just a shame that this Ariadne doesn't quite make the triple Covent Garden whammy after an ideally cast Elektra and Die Frau ohne Schatten to do Strauss anniversary year fullest justice.
MORE RICHARD STRAUSS ON THEARTSDESK

Der Rosenkavalier, Royal Opera (2009). Uneven revival of John Schlesinger's 25-year-old production
Capriccio, Grange Park Opera (2010). Lively staging, stylish singing and a welcome intrusion of wartime reality
Salome, Royal Opera (2010). Angela Denoke's mercurial Salome (pictured below by Clive Barda) shimmers in Strauss's monstrously beautiful opera
Ariadne auf Naxos, Welsh National Opera (2010). Hoffmansthal's libretto is all about fidelity. This updating is faithful, up to a point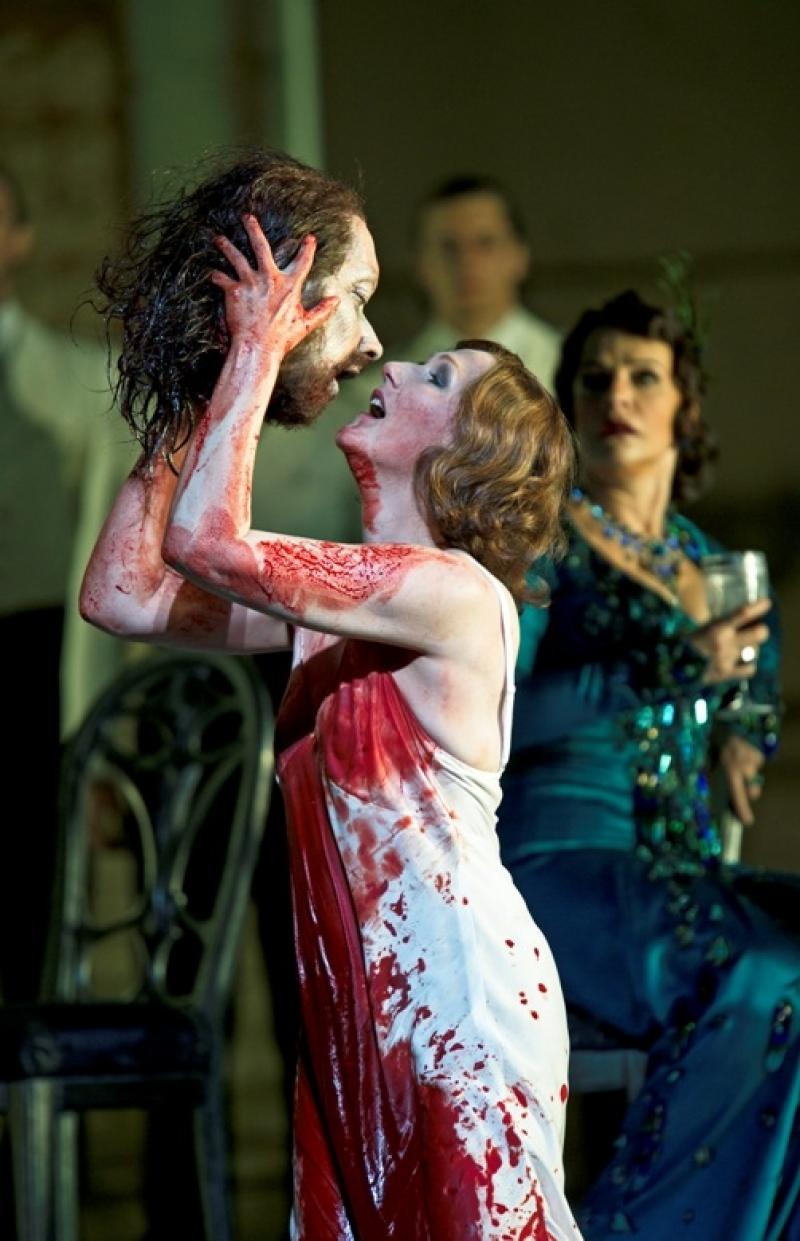 Intermezzo, Scottish Opera (2011). Soprano Anita Bader graces a Klimtian take on Richard Strauss's domestic comedy
Die Frau ohne Schatten, Mariinsky Opera (2011). Strauss's massive fairy tale makes a rare outing in Gergiev's musically strong venture at the Edinburgh Festival
Der Rosenkavalier, English National Opera (2012). David McVicar and Edward Gardner deliver a riveting account of Strauss's popular opera with Amanda Roocroft as the Marschallin
Intermezzo, Buxton Festival (2012). Fine style in Strauss's comedy-with-feeling
Ariadne auf Naxos, Glyndebourne Festival Opera (2013). Strauss's opera reluctantly enters the Battle of Britain courtesy of a young German director
Capriccio, Royal Opera (2013). Renée Fleming leads superlative cast in concert performance of Strauss's operatic debate

Elektra, Royal Opera (2013). Revival with Christine Goerke in the title role hits the horrid heart of the matter in Strauss's poleaxing masterpiece
Die Frau ohne Schatten, Royal Opera (2014). Compelling dream-interpretation of Strauss's myth graced by fine singing and Semyon Bychkov's conducting
Der Rosenkavalier, Glyndebourne (2014). Richard Jones finds new order in rococo comedy for music, with Kate Royal as the Marschallin

Salome, BBC Proms (2014). Nina Stemme stuns with Donald Runnicles and the Deutsche Oper Berlin in a giddying account of Strauss's incredible score at the Proms
Salome, Symphony Hall, Birmingham (2015). Lise Lindstrom steals the show from Karabits and Bournemouth SO as a sensual Strauss anti-heroine in concert
Der Rosenkavalier, Royal Opera (2016). Robert Carsen's handsome production with Renée Fleming is elevated by superb orchestral playing