Kaleidoscope Chamber Collective, Wigmore Hall review - nine haute cuisine courses, twelve happy musicians |

reviews, news & interviews
Kaleidoscope Chamber Collective, Wigmore Hall review - nine haute cuisine courses, twelve happy musicians
Kaleidoscope Chamber Collective, Wigmore Hall review - nine haute cuisine courses, twelve happy musicians
Sensuous and joyous French delights in two daytime concerts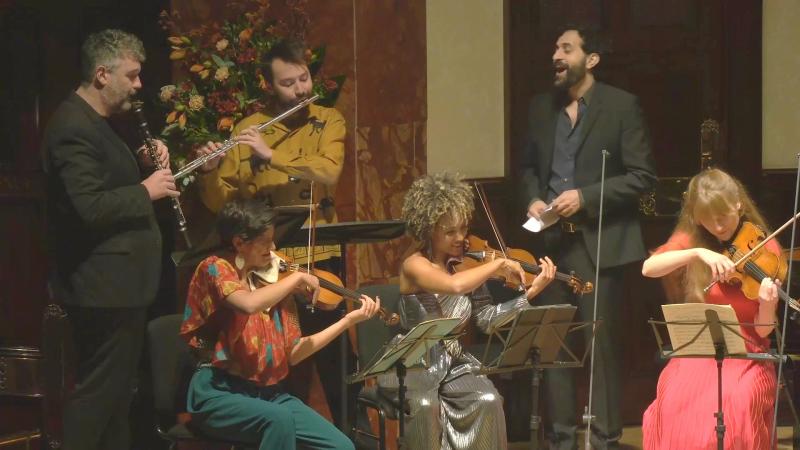 They love Paris: Matthew Hunt, Adam Walker, Karim Sulayman, Elena Urioste, Melissa White and Rosalind Ventris
How do they do it? Kaleidoscope Chamber Collective ticks all the boxes of diversity and reaching out to all ages without needing to draw attention to it all. The answer is quite simple: the repertoire – in Saturday's morning and afternoon concerts, French chamber music both known and unfamiliar – is beautifully chosen and programmed, the performers all born communicators as well as musicians at the highest level.
Among the first and last artists to appear were recent BBC Young Musician finalists, horn-player Annemarie Federle (2020) and percussionist Jordan Ashman (2022; another, Laura van der Heijden, one of the loveliest cellists with an international career, won in 2012). Federle's horn met the flights of Adam Walker's flute in the opening Scènes de la forêt by a composer new to me, Mel (short for Mélanie) Bonis (1858-1937). Tom Poster's infinite delicacy in two of the four pieces, starting with quintessentially French oscillation between notes octaves apart, spun the magic (the three pictured below).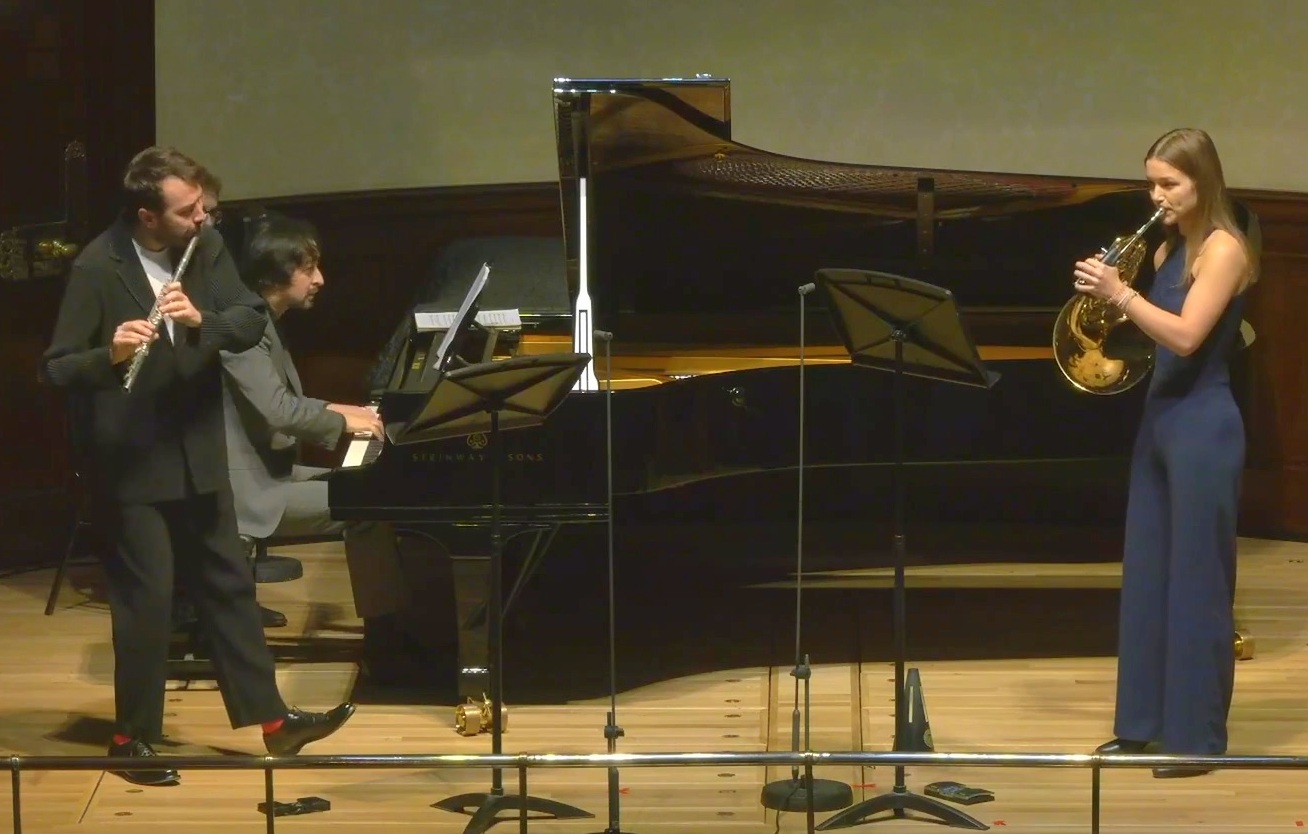 It was typical of Poster's clever planning that Federle joined Lebanese-American tenor Karim Sulayman for Berlioz's version of "La jeune pâtre" (The young Breton shepherd) adding horn, Walker for Philippe Gaubert's "Soir Paien" (Pagan Evening) and Saint-Saëns' "Une flute invisible", which has a refrain for the instrument lesser composers could only dream of hitting upon. There was charm in these three songs, but something else in Poster's arrangement, featured in the afternoon concert, of four Hahn songs with string quartet added to voice and piano. The antique pastoral of "A Chloris" was transfigured in the quartet sound, while Hahn's Italian-set serenade of love on the lagoons, "La barcheta" from his Venezia sequence proved pure ecstasy in Sulayman's sensuous handling of the wordless vocalizes (such breath control, too). What a compelling performer he is, romantic charm personified.
The big works in each concert could not have been more perfectly contrasted, or more stylishly reflected in the very different dressing-up of the performers. I was expecting Fauré's First Piano Quartet, which I know and adore, not the D minor Piano Quintet, which I didn't and feel glad to have lived this long to hear it live, especially in such an ineffable performance. The miraculous first movement treads air, does that typical Fauré thing of levitating into unknown regions, an art which holds from first note to last; the central Adagio is no let-down, while the finale modulates from insouciant start – anything noisy would be a jolt – to unmodified raptures. Steered by Poster, violinists Elena Urioste and Melissa White, viola-player Rosalind Ventris and cellist van der Heijden (pictured below with Sulayman) knew when to keep the black silk veils billowing, when to show full faces. This is the performance I want to hear again when I next listen, and happily there's still a chance, since both concerts were included in the Wigmore's live streams, available for a month after broadcast.
The other bonnes bouches alongside the Hahn songs in the afternoon concert were far from negligible: Duruflé's chimerical, chameleonic Prélude, récitatif et variations for flute, viola and piano, and six of the movements Germaine Tailleferre composed for a documentary film about impressionist painters which was never made – some pastichey, some startling, all exquisitely short and striking in the personnel (Walker and Poster alongside another pianist, the fine-tuned Mishka Rushdie Momen, and double-bass player Joseph Conyers, who would wow us as an elephant trying out Offenbach's can-can and (with comic difficulty) Mendelssohn's Puck.
Everyone shines in Saint-Saëns' Carnival of the Animals, but it takes players like these to make us realise how even parodies deserve to be taken seriously (with the exception of "Pianists", Poster and Rushdie Momen managing to ring rampaging changes on bad scale-practising). Unpredictable laugh-out-louds came from clarinettist Matthew Hunt, master of unique musical timing, as cockerel from the back of the hall and a surprisingly quirky, almost querulous cuckoo in the woods (who else could wring so much wit from two repeated notes?). Van der Heijden reinforced what a master swan song the composer provides by keeping it cool and unsentimental.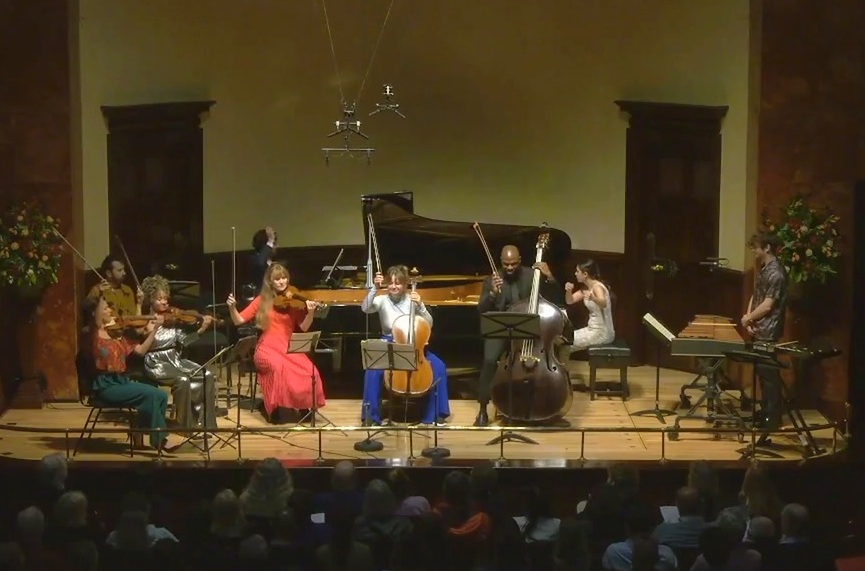 The romping finale, much reinforced by Ashman's rattling, wasn't the end; we knew from the morning's experience that it couldn't be. Then, we had "La vie en rose" gorgeously enriched by four-part string harmonies; now, Cole Porter's "I love Paris", with perfect vocals from Sulayman and climate changes from the woodwind flurries. Poster is such a good arranger, and the quiet magician behind it all; but this is a true collective, and everyone in it deserved the heartfelt thanks of a small but enthusiastic audience (kudos to CAVATINA Chamber Music Trust's free morning tickets for eight- to 25-year-olds). I imagine more Wigmore regulars came to the Sunday morning concert, not least to claim their free glass of sherry, when a slightly different team played Vaughan Williams and the Coleridge-Taylor Nonet which first introduced me to the teamwork of these remarkable musicians. That, too, can be seen on screen for the next 28 days: I imagine the joy will still burst through.
What a compelling performer Sulayman is, romantic charm personified
rating
Explore topics
Share this article