Queen of Glory review - carving an identity between two worlds |

reviews, news & interviews
Queen of Glory review - carving an identity between two worlds
Queen of Glory review - carving an identity between two worlds
Endearing low key comedy that lets its audience into the lives of second generation immigrants in America
Nana Mensah as Sarah Obeng with her dressmaking Auntie
Queen of Glory is a passion project, nurtured for almost 10 years as a script by Nana Mensah, who ended up not only directing the film but taking the lead role as well in order to get it made.
It's the story of Sarah Obeng, an ambitious second-generation Ghanaian teaching at Columbia University. Her plan to move to Illinois with her lover and finish her PhD in oncology is derailed when her mother dies unexpectedly and leaves Sarah as the owner of a bookstore in the Bronx.
Filmed in Mensah's parents' actual Christian bookstore on Sundays – the only day it was closed – and on local streets and friends' apartments, this ultra low-budget indie comedy has a lot of charm. We get to eavesdrop on the life of Sarah, battling with her Aunties' desire to see her slimmer, married and more traditionally dressed and also with her patriarchal father (Oberon KA Adjepong). He went back to Ghana many years before and has now returned for his wife's elaborate funeral and memorial ceremonies but also to watch football and demand his daughter sort out the TV remote. It's a glimpse into a community that we've rarely seen in American cinema and is made all the more engaging by the warm friendship extended to Sarah by the Russian emigrant family who live nearby.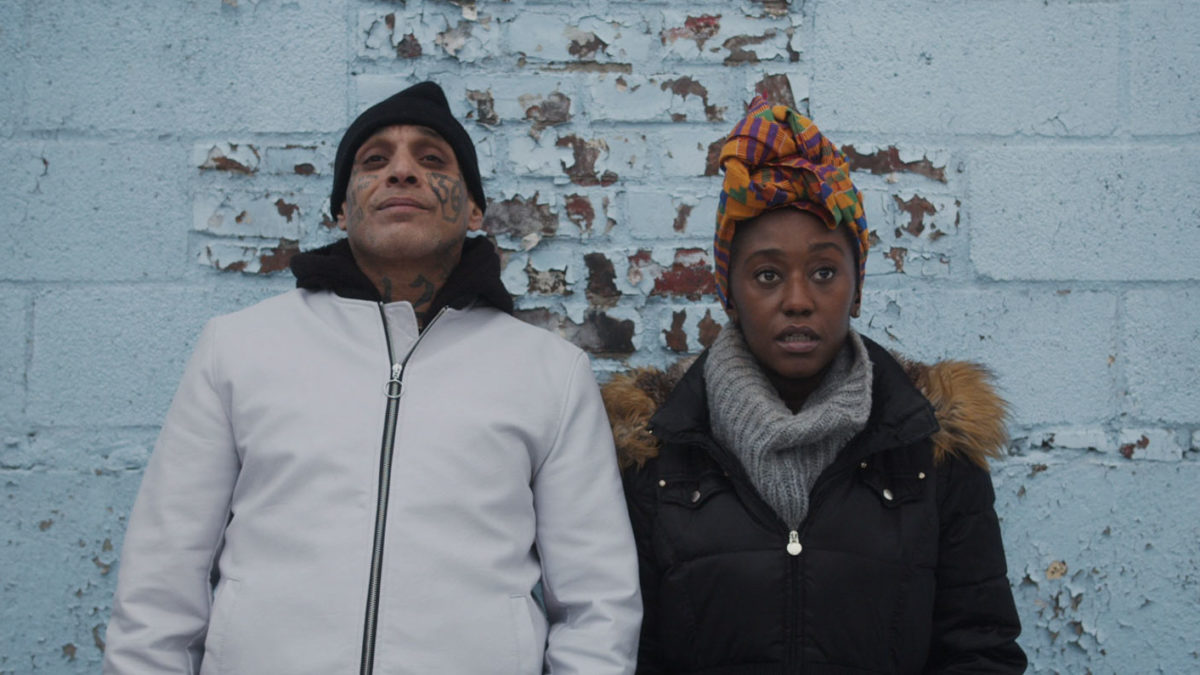 Sarah's quest to sell the bookstore and move on with her life are complicated by the presence of its manager, Pitt. Played by Meeko Gattuso (pictured above left), a former gang member of the Latino Kings best known for his chilling performance as a drug dealer in Euphoria, Pitt has a sideline in baking delicious cookies for the bookstore. He'd been given a second chance after prison by Sarah's mother and belies the impression given by his ferocious facial tattoos; he is now a devout family man dedicated to the shop and its customers. Sarah squirms when the real estate agents come in unannounced to measure up and Pitt realises that she's planning on selling up.
Mensah brings all these the multicultural elements into her film with grace and lightness, nothing is laboured here and it's no surprise that Queen of Glory has won several festival prizes. Archival footage from Ghana is woven in dextrously and the dialogue slips naturally between English and Twi. In some ways reminiscent of early Mira Nair and Wayne Wang films, this is a movie that's all about carving out an identity between two worlds. Mensah dodges the broad clichés of the immigrant experience and deals subtly with the racism and sexism that Sarah has had to navigate to get to her place in American academia. It's also a very unflashy piece of film-making – Mensah's background in theatre and her relative inexperience in directing has led her to rely on long static takes where the characters crowd or enter the frame and simply give their performances without cutaways or reaction shots. It'll be fascinating to see what she does next after this impressive and very likeable debut.