Sacre, Circa Contemporary Circus, Brighton Festival review - an astonishing assortment of lifts and throws, daring and strength |

reviews, news & interviews
Sacre, Circa Contemporary Circus, Brighton Festival review - an astonishing assortment of lifts and throws, daring and strength
Sacre, Circa Contemporary Circus, Brighton Festival review - an astonishing assortment of lifts and throws, daring and strength
Re-imagining 'The Rite of Spring' and re-defining the boundaries of circus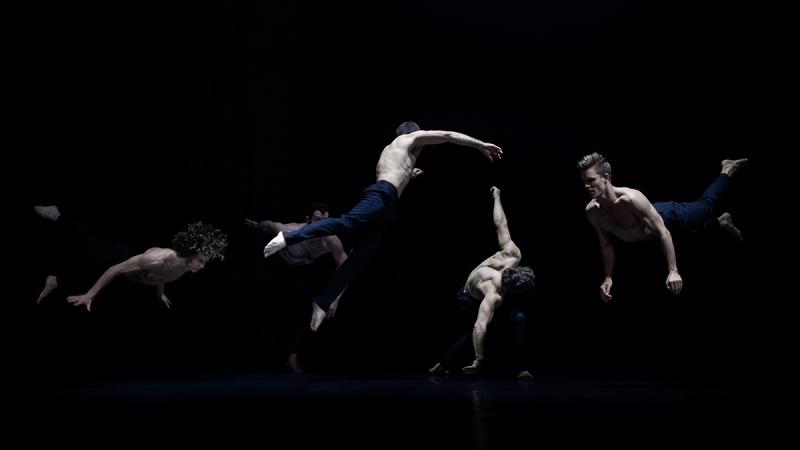 Australian group Circa's Sacre for the Brighton Festival
Sacre isn't your average big-top show. Created by Brisbane-based company Circa, this is modern circus meets contemporary dance – a conceptual deconstruction of the traditional experience, represented in a show of impressive strength, with real people reacting and responding to one another's energies and intentions.
A group of 10 acrobats all in black dart around the stage with breathtaking speed and vigour, coming together and pushing apart in a series of lifts, throws and catches with alarming alacrity. They run, jump and fling themselves at each other at unexpected moments, hurling back layouts at breakneck speed, trusting that someone will be there to catch them, to swing them back around to carry on with the next move. It's very Philippe Decouflé meets Marcel Marceau.
This is a refreshingly gender-balanced work, where women lift men as much as the other way around, and in fact some of the most incredible moments are by females. They build human totem poles, standing on each other's shoulders – at one point a woman stands on a man's head who is standing on top of someone else; in another, a woman balances two women above her, and two men at the side of her, bearing the weight of five performers in total.
Themes occur as the performers convulse, become trapped in boxes of light, connect and disconnect with each other, or surround an individual, cult-like in a circle, before helping her ascend, as she climbs higher and higher using their hands as stepping stones. Thoughts of divinity and desire rise and pass as we focus on the next trick.
The movement is accompanied by a disjunctive, sinister soundscape of gunshots and scraping reverberation by Philippe Bachman for the deadpan troupe, which then develops into Stravinsky's haunting "The Rite of Spring". A lack of staging or colour is circumnavigated by Veronique Bennett's deft lighting design, and any lack of understanding of the narrative is overtaken by the sheer impressiveness of this Australian group's feats of daring and courage.
They run, jump and fling themselves at each other at unexpected moments, trusting that someone will be there to catch them
rating
Explore topics
Share this article