The Souvenir Part II review – the problem with posh realism |

reviews, news & interviews
The Souvenir Part II review – the problem with posh realism
The Souvenir Part II review – the problem with posh realism
Joanna Hogg's sequel champions artiness over social conscience
Tuesday, 08 February 2022
Pursuing a new direction: Julie (Honor Swinton Byrne) in 'The Souvenir Part II'
The Souvenir Part II apparently concludes Joanna Hogg's fly-on-the-wall drama about a woman film student's emotional evolution as the victim of both her older boyfriend's abuse and the disdain of her male instructors. It's a psychologically perceptive drama full of acute observations, yet it's disconcerting in its social complacency.
Hogg's sequel to her semi-autobiographical 2019 drama finds the callow aspiring director Julie (Honor Swinton Byrne) channelling her grief for her dead lover, the mysterious drug addict Anthony (Tom Burke), into her film school graduation project. Simultaneously, Julie attempts to individuate, belatedly, from her caring but overprotective upper-middle class parents, Rosalind (Tilda Swinton, Honor's mother) and William (James Spencer Ashworth). Hogg draws together these strands skilfully. How satisfying one finds Julie's hard-won self-liberation largely depends, however, on the degree of one's empathy for Hogg's privileged perspective and patience for watching Julie and her fellow students as they discuss and argue over the finer points of her film for much of the middle act. 


This is not a wilful attempt to disagree with critics who have raved about The Souvenir Part II or to underestimate the importance of a movie about a woman's struggle to become an expressive filmmaker in the male-dominated British industry of the 1980s. That diffident Julie had been seduced, lied to, exploited and stolen from by a charming, worldly man makes her struggle especially resonant; in this regard, The Souvenir diptych is more potent than certain #MeToo-era films. If Hogg's abrupt cutting between scenes results in several jarring non-sequiturs, her artistry in terms of composition, light and sound, and her direction of her impeccable cast, demonstrate the same mastery she showed on Unrelated (2007) and Archipelago (2010).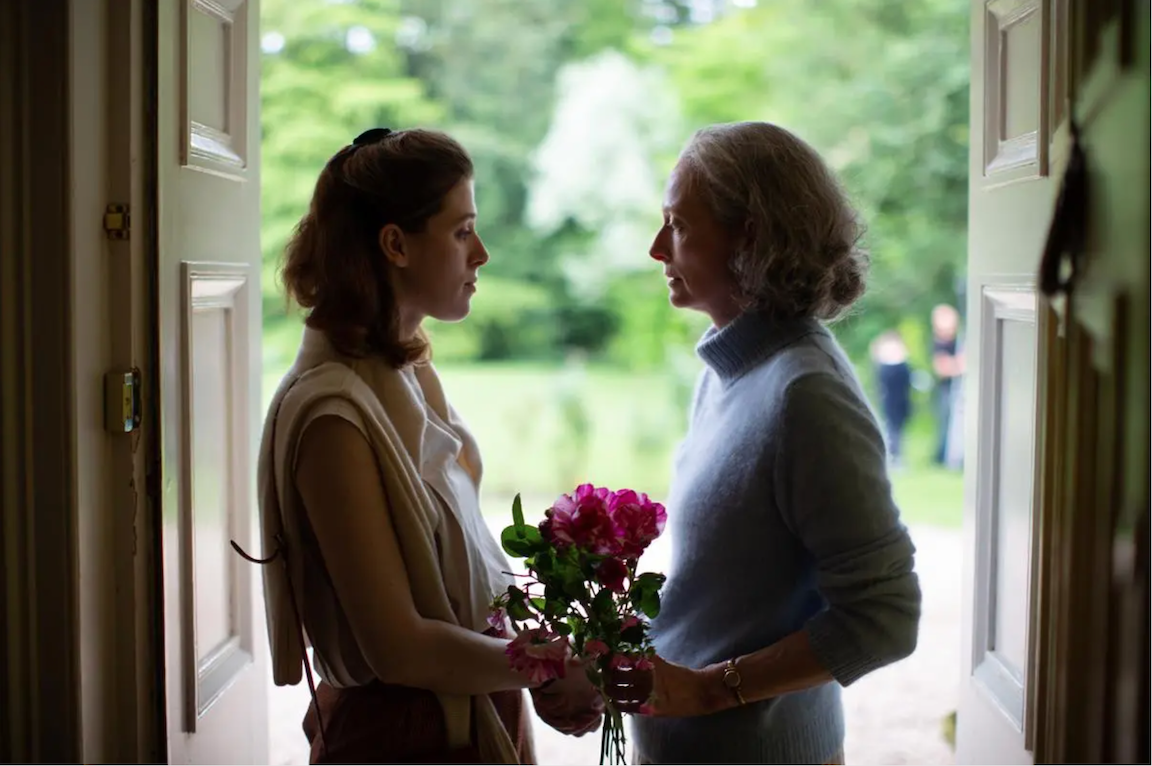 Julie has been in a state of shock since learning of Anthony's death from an overdose. After a period of recovery in the warm blanket of her parents' Norfolk arcadia, she returns to London and tries to discover how he spent his last hours and who, in fact, he was. If he worked at the Foreign Office, as he intimated, his father has been unable to verify it. When Julie enters the shady house where Anthony scored heroin, she steps for the only time into his twilit world, creepily manifested by Gala Bernal as its doyenne. Sensing, perhaps, that further sleuthing would tarnish her memory of Anthony irrevocably, Julie reserves the rest of her courage for memorialising him in her film, as suggested by her established director friend Patrick. (Pictured above: Swinton Byrne, left, and Swinton)
The subject of Anthony's death meanwhile elicits Rosalind's difficulty in addressing her daughter as an adult. Asked by Julie how she felt when she learned Anthony had died, Rosalind hesitates too long before saying how worried she felt for Julie. Hogg herself is too protective of Julie. Dennis Potter once said we should regard our younger selves with "tender contempt". Beyond showing that Julie continues to borrow money from Rosalind – William half-seriously suggests working on his farm would serve her better than continuing at film school – Hogg depicts Julie's journey as an unrelievedly solemn and solipsistic rite of passage. Self-pity in others is hard to take, in films as in life, and it's a credit to Swinton Byrne's sympathetic performance that Julie's mopeyness isn't fatally alienating.
Her interactions with her cast and crew are revealing. In one excruciating moment, Julie overhears her film's leading lady (Ariane Labed) describing her as naive. Trying to figure out with Julie how he should play the Anthony character, her leading man (Harris Dickinson) is unnecessarily insensitive. Her loyal producer (Jaygann Ayeh) steadfastly defends Julie's cinematic vision before the film school faculty without indicating he understands it. Her kindhearted editor (Joe Alwyn, excellent) has to do some neat sidestepping when Julie puts him on the spot (as he does so, he says something that makes you frightened for him). Some of these exchanges and character observations should be amusing, but Hogg's deadpan approach is so congruent with the drama's flow that they barely ruffle its surface. The making of Julie's graduation film is meanwhile so protracted as to dull its fascination. I was put in mind of Peter Jackson's The Beatles: Get Back – too much of a good thing.
As for the expostulating prima donna Patrick – who for all his pretentiousness throws valuable pearls of wisdom to Julie – he is presumably intended to inject a measure of satirical levity. But Richard Ayoade's performance is as atonal as it is witless, akin to finding David Brent (who was funny) in a Ken Loach film. There's a little more humour at Rosalind's expense. Not to be outdone as a creative type by Julie, she makes something she's proud of but talks about with false humility – but does one smile or smirk at its eventual fate and Rosalind's muting of her irritation?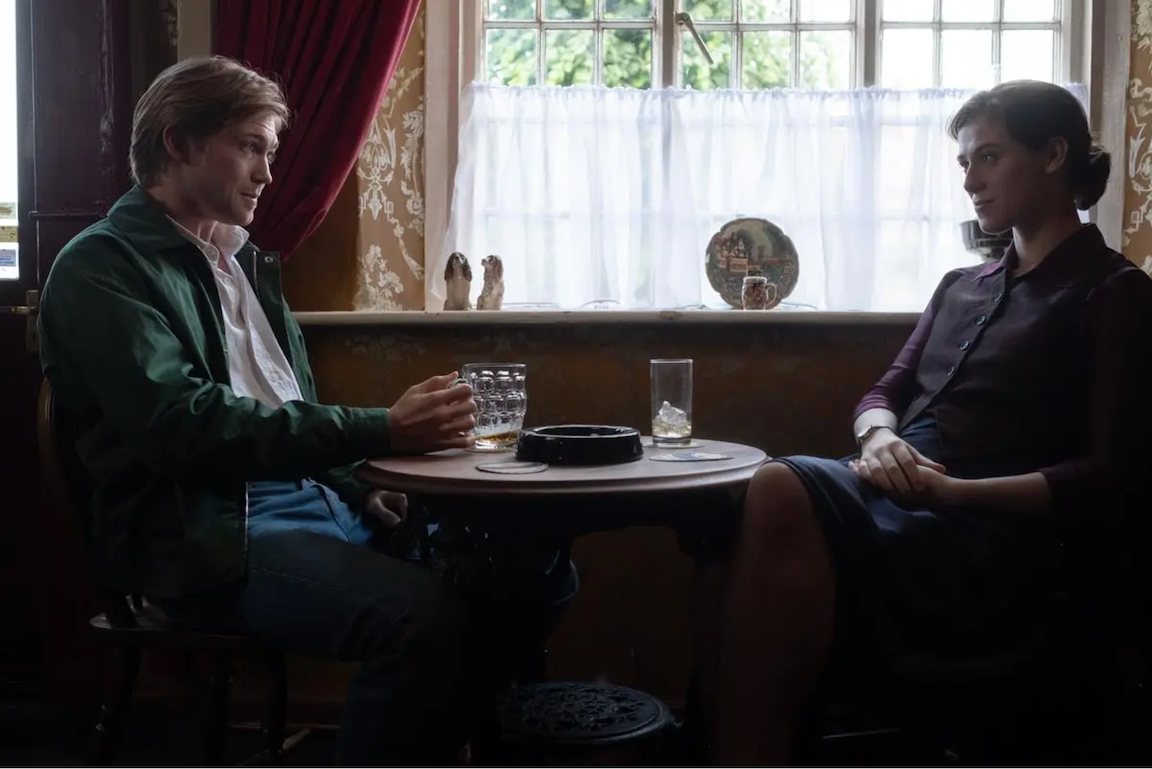 It's endearing, on one level, that Julie's completed film, shown by Hogg as the "film within the film", is a self-indulgent experimental mess that, via references to A Matter of Life and Death and The Red Shoes, acknowledges Anthony's avowed love of Michael Powell and Emeric Pressburger. Yet it seems paradoxical that Hogg should put her rigorous social realist style in the service of celebrating Powell and Pressburger's High Tory romanticism. (Pictured above: Joe Alwyn and Honor Swinton Byrne)
British social realism evolved in the hands of Ken Loach, Mike Leigh, Alan Clarke and others as the appropriate style for relaying working-class agitation and dissent. There's no reason, of course, why there shouldn't be posh realism, too. However, Julie's abandonment of the working-class and post-industrial Sunderland footage that gained her admission to film school in favour of her high-blown art project is far from endearing, despite its therapeutic value to her.
In a pivotal scene, she defends her script for it (tied with a red bow!) before the four middle-aged white male professors who will determine if she graduates or not. Though a few of her Sunderland images flicker in her mind in Part II, her decision to set them aside also sets aside what one of the professors says would have been "an engagement… with people's lives". Her volte face so offends these greybeards that they pull Julie's funding. "I want to show life as I imagine it – and that's what cinema's all about," she protests, emerging at last from her post-Anthony slump. It's a moment to cheer, yes, and Hogg might even be poking fun at her idealistic younger self. If so, her irony is buried so deep that I doubt it'll be noticed by younger viewers thrilled by seeing Julie challenge the dreary, punitive patriarchy. They could easily leave the film thinking imaginative, undisciplined self-expression is more urgent than having a social conscience, which is worrying.