Waiting For Godot, Theatre Royal Haymarket |

reviews, news & interviews
Waiting For Godot, Theatre Royal Haymarket
Waiting For Godot, Theatre Royal Haymarket
Beckett returns after a six-month wait, bruises and beauty intact
Thursday, 28 January 2010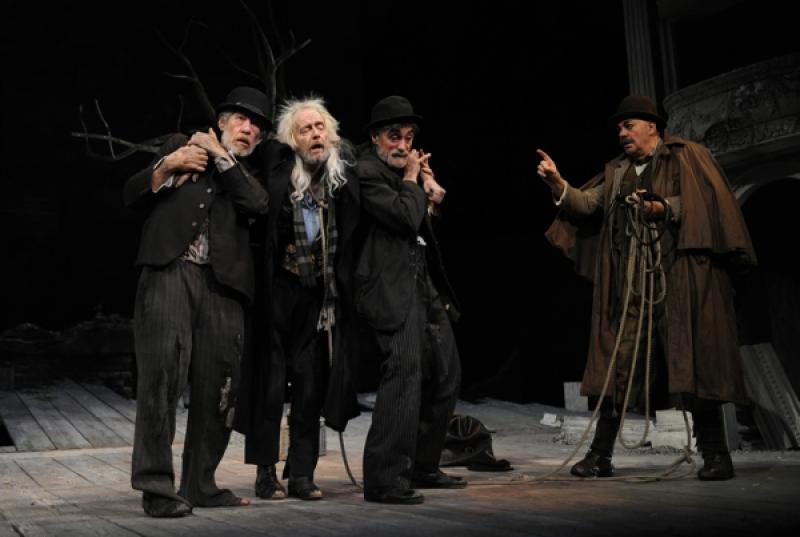 Nothing to be done? (Except tweak last year's Godot revival)
The wait is over. Less than six months after dramatic literature's defining tramps departed the West End, here are Vladimir (Didi) and Estragon (Gogo) back again, with some new faces to flesh out Beckett's eternal verities about that grievous but also grimly funny thing we call life.
Roger Rees has joined
Ian McKellen
to make up a double-act whose vaudevillian tendencies intensify the more these two abject fellas face down the void. The truly startling news, though, is the added jolt afforded the evening by the arrival of Matthew Kelly as a seriously searing Pozzo: a capacious performance that would capsize a production built on less solid ground.
The self-evident occasion last summer of the director Sean Mathias's sold-out run was the onstage reunion of old chums McKellen and Patrick Stewart, the latter in his last theatre venture before he caught up at Christmas with Sir Ian and became an actor-knight. But one intends no disrespect to Rees, the Welshman-turned-New Yorker returning to the British theatre for the first time in over 20 years, in pointing out that the balance of the play's quartet has shifted, which is no bad thing.
Whereas previously one savoured the Stewart/McKellen interplay and then had to sit through a hefty slice of Simon Callow ham, Kelly's terrifying Pozzo - a dethroned despot whose second-act self-abasement is hard to watch - gives equal weight to the crucial, if subsidiary, pairing of this play. We all know that Didi and Godo are the ones keenly waiting the eponymous Godot, when in fact all they are met with at the end of each act is his emissary in the form of a none-too-enlightening boy.
McKellen even more than last year gives us a Gogo whose purchase on reality is precarious
But their shared verbal jousting and physical hi-jinks are placed into bold relief by the crushing co-dependency of Pozzo and the absurdly named Lucky, the itinerant duo who crash the Didi/Godo "party" and, in so doing, transform the play's emotional temperature. (As would most people, I suppose, who are given to observations on the order of, "We give birth astride of a grave".) Kelly's brilliance lies in the gleaming sense of mischief with which he advances floridly into view in Act One, Ronald Pickup's shaggy-haired Lucky a sour-faced foil awaiting the logorrheic exercise in thinking with which the actor as per usual with this role stops the show. (John Glover's Lucky was the only member of the recent, well-reviewed Broadway revival of this same play, directed by Englishman Anthony Page, to come away with a Tony nomination.)
Given to the occasional long, low burp, Kelly's Pozzo at first takes to Didi and Gogo like some sort of uber-thesp who has found a fresh audience for whom to perform. "That's how it is on this bitch of an earth," this Pozzo intones gravely, seconds before clasping his breast in anticipation of applause he doesn't get. Come Pozzo's subsequent reappearance near the end of the play, however, and there's not a trace of grandstanding to rhetoric that Kelly this time plays for real: gone blind and with his luckless Lucky struck dumb, existence is revealed to be the cruellest of jokes - something Didi and Gogo themselves realise in between noshing on root vegetables and dropping their pants.
McKellen even more than last year gives us a Gogo whose purchase on reality is as precarious as a memory that seems to be slipping away, a condition that is there to be charted on the expressions of befuddlement and bewilderment that line this actor's matchlessly expressive face.
There's something of the overgrown child to the way in which he flashes and moons the same Lucky who, we are told, once "capered for joy". Struggling to recall what happened to his beloved boots ("I don't know why I don't know"), his Gogo elicits purrs of sympathy from a vocally protective audience that is treated to ample views of the often bullied tramp's battered legs and feet. That in turn explains why Rees's contrastingly pragmatic Didi seems less Gogo's equal in age than a younger brother or devoted companion whose job it is to look after an older, increasingly infirm relative or friend. It's only as night falls yet again that Didi's heartiness starts to sound purposefully hollow, as the imminence of Godot fades once more from view and Didi for the first time in our acquaintanceship of him surrenders to barely contained rage.
Stephen Brimson Lewis's set locates the text's abiding placelessness within the ruins of a crumbling playhouse, which both serves a script rife with theatrical self-consciousness (Didi uses the word "repertory") and points the way toward the Haymarket's rumoured forthcoming revival of Stephen Sondheim's Follies - a show that on this evidence Brimson Lewis is destined to design. Paul Pyant's empathically revealing lighting tends to illuminate ever more brightly specific sections of the stage, or a particular actor, as the piece darkens, as if blinding us to the folly of the human condition before plunging with Beckett into the abyss.
Kelly's terrifying Pozzo gives equal weight to the crucial, if subsidiary, pairing of this play
Explore topics
Share this article