Clements Prize, Conway Hall review - newly-written string trios in competition |

reviews, news & interviews
Clements Prize, Conway Hall review - newly-written string trios in competition
Clements Prize, Conway Hall review - newly-written string trios in competition
Varied works by young composers get a sympathetic reading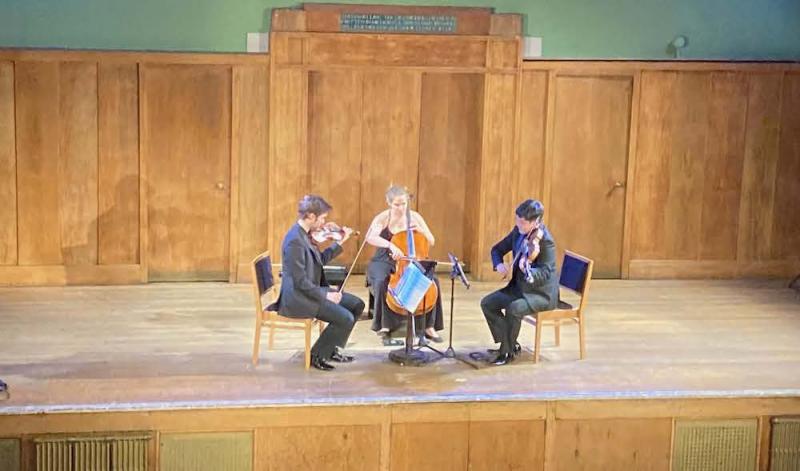 Michael Trainor, Tetsuumi Nagata and Jessie Ann Richardson play at the Conway Hall
The Conway Hall in London has hosted chamber music concerts since it was built in 1929, and for 40 years this included a composition prize, in abeyance since the late 1970s. This has now been revived by the hall's enterprising director of music, pianist Simon Callaghan, to help young composers post-pandemic. Sunday night saw the final concert in which the shortlisted pieces were played and the winner announced.
The competition rubric called for new string trios by composers under the age of 35 – the finalists ranged from 19-31 – and they gave a snapshot of the music younger composers are writing. There was a main prize (a generous £3,000) and a voted-for audience prize.
As is usual with reports of this sort, my preferences did not completely align with the judgment of the panel, although I had no quibble as there were no weak pieces, and sufficient variety to make the event work as a concert. The trio, a subset of the Piatti Quartet, were excellent throughout, playing this series of demanding new works with commitment and sympathy. Violist Tetsuumi Nagata in particular shone, with his intense and focused sound.
To take the pieces in their concert order, we started with Alexander Verster's The Tunemonger. This was my favourite (although no one ever wins a competition from first up), offering a nostalgic reminiscence of British music of the 20th century through a contemporary lens. Alex Groves's Three Forms was a complete contrast and a boldly minimal statement, its 10 minutes consisting of an expressionless, non-developmental sequence of chords based on open fifths, which shifted and transmuted. It had the purity of a John Luther Adams conception and was arrestingly single-minded.
Vivek Haria's Ennui belonged to an expressionist world with striking unison passages and a contemplative and affecting ending. Noah Max's Sojourn, the overall winner (pictured above), is a tribute to a deceased compositional mentor, in six short movements. It reminded me of Webern in its compactness, mercurial in character, detailed in its scoring and with echoes of Samuel Barber in its fragile slow movement.
After the interval, Jacob Fitzgerald's trio erasmus squeezed 10 movements into 13 minutes, a bit of good old-fashioned modern music, with glissandos, harmonics and all the familiar toolbox of effects. It was best in its assertive, even violent passages, although the structure felt diffuse. Emily Pedersen's Partnership, winner of the audience prize, explored issues of body image through consonances that were gradually soured and a quotation of "Pop goes the weasel" that I didn't really understand. Last, Dominic Wills's Indris, had a convincing rhetorical flow but, as with some others, the methods of this young composer felt like the inherited methods of older, once-radical composers. Verster and Groves felt most like the ones forging their own path.
Before the judgment was announced we were treated to Joseph Phibbs's Quartet No.1, commissioned and performed by the Piatti Quartet. This was an excellent showcase for the quartet, including violinist Rebecca Chan, whose quasi-improvised melodies at the beginning emerged delicately from the supporting chords. It is a mature and considered piece, which, in contrast with some of the competition pieces, felt relaxed in its own skin, doing more with less.
Noah Max's 'Sojourn' was mercurial in character, detailed in its scoring and with echoes of Samuel Barber in its fragile slow movement
rating
Share this article