Album: Anne-Marie - Therapy |

reviews, news & interviews
Album: Anne-Marie - Therapy
Album: Anne-Marie - Therapy
Homegrown pop star's second is predictable to the max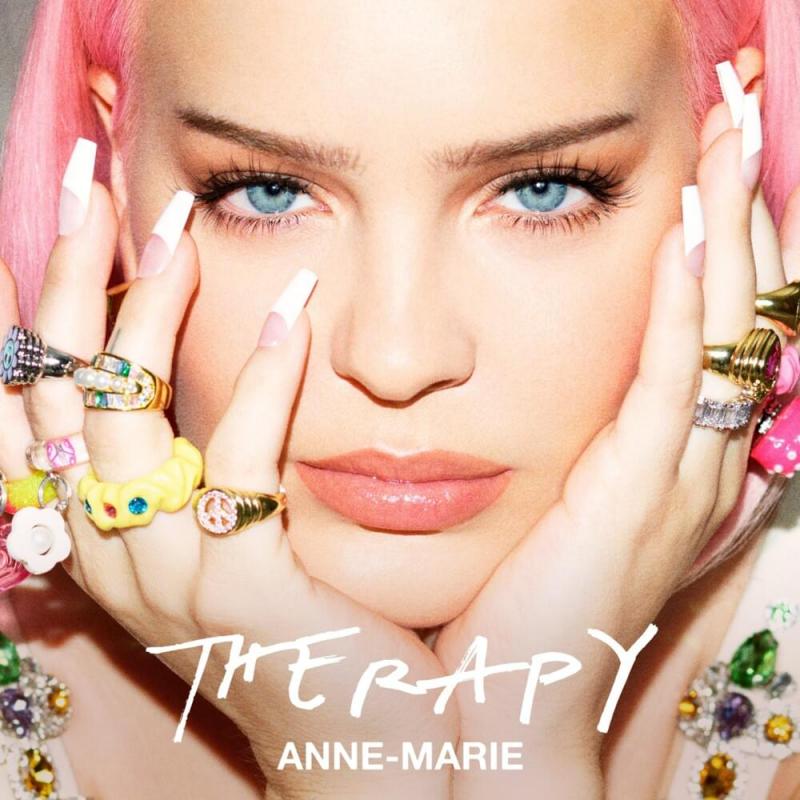 A successful 2021 pop star wearing lots of rings
Anne-Marie Nicholson is a hard-working young woman from Essex whose career description is "Global Girl-next-door Pop Star". She has incrementally worked her way there, attended the marketing meetings. Anyone requiring a CV that exemplifies the steady, data-farmed, disciplined path to contemporary major label pop stardom, should look to hers.
Spontaneity and originality are out, every media detail is micro-managed, but a multi-platform, multi-territory project such as this can reap grand rewards. Her second album maintains the planned trajectory, conceptually streamlined, nothing unpredictable.
Bucking the obvious is not Anne-Marie's game. Therapy is aimed at teenage girls and their protégés. It contains a mixture of heartfelt, if hackneyed, self-affirmation anthems, such as "Beautiful" ("We are beautiful" runs the chorus, eventually sung by cute-voiced toddlers), bitch-ass take-downs of men (boys!) who sleep with you then don't call, and, of course, dreams of idealised romance.
Her vulnerable, open persona is sometimes genuinely affecting, notably on "Unloveable" with its lines about being "so used to being lonely" and asking, "Could anybody love me at all?". The latter was created with Rudimental, the band who gave Anne-Marie her pop apprenticeship before Clean Bandit catapulted her to international stardom when she guested on "Rockabye".
There are a variety of other "collabs", as is now statutory. One Direction's Niall Horan appears on the soppy, trop-housey ballad "Our Song", and Little Mix are on "Kiss My (Uh Oh)". The latter is shouty fun, one of the album's two best bad boyfriend put-downs (the other being the stompy, catchy "Tell Your Girlfriend"). The music throughout is efficient, ranging from trap-pop to skip-beat garage, and Anne-Marie's cod-Rihanna delivery is fine, her presentation ticking various contemporary sociological zeitgeist boxes.
The thing is, it's possible to be a modern female pop star with wit and invention, tweaking the formula, adding memorable character. The list of artists who've done this in recent years is long; Taylor Swift, Dua Lipa, Lizzo, Miley Cyrus, Billie Eilish, Lady Gaga, Marina, Tove Lo, Lorde, etc, etc. Perhaps all the various Anne-Maries, lost on teen Spotify Recommended playlists, are a necessary counterpoint of there'n'gone meat'n'potatoes chart-pop.
Below: Watch the video for "Way Too Long" by Anne-Marie featuring Nathan Dawe & MosStack
Contains a mixture of heartfelt, hackneyed self-affirmation anthems, bitch-ass take-downs of men, and dreams of idealised romance.
rating
Explore topics
Share this article