Eugene Onegin, Garsington Opera review - choral and orchestral opulence for Tchaikovsky |

reviews, news & interviews
Eugene Onegin, Garsington Opera review - choral and orchestral opulence for Tchaikovsky
Eugene Onegin, Garsington Opera review - choral and orchestral opulence for Tchaikovsky
How much we've missed in a year is exemplified in aspects of this hit-and-miss show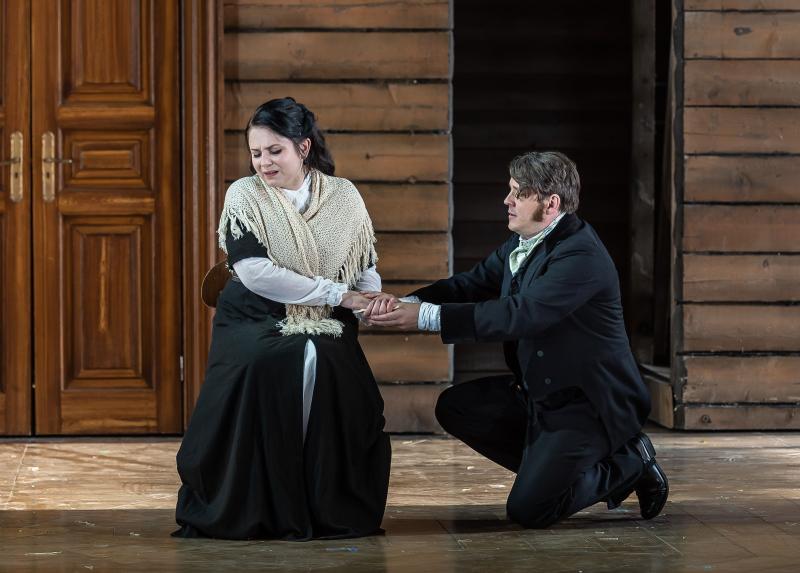 Onegin (Jonathan McGovern) returns the letter to Tatyana (Natalia Tanasii)
Peasant harvesters enter from the facsimile of Lady Ottoline Morrell's Garsington garden to the right (stage left) of the state-of-the-art pavilion and, splendidly led by a solo tenor (Dominick Felix), burst into song. The temptation is to burst into tears, for this is the first time, surely, any of us has heard a rich, full chorus live for over a year.
From the pit, the
Philharmonia
players, a day after their Festival Hall triumph with Esa-Pekka Salonen, sound as lush as you could possibly want in
Tchaikovsky
's glorious score, and if all bar one of the principals aren't quite ideal, the achievement is still stupendous under present conditions.
How quickly, though, some of us fall back – as I think we have to – into judging by all-time standards, so gratitude has to be compounded with honesty. Garsington often fields world-class casts and productions, but not quite on this occasion, if we're talking of the very highest standards. Tatyana as inflamed adolescent writing a love-letter to a young man she hardly knows needs to be lived as well as sung. There's no question that Moldovan soprano Natalia Tanasii delivers musically in every respect; the climactic notes are rich and vibrant, the honing-down to an intimate sliver of sound impressive both technically and – in the final scene, when our heroine has become a grand Petersburg lady and wife of a fat general (Pushkin's description in the original verse-novel) – emotionally. But there's a lack of dramatic intensity, of real and believable gestures, which isn't helped by those moments when Douglas Boyd, by and large shaping the exquisite orchestral phrases very well indeed, goes slow. That first act especially really needs to flow, which it doesn't always, though what a wonderful concordance between the rustic life on a country estate and the trees outside the pavilion in the late-afternoon sun.
The real stage vibrancy rests with Tatyana's supposedly more complacent sister Olga, so compellingly acted and sung by Fleur Barron (pictured above with Sam Furness's Lensky). Her unique mezzo-contralto immediately stood out in the Blackheath performance of Brahms's Liebeslieder Waltzes; here she proves herself a stage animal as well. You can't take your eyes off her whenever she appears; Garsington should build a Carmen around her. Special mention for vocal promise goes to bass Ossian Huskinson as duel master Zaretsky. Jonathan McGovern as Onegin, Sam Furness as poet Lensky and Matthew Rose as Prince Gremin are none of them at their relaxed best: there's a tension which may be the responsibility of director Michael Boyd, who has provided an ambitious overall picture but not fine-tuned the characterisations. The arias are all too stand-and-deliver, though Furness delivers Lensky's verses before his death at his friend's hands in a duel touchingly, with ringing top notes.
McGovern is well on the way to giving a complete portrayal of confused young Onegin, and there are certainly moments when Boyd's production makes us realise that he and Tatyana as outsiders would really be a good match if they had a bit more experience (when they do, it's too late). But he needs to work at making the text more conversationat at tilme, less declamatory – difficult, I know, for someone who's not a native Russian speaker – and the top, though, needs to be freer, especially in the crucial last phrase at the end of the opera, after dramatic temperatures have at last rocketed in the final scene (McGovern and Tanasii pictured right by Clive Barda). What we do realise is the youth of the three main characters, and how (this had never struck me before) each of them makes an impulsive gesture that never has a happy outcome.
Not having seen Boyd's production first time round, I can't say what modifications were made; kudos to all for pulling off rehearsals under taxing conditions (there's an excellent article on the company's website about many aspects of adapting under Covid). It's good to move swiftly from one scene to another, but it seems a pity to have the twilight coda of Act One Scene One trundled over, and from Letter Scene to chorus of raspberry-gathering girls, the tableau detracts from Tatyana's anxious mood after sending her letter.
Best is the variety depicting Onegin's long journeyings to the Polonaise, dancing with his dead friend to suggest the ghost haunts him always. As with the Waltz, proper dance movements come towards the end of the number, though it's always a pity when a movement group is so marked out from the chorus. Designs by Tom Piper and lighting by Malcolm Rippeth are top-notch, typical of the Glyndebourne-level quality Garsington frequently produces. With luck, there will be more easing into roles as the run progresses.
You can't take your eyes off Fleur Barron's Olga whenever she appears
rating
Explore topics
Share this article