Judith Herrin: Ravenna review - flashes of order and beauty in a chaotic world |

reviews, news & interviews
Judith Herrin: Ravenna review - flashes of order and beauty in a chaotic world
Judith Herrin: Ravenna review - flashes of order and beauty in a chaotic world
The once-great imperial city's mosaics and buildings have survived a turbulent time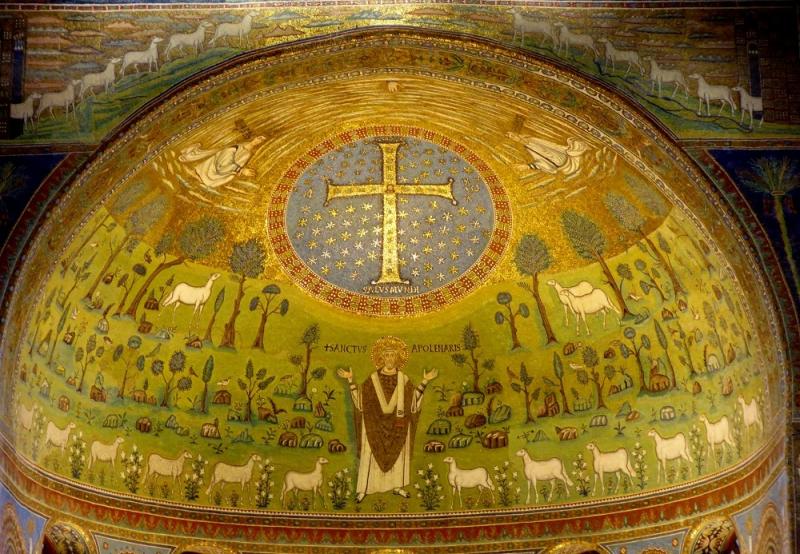 The apse mosaic of Sant' Apollinare in Classe, featuring Ravenna's patron saint in episcopal robes and 12 lambs representing the apostles
Anyone mesmerized by the mosaics in seven of Ravenna's eight Unesco world heritage sites may be surprised by the historical scope of Judith Herrin's wide-roving history. From the gem-like "Mausoleum" of Galla Placidia (425-50) to the flowery meadows of S Apollinare in Classe's apse, consecrated in 549, covers little over a century of the nearly five covered here – 160 pages out of 399.
For all the beauty of the colour illustrations, Herrin is an
historian
, not a scholar of art, and her straightforward prose has another objective – to make clear the imperial tergiversations which surround the survival of this one-time capital of the western Roman empire.
Herrin's thrust in its essence is certainly one I found enlightening: that while Rome itself declined and fell, a situation encapsulated in the two notorious sacks of the city, "creation and innovation accompanied the conflicts…what had been the western Roman empire experienced the birth pangs of a new social order as much as the death throes of an old one".
The golden mean in all this would appear to be the 33-year reign of Theodoric. Huns were destructive, and Vandals lent their name to posterity by what they did, but this Ostrogoth was different. He was Christian, for a start, brought up in the Constantinople court, and though he must have been a ferocious chieftain in early manhood and near the end of his regency blotted his copybook by having his wonderful philosopher-poet Boethius murdered on ungrounded suspicion of insurgency, his time in Ravenna was a golden age of religious tolerance. It saw action taken on petitions of injustice from all over the empire and, of course, the creation of those marvellous mosaic processionals in the church we now know as S Apollinare Nuovo.
There was a great portrait of Theodoric there, too, in the apse, and other representations of him and his court, but you won't see them now: though as an Arian Christian he persecuted no-one, his branch of faith – believing in Christ as distinct from the Father, not one with him – the Catholic branch forced conversion on Ravenna in 557 and removed all images of Theodoric. His courtiers in the mosaics were replaced by curtains; you can still see some outstretched hands left behind. The great octagonal church of San Vitale, from the time of Catholic dominance, does of course preserve the most celebrated Byzantine portraits – of Emperor Justinian and his legendary wife Theodora, neither of whom ever visited from Constantinople.
There is a redemption of sorts at the end of Herrin's history, when a mostly just ruler of wider-reaching influence than Theodoric, the Frankish King Charles, later Charlemagne, homages San Vitale with his palace chapel in Aachen and transports the equestrian statue of Theodoric, along with plentiful marble – originally shipped in from Constantinople – northwards.
Between the pillars of relative stability, Herrin clears a sober path through the endless power seizures, the doctrinal disagreements which left Byzantium open to attack from outside, the surprising adoption of iconoclasm taken from observations of Muslim faith and the casual violence within power-grabbing families which seems so at odds with the expressions of Christian might and evokes the brutal world of Shakespeare's Titus Andronicus ("she [Irene] had removed her son from power by having him blinded," to take only one throwaway sentence).
Herrin's problem is the loss of so much vital documentation: what few vignettes there are of everyday life in Ravenna quickly lose the reader's interest. She's lucky at least with the ninth-century historian Agnellus and his Book of the Pontiffs of Ravenna. The advantage of not being burdened by too much source material is that her history can rove the Byzantine world and unpick the tribal surges, always returning to harbour in Ravenna, "the first European city".
Judith Herrin: Ravenna - Capital of Empire, Crucible of Europe published by Allen Lane at £30