The Royal Ballet: Back on Stage review - fireworks in the Garden |

reviews, news & interviews
The Royal Ballet: Back on Stage review - fireworks in the Garden
The Royal Ballet: Back on Stage review - fireworks in the Garden
At long last, our premier ballet company is back in action. And it's dynamite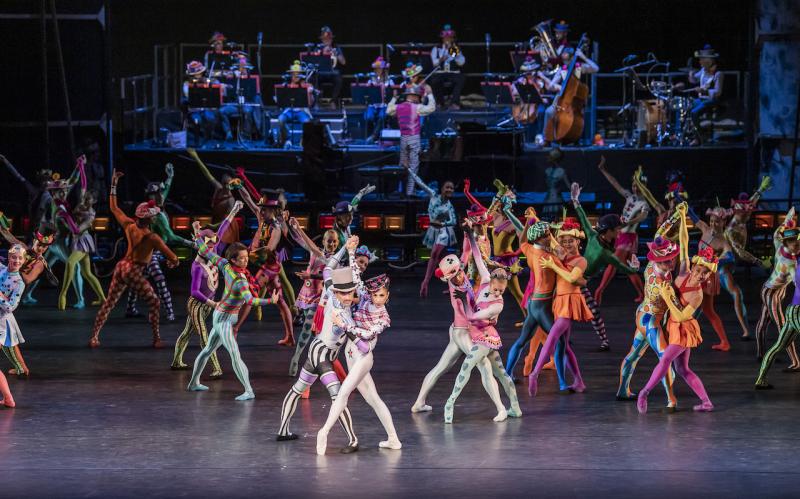 Welcome back: the Royal Ballet in Kenneth MacMillan's 'Elite Syncopations'
"Don't hold back," a front-of-house manager told us. "If you want to show your appreciation, go for it." This was nothing to do with providing sound effects for the imminent streaming to tens of thousands around the world. It was about letting the performers know there was a real, live audience in the House.
Safely distanced, the non-paying crowd (which included many NHS nurses and their families) filled barely 400 of the 2,200 seats in the
Royal Opera House
and it felt spookily empty.
The dancers of the Royal Ballet have been off stage for seven months but that doesn't mean they've been sitting on their hands (still less thinking about retraining in cyber security). Maintenance of ballet technique demands hours of work daily, and rehearsing for a performance comes on top of that. For many months these dancers have done this at home, on a square of lino sent out to them by the management, not knowing when, if ever, they would step out on that stage again.
And now they have. Pretty much all of them. In a gala programme that was billed as a one-off but which – all being well, Covid-wise – everyone would clearly like to repeat. Yes, getting the audience safely through the doors and into their seats was a palaver. And yes, the front-of-house staff did seem a bit jumpy, leading to one or two testy exchanges with patrons who didn't take well to being told what to do and when to do it. But there was a lot riding on the effectiveness of those safety protocols. Get it wrong, and Covent Garden would be dark once more.
While it might be pollyannaish to point out that some of the best ideas spring from adversity, here's one that really did: a gala programme of short and tasty delights that makes use of almost 100 dancers. Until now, galas have typically been black-tie events for schmoozing sponsors, and they tend to be content-lite. Not this one. With 12 meaty items covering a range of styles and moods, this was a feast of dancing. And if ever there has been any doubt that Kevin O'Hare was the right man to head up this company, the curating of this exceptional show puts an end to it. The casting was spot-on, too. There was never a moment when you thought, yes, that was nice, but it could have been even better with X in that role. For once, it was well nigh definitive.
Which makes it all the harder to select highlights. The more obvious repertory choices – the Act I pas de deux from Swan Lake, the balcony pas de deux from Romeo and Juliet – produced far from run-of-the-mill performances. Akane Takada was a revelation as the shy swan queen, choosing a daringly slow tempo and yielding to Federico Bonelli's attentions in exquisitely calibrated degrees. Only as the mood of the music lifted did she allow herself a Mona Lisa smile.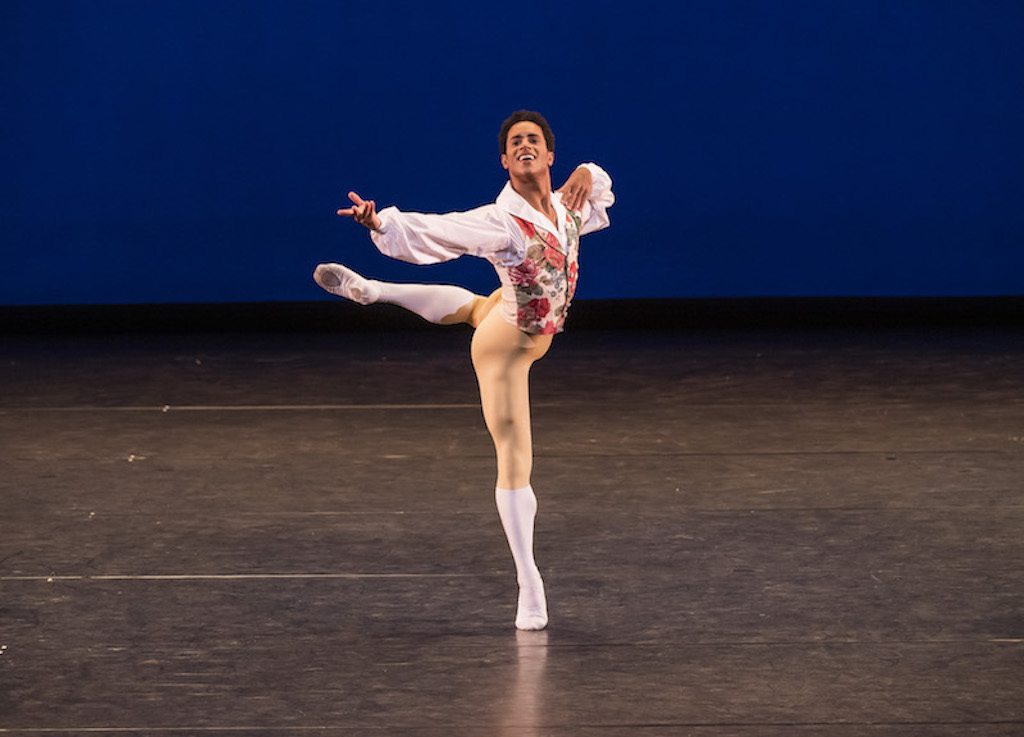 Marcelino Sambé (pictured right) drew big cheers for his ebullient turn as Colas in a pas de deux from La fille mal gardée, but the breezy charm and steel-cut technique was matched by Anna Rose O'Sullivan, whose star has been in the ascendant for a while.
Among the big hitters, Vadim Muntagirov and Marianela Nunez of course stole the show in the big duet from Don Quixote. They are the company's current king and queen, and perhaps they should have been saved till last. Instead director O'Hare chose to end with Kenneth MacMillan's Elite Syncopations. It's an eyeful of sizzling colour and sassy moves, and hustles the whole ensemble on stage along with a ragtime band, but it unfortunately also stretches a single idea beyond its limits. Those who find themselves mesmerised by the stars printed on each cheek of Yasmine Naghdi's tiny Lycra-clad bottom may well not notice.
Other ensemble numbers left you wanting more. An excerpt from Hofesh Shechter's angry, socially distanced Untouchable was a reminder that ballet isn't just about beauty and light, as grids of dancers raged against an invisible foe in thick grey fog. A snippet from Christopher Wheeldon's Within the Golden Hour presented the obverse, beauteous creatures disporting themselves in an ochre shimmer.
The two takeaway memories for me, though, will be Sarah Lamb's extraordinary showing in the duet from Balanchine's Diamonds – she so tiny, her effect so imperiously grand – and the duet from Kenneth MacMillan's choreography for the musical Carousel. It wasn't just the joyous blast of the Royal Opera House orchestra in Richard Rodgers' score that set the senses reeling. Mayara Magri as Julie Jordan and Matthew Ball as her Billy Bigelow practically blew the roof off. More, please.
This is the way to put a smile on every face
rating
Explore topics
Share this article