First Person: Artistic Director John Gilhooly on an inclusive and diverse Wigmore Hall |

reviews, news & interviews
First Person: Artistic Director John Gilhooly on an inclusive and diverse Wigmore Hall
First Person: Artistic Director John Gilhooly on an inclusive and diverse Wigmore Hall
The London venue which kept artists afloat during lockdown reopens tomorrow
Saturday, 12 September 2020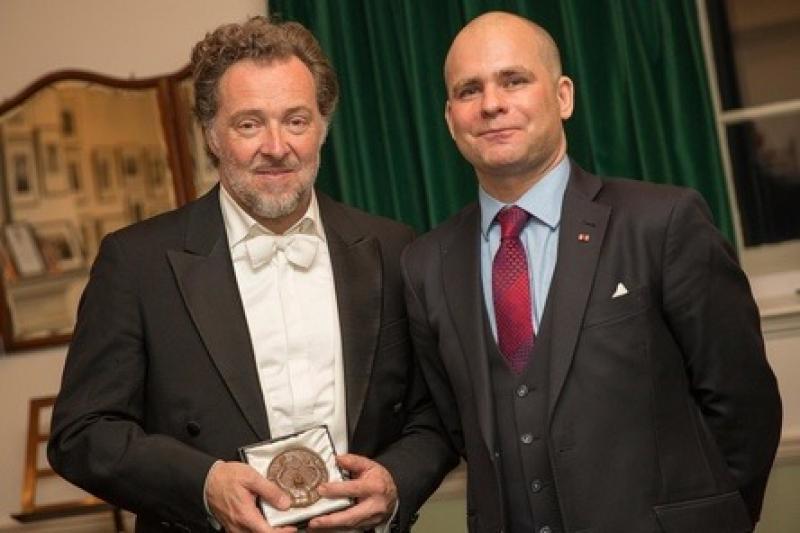 Christian Gerhaher holding his Wigmore Medal with John Gilhooly in the Wigmore Hall's Green Room
It is hard to believe that it's really happening! Despite a few bumps along the way, Christian Gerhaher and Gerold Huber, one of the greatest Lieder duos of our time, will open the 20/21 Wigmore Hall Season tomorrow night in a programme of Schubert and Berg.
This is the first of 100 concerts between now and Christmas.
It has taken a huge amount of work to get to this point and undoubtedly there will be many more challenges ahead as we navigate our way through the winter months. We have reached this point because of our generous audiences and their support over so many years. The only way that we can continue to mount such an ambitious series is through audience donations, especially from those watching all over the world online. Our pledge is to pay artists their normal fees and to get as many as possible earning again. For now, we can have a small public audience of up to 20% of normal capacity in the Hall itself. Of course, we will revert to empty Hall broadcasts should the health crisis escalate again.
It will be a huge source of joy to hear applause in the auditorium on Sunday for the first time since lockdown began in March. This series is yet another step forward for the nation's live performing arts and our ongoing Coronavirus story. It is going to take us all a long time to properly get back on our feet. There is hardship and anxiety, but we have to plough ahead as best we can. I have been speaking to musicians all week and I cannot begin to describe how exciting and uplifting this moment is for all involved. A concert hall, no matter how great or how famous, simply cannot exist without live performances and audiences. We have, like so many others, been painfully aware of this since March. Our job is to put the best musicians in the best repertoire – some of the greatest triumphs of human creativity – on our platform night after night.
For a while too, in early lockdown, our learning and outreach programme, which I believe is just as important and indeed integral to the main artistic programme, was suspended. But we have found solutions to get some activities up and running online, especially for the most vulnerable and the most isolated.
Each and every performer and each and every performance is equally important to me. However, many new projects have really lifted my spirits in these times, and helped me to piece together a diverse programme as a reaction to world events, not only the pandemic, but the need to speak out, yet again, against racism, discrimination, and inequality. It was sobering to hear the internationally acclaimed double bassist Leon Bosch to describe his anti-apartheid activism in South Africa and the racism he has experienced over the years in one of our filmed lockdown conversations.
Few, perhaps, will have heard of the gay, black, American composer, pianist, vocalist, and dancer Julius Eastman. He was a pioneer in combining minimalist processes with elements of pop music and often used his work to provoke timely political messages. Royal Philharmonic Society Award-winning ensemble Apartment House, one of our two new Associate Ensembles (founded by Anton Lukoszevieze in 1995) will bring Eastman's Feminine to the Hall and online on 20 September. Eastman died, abandoned and alone, of AIDS in 1990. At this time, more than ever, when we are keenly aware of racism, discrimination, isolation, stigma and the need for a better future, I am proud to include Eastman's distinctive music in our opening week. Feminine is a euphoric, colourful 72-minute work, and a good representation of his fresh, open and pioneering idiosyncrasies. I am also very pleased that Apartment House will have a regular place in our programme, building on their appearances at the Hall over the past decade.
Our other new Associate Ensemble is Kaleidoscope Collective, founded in 2017, which, under the direction of pianist Tom Poster, brings together some of the finest young chamber musicians in new and varied formations, with a specific and ardent commitment to celebrating diversity. We have already recorded them in a performance of Dvořák's Piano Quartet in E flat Op. 87 and Coleridge-Taylor's life-affirming Nonet in F minor Op. 2.
Coleridge-Taylor died at the age of 37 in Croydon and was hugely successful and well known in his time especially for the three cantatas on Henry Wandsworth Longfellow's poem Song of Hiawatha. To complement this recent lockdown performance of his Nonet, soprano Elizabeth Llewellyn and pianist Simon Lepper will bring us some of Coleridge-Taylor's songs paired with Mahler on 23 September at 1pm, live on our website and BBC Radio 3. Do listen to hear why Coleridge-Taylor was known as the African Mahler of his day.
Our learning and outreach programme has continued throughout lockdown and if anything, the pandemic has reinforced my commitment to diversity across all our programmes, in every sense. Diversity of course takes many forms: gender, sexuality, disability, age, race, creed, socio-economic background, and native land. We should remember that there is no such thing as a definitive Wigmore Hall audience. Our Artistic and Learning programmes appeal to diverse audiences and participants. As Artistic Director my job is to create a wide and varied programme which will appeal to the broadest demographic possible. In a way, I set out my stall, and it is up to audiences to choose what they want from that offering.
Since 1994, the Hall's celebrated Learning programme has given people of all ages and backgrounds opportunities to take part in creative music making, enabling people who face barriers to taking part to be creative and express themselves through quality, co-created music making in safe, equal spaces. We may have closed our doors in March, but since then our Learning department has developed a range of innovative and impactful remote activity for some of those most isolated and hardest hit by the pandemic, working in partnership with a range of dedicated and skilled musicians, workshop leaders and partner organisations, whose creativity and willingness to experiment has been integral to this new way of working.
Our sector-leading programme for people living with dementia Music for Life now includes regular online creative music workshops and choirs, as well as one-to-one phone calls for those who are unable to access the internet. Working with people living at home and with care homes, the wellbeing of people living with dementia and their carers is more important than ever as we live through and emerge from these extraordinary times and our participants have said the sessions help them feel "less isolated", part of a "unified group" and describe the experience of taking part as "uplifting" and "inspiring".
Come and Create, our ensemble of young musicians with Autism Spectrum Conditions, continues online (pictured above), offering a safe space for young people to connect, share music and create pieces together, and our Chamber Tots at Home sessions enable families with children under five to come together to sing, dance and listen to live music in online adventures into space. I am delighted that we have also launched a Music at Home Resource Hub, providing a range of free music-making activities, resources and concert live streams for families, teachers and learners.
Our Learning department is now reconnecting with our partners at Cardinal Hume Centre, Solace Women's Aid and Chelsea Community Hospital School in order to once again engage people in music making who have experienced homelessness and poverty, women and children who have experienced domestic violence, and children and young people in hospital. We will also revive our pioneering Partner Schools Programme, to once again co-create activity that responds to the needs and aims of schools and Music Education Hubs - aims which have changed significantly, and which music can play a huge role in achieving.
I have no doubt that the season ahead will present unprecedented challenges, but we approach the coming months with optimism and creativity. Ultimately, I am confident that out of the depths of this crisis we can create a more diverse and outward-looking Wigmore Hall, which is more resilient and relevant than ever. I cannot thank the musical community and our audiences enough for standing by us in recent years and now when we need your help most. We look forward to welcoming everybody back to full halls and a full programme in due course, and we hope that if you can't be with us in person in the immediate future, our online offering will keep you connected to us.
Full list of Wigmore livestreamed autumn concerts here
It will be a huge source of joy to hear applause in the auditorium on Sunday for the first time since lockdown began in March
Explore topics
Share this article