Yes, God, Yes review - coming of age, emphasis on coming |

reviews, news & interviews
Yes, God, Yes review - coming of age, emphasis on coming
Yes, God, Yes review - coming of age, emphasis on coming
American indie movie celebrating a Catholic girl's sexual enlightenment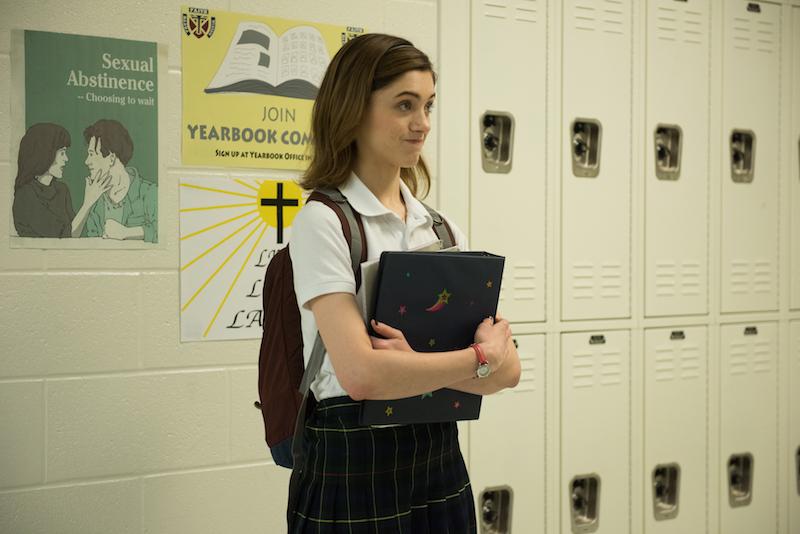 Sweet Sixteen: Natalie Dyer as Alice struggling with sinful thoughts
It's somewhat dispiriting to watch a coming-of-age rom-com that rarely rises above clichés and limps along as slowly as Yes, God, Yes.
It's set in the early
2000s
, and 16-year old Alice (Natalie Dyer) is struggling with
sexual
desire, idling on saucy chat rooms on her parents' basement computer and guiltily enjoying how good her phone feels when set to vibrate in her lap.
After malicious gossips spread a story around Alice's strict Catholic high school that she has "tossed the salad" of another girl's boyfriend, she's sent to an intensive retreat run by the school priest. Father Murphy (Timothy Simons, pictured below) aims to save teenage sinners from lust over four days of intense indoctrination. His slogan-filled guidance is aided by acolyte students, an elderly nun and a pregnant teacher who normally patrols the school's corridors with her ruler, looking for overly short skirts and unbelted trousers.
Writer-director Karen Maine first told the autobiographical story of Yes, God, Yes in a short film she made in 2017. That acclaimed short also starred Natalie Dyer from Stranger Things playing the ingenue. Maine was then funded to turn her satirical bildungsroman into a 76-minute feature. Sadly, it feels like not quite enough time was spent in the interim period on expanding the narrative much beyond that in the original short.
Loving attention to nostalgia-evoking artefacts – Alice plays Snake on her mobile and watches the most banal erotica on ropey AOL – doesn't quite distract a viewer enough from the timidity of the script. It's admirable that Maine as director aims to thwart perverts who might get off on the scenes where Alice pleasures herself. But the masturbation is so tastefully performed by Natalie Dyer that it's hard to see how it would enlighten a teen-girl viewer, and ultimately the discretion risks deflecting the film's sex-positive message.
Overall there's very little character development, we get the sketchiest sense of Alice's friends and family and the plot devices are implausible. Our disconsolate heroine manages to escape the Catholic retreat one evening and trek through the woods in the dark. She just happens to walk into a lesbian bar, where she not only downs a wine cooler despite being obviously under 21, but receives words of wisdom from a protective dyke. She even gives her a safe ride back to camp on her motorbike.
Lena Dunham with Girls, Laurie Nunn with Sex Education and Greta Gerwig with Lady Bird (not to mention Phoebe Waller-Bridge) have all established that young women can be complex, sexual and not completely kindly creatures. But Karen Maine wants to ensure that her alter-ego Alice is always likeable; we're asked to root for her and her winsome smile and troubled brow, even when she has effectively schemed to ruin another student's reputation in order to clear her own name.
Yes, God, Yes all too often pulls its punches and just isn't quite funny or satirical enough. It's also a little hard to understand how in a film made during 2018/19, when America's Catholic church was being rocked by revelations of widespread and historic sexual abuse scandals, the worst thing Father Murphy is guilty of is a bit of hypocrisy when it comes to porn. Let's hope that Karen Maine finds fresher material in the future and steps away from the confessional booth.
The discretion risks deflecting the film's sex-positive message
rating
Explore topics
Share this article