Mark Padmore, Mitsuko Uchida/ Benjamin Baker, Timothy Ridout, Wigmore Hall online/BBC Radio 3 review – hail and farewell |

reviews, news & interviews
Mark Padmore, Mitsuko Uchida/ Benjamin Baker, Timothy Ridout, Wigmore Hall online/BBC Radio 3 review – hail and farewell
Mark Padmore, Mitsuko Uchida/ Benjamin Baker, Timothy Ridout, Wigmore Hall online/BBC Radio 3 review – hail and farewell
A landmark series closes with majesty, and mischief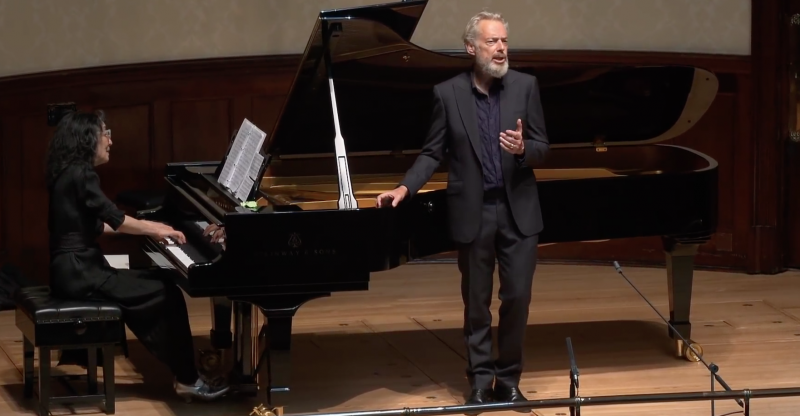 Towards journey's end: Mitsuko Uchida and Mark Padmore
Of course, we just had to end with a midsummer Winterreise. The Wigmore Hall's month of lockdown concerts for BBC Radio 3 had begun with a legendary elegy – the Chaconne from Bach's D minor Partita, written according to musical folklore in memory of his first wife, with which Stephen Hough so gravely, beautifully, broke the pandemic silence on 1 June.
It finished, perhaps inevitably, with Schubert's farewell journey of a forsaken spirit through storm, ice and snow, while the sun blazed down outside over a fretful, still fearful city.
But art, even on the level that Mark Padmore and Mitsuko Uchida achieved in Friday's swansong for the series, is always a matter of economics as well as metaphysics. In "Der Leiermann", Padmore's tenor – perpetually on the move between gradations of defeat and defiance – rose to a farewell burst of almost-joy as Schubert's wanderer embraces the same fate as the despised hurdy-gurdy man who plays on in the cold despite his empty begging-bowl. Not just classical music but many other forms of live art in Britain have become that penniless busker over the past few months. The Wigmore's director John Gilhooly prefaced this final concert not with a desperate plea, nor a "shroud-waving" moan, but with a proud reminder that culture remains "central to the well-being of all our national life", and that access to it counts as "the universal right of every citizen". Come what may, the fragile hurdy-gurdy of the arts in Britain will play on to the end. That bowl, though, needs new coin very soon.
This Winterreise felt so heavy with contextual baggage that it seems a little superfluous to treat it as one more high-quality gig. To their credit, though, Padmore and Uchida avoided all portentousness. They scaled down the pathos, and let the 24 songs speak – and move us – for themselves. As we would expect from such a refined Schubertian, Uchida lent the piano accompaniments a perfect weight, with fresh, bright and even dainty touches as required but also moments of granitic power when single, brooding notes and chords – as in the opening "Gute Nacht" – brought all the sorrow of the world down on the keys. Imploring, forlorn, but never entirely stuck in gloom, Padmore smartly modified his tone across the cycle, and often within each individual song, as he swung between utter desolation and the stubborn persistence of hope. He articulated the frostbitten words of Wilhelm Müller's poems with supreme clarity, each lyric seemingly sculpted out of glittering ice and then flung into the heartless (and people-less) void of the empty hall. Padmore didn't opt for the dynamic extremes sometimes encountered in Winterreise travellers. But his hushed passages compelled, and the odd forte blast, when combined with that armour-piercing diction, could strike with majestic power, as in the heartbroken finale of "Wasserflut" – "Da ist meiner Liebsten Haus".
Padmore performs, rather than emotes: in place of full-strength sentiment we saw and heard a carefully deployed range of gestures, both vocal and physical. From time to time, I found some of his recurrent movements – the clasped wrists, the touch on the piano, the open, outstretched palms – a little studied, even actorly. But the voice told its own, persuasive story, as a slightly reedy, pinched quality towards the top of its range contrasted dramatically with the heft and resonance lower down. Indeed, his interpretation seemed to turn around this dialogue between two voices; one rooted in earth, vitality and resilience, while above it an airy spirit rose high into realms of doubt, despair but also serene acceptance of loss. If this tension between hope and dread lent a special piquancy to "Der Lindenbaum", in numbers such as "Rast" it almost felt as if Padmore were duetting with himself. The wayfarer's life-and-death contest of the soul at the end of its tether was given aural form in the shaping and colouring of every phrase.
As the instrumental illustrator of this drama (and trauma), Uchida played with all the elegance, tact and taste you would confidently hope to find. She knew just when to make slowness, and silence, our friends, slowing the tempi without undue solemnity but able to seize on the bloom of remembered joy in songs such as "Frühlingstraum" and "Täuschung" with a dancing lightness and finesse. She made the most, too, of Schubert's moments of mimicry – the merry horn of "Die Post"; the bleak cawing of "Die Krähe" – and gave the chorale-like cadences of "Das Wirtshaus" a Bachian grandeur. Some performing duos can let Winterreise fade out into a frozen wilderness where all hope dies; but rightly, for this potential turning-point in the history of almost everything (music included), Padmore and Uchida's "Der Leiermann" signed off with resistance rather than pure resignation. The village dogs may be barking around our starved, forgotten minstrels, but the music-makers won't give up without an almighty fight.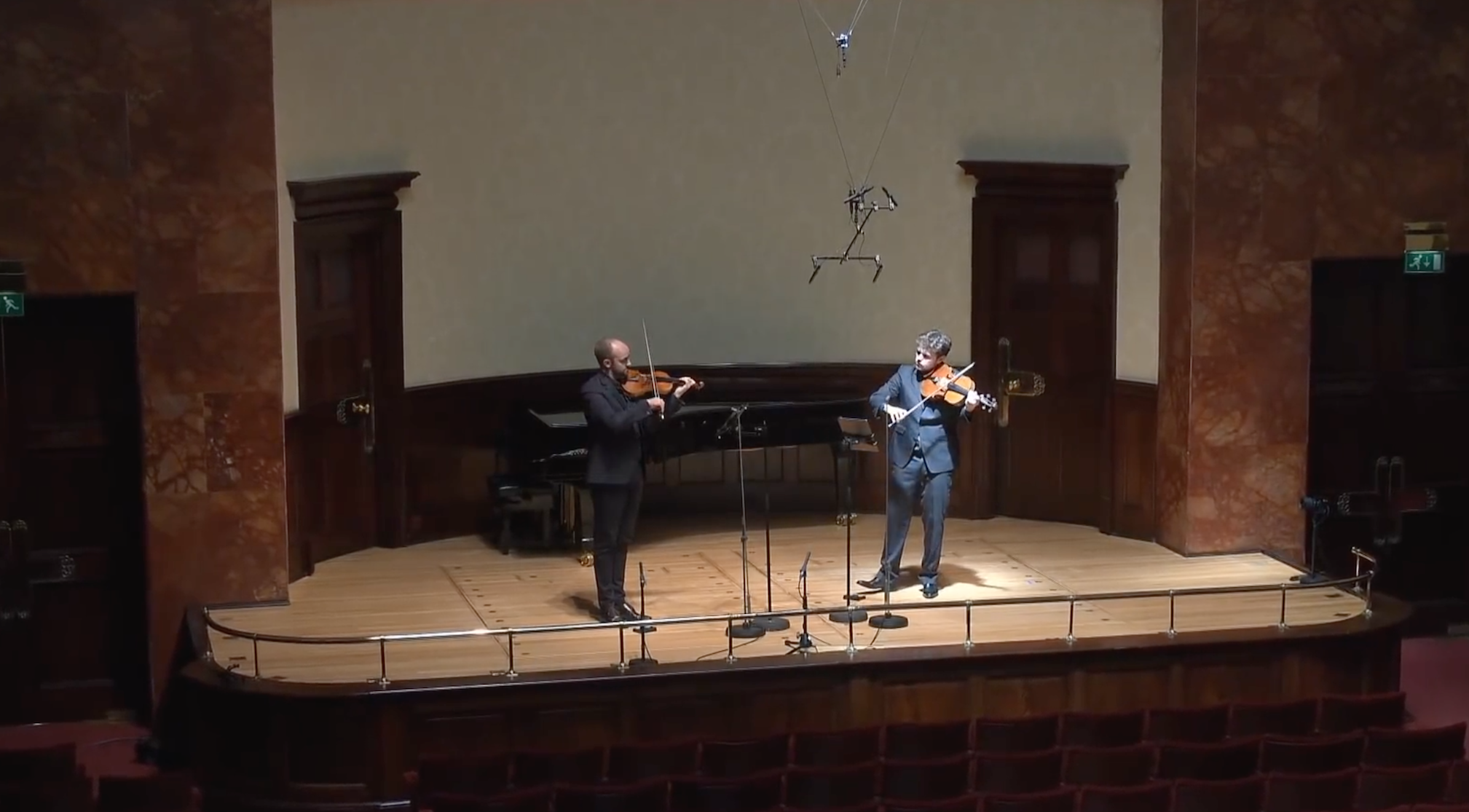 If the Wigmore/Radio 3 series has had its share of history-laden episodes, it has also tried to offer a taste of normal music-making in the spirit of the hall's own august tradition. Last Tuesday's recital of violin and viola duets by Benjamin Baker and Timothy Ridout (pictured above) did exactly that: a non-standard instrumental combination; excellent young players; and a programme that invited us to make some discoveries. Mozart's K424 duo for violin and viola unavoidably brings the Sinfonia concertante to mind, but this work – written to complete a job for the Prince-Archbishop of Salzburg that Michael Haydn had left unfinished – not only plays off the subtly contrasting voices of both instruments, as that old favourite does. Its opening movement, which Baker and Ridout crafted with a wonderfully supple to-and-fro, feels so deliciously operatic that you almost hear (human) voices above the yearning strings. The pair's debonair tête-à-tête didn't require the viola to play second fiddle in any sense. Baker's graceful, wistful violin stood its ground while the mercurial, even mischievous, interrogations and interjections of Ridout's viola supplied a sort of less-than-reverent commentary. There's Mozartian wit in abundance here, but also spellbinding peace in the andante, and a virtuoso set of "grazioso" variations that approach string-quartet complexity.
Sibelius's Duo in C, an early work, transported us into the cosier world of 1890s Hausmusik, with some stylishly robust unison touches amid its slightly syrupy gentility. Martinu's Three Madrigals, composed in the US in the late 1940s, manage an altogether more inventive take on the potential of the violin-viola rendezvous. Clearly, the emigré Czech composer had Mozart's example in mind as much as the English madrigals whose textures can, perhaps, be faintly heard at certain points. In the first number, Baker and Ridout resolved a vigorous rhythmic contretemps (if not shouting-match) into satisfying harmonies, while the dreamy, misty andante of the second opened out into soaring trills that might even suggest a lark ascending over some Bohemian field. Grainier, folk-fiddle elements come to the fore during the spirited finale, in which Baker and Ridout relished the rustic exuberance while keeping faith with the Baroque discipline hard at work beneath the frolics.
The pair closed with the Sarabande on a theme by Handel by Johan Halvorsen, a Norwegian contemporary (and colleague) of Ibsen and Grieg. His well-turned set of variations after Handel's D minor keyboard suite – artfully enlisted, movie buffs may recall, into Stanley Kubrick's genius soundtrack for Barry Lyndon – made a fascinating comparison with the Martinu in its exploration of the violin-viola conversation. As he did throughout, Ridout never sounded like the junior partner, but still seemed to assume the role of challenger, pretender – even usurper. No one, though, came in first (or second); both played with freshness, attack and assurance, underpinned by a winning rapport and infectious sense of fun. If this was a glimpse of normal service at the Wigmore, let's pray for its swift return.
Come what may, the fragile hurdy-gurdy of the arts in Britain will play on to the end
rating
Explore topics
Share this article