Sukanya, RFH review - Ravi Shankar's bright-eyed, varied fable |

reviews, news & interviews
Sukanya, RFH review - Ravi Shankar's bright-eyed, varied fable
Sukanya, RFH review - Ravi Shankar's bright-eyed, varied fable
Fine performances, but crude miking suggests this would work better as a chamber opera
Thursday, 16 January 2020
Scene from the original 2017 staging of 'Sukanya'
Admirable as it was of the London Philharmonic Orchestra to launch its concerts in 2020 with a performance celebrating the Ravi Shankar centenary, the hard fact remains that this lively spectacle might have worked better without two-thirds of its players.
The often thick scoring of
Sukanya
, fine for the Kathak
dance
sequences vibrantly choreographed by Gauri Diwakar, meant that the operatic voices needed amplifying, and that often resulted in hard edges where the music suggested a luminous or vibrant spirituality.
Still, Sukanya should be here to stay, and would reach larger audiences around the country with a chamber ensemble to complement the five Indian instrumentalists, the dancers and the soloists (I'd scrap the chorus, which could rarely be heard here). The essence of this tale adapted from the Mahābhārata epic, taken up by the 90 year old Shankar some time after his mother-in-law pointed out the correspondence between the heroine and his wife of the same name, 30 years younger, tells of a princess who marries an old sage out of compassion, and, when challenged by two demi-gods to pick him out of a threefold identity (for which read identical) parade, sees his soul and wins his rejuvenation.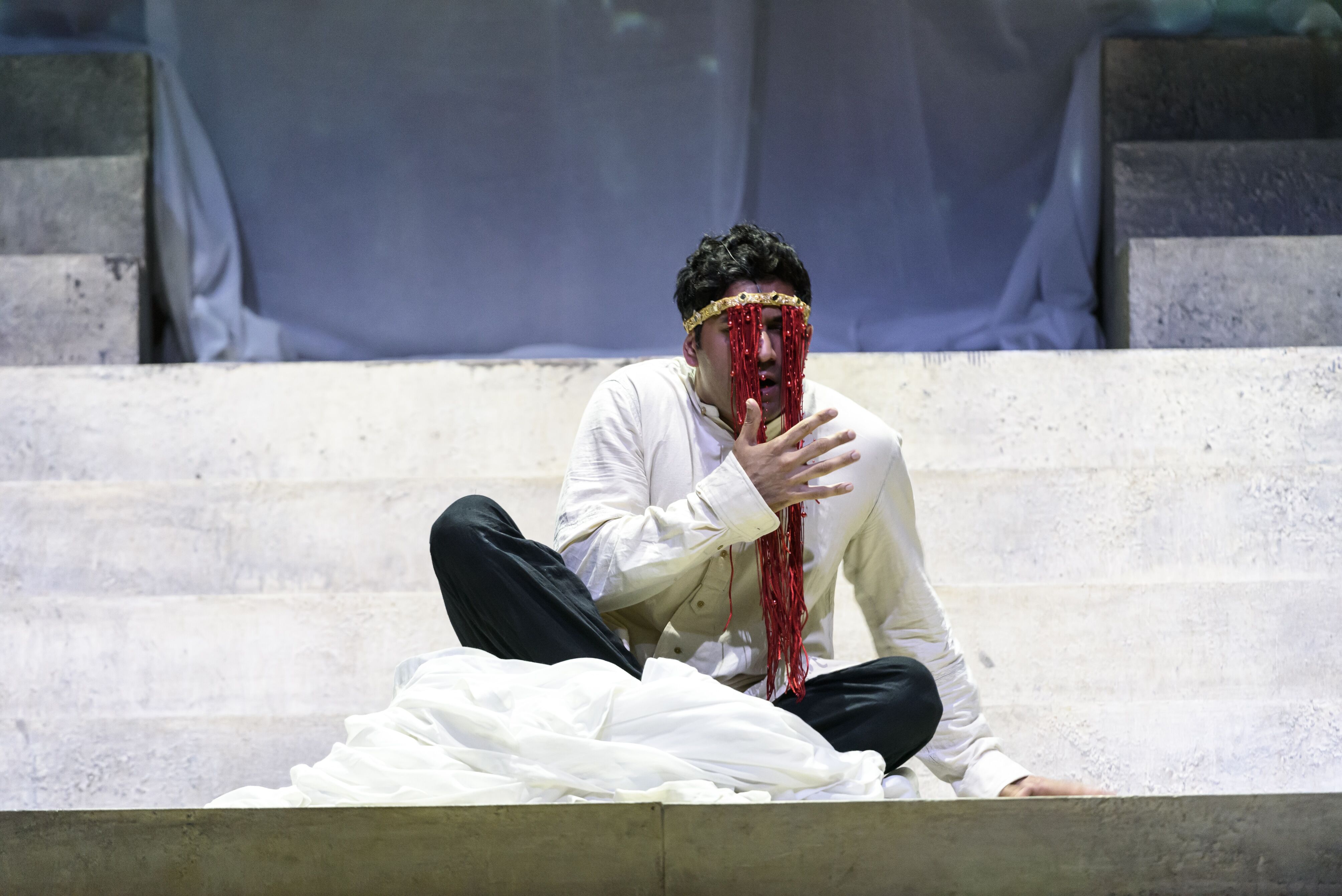 Though simple, and succinctly told in musical terms which are suprisingly varied given the Indian principal of a drone bass which excludes modulation in any given sequence, the outlines weren't entirely clear in Suba Das's concert staging. Would we have known that Chyavana ages over 100 years in the forest when his representative, vibrant Indian-born, American-trained tenor Alok Kumar, remains a handsome man, his infirmity represented only by his blindness (pictured above). Would you have grasped that the very dissimilar Michel de Souza and Njabulo Madlala (pictured below), comic in Amit Chaudhuri's libretto, were supposed to be beautiful heavenly twins?
Even so, strong delivery - above all from Susanna Hurrell as an unrelentingly radiant and poised Sukanya - and the music's rich contrasts carried two short acts. Enriched from the start by Parimal Sadaphal's spellbinding sitar and Ashwani Shankar on shehnai, the Indian oboe, each has a spiritual highlight: a universal hymn of thanksgiving led by Jonathan Lemalu's King Shaariyati in the first, Sukanya's joyous reunion with Chyavana towards the end of the second, her solo almost Balkan-sounding in its vibrancy (eastern scales, of course, inflecting some European folk music).
The dance music is exhilarating, too, especially with the punctuation of two exponents in the art of konnakol, a kind of Indian scat singing, in Act Two. It's a pity that Shankar's fusion, completed by expert conductor-violinist David Murphy after his death, doesn't give scope for the microtonal ornamentation and glissandi of genuine Indian ragas, described at length by Chyavana in perhaps the least successful "number" of the opera; the singers remain western-operatic in style, and the setting of the text - predominantly Indian, partly Sanskrit in an infinitely more meaningful way than Glass uses it in the stillborn Satyagraha - means accommodating a lot of words on lines limited by the scales or modes at any given point.
That said, and despite the miking, there was still a strong sense of what Yehudi Menuhin, Shankar's equally great friend and musical collaborator, called "the innocence of rapture" in Indian music, "the ecstatic and spontaneous delight that bind performers and audience alike". I'll be getting hold of the 2017 recording, released this month, and hoping that some enterprising small opera company can get permission to work towards a tourable chamber version.
Southbank Centre's Shankar 100 continues with a sold-out gala concert and other events through to November
Each act has a spiritual highlight: a hymn of thanksgiving in the first, the lovers' reunion in the second
rating
Explore topics
Share this article