Craig David, BBC Radio 2 review - what's your flava? |

reviews, news & interviews
Craig David, BBC Radio 2 review - what's your flava?
Craig David, BBC Radio 2 review - what's your flava?
Sweeter than sweet
Saturday, 16 November 2019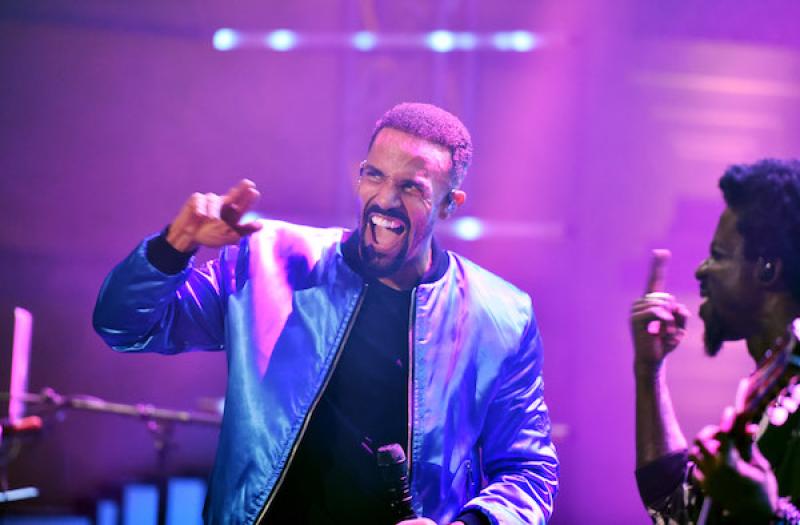 Intoxicating
My friend, let's call her Kit, is having a rubbish time. Kat (that's me) is too. If life's got a flavour, it's a shade darker than 99% cocoa. Kit and Kat are bitter. But if life is akin to boxed chocolates (or even foil-wrapped), there's an entire world of tastes out there. What better than to add some sweetness, stir in some sugar? That's where Craig comes in. Oh, Craig!
Who in the world could be more delicious than this honey-tongued, smooth-talking lady charmer? Who in the world could deny he's not been to their taste since before the millennium? (And shame on you if that's you).
Craig may, like us, be two decades older, but he looks pretty much the same (how?!). Fetching blue shell suit jacket, bleach-white hi-tops, hair so sharp you could shave yourself on it. He does his little hand bops out to the crowd and still has that sexy bended-knee stage creep perfected and a smile to melt your heart and win over your grandma. He blesses the crowd and sings about how cheating isn't right. No artificial flavourings here but, tell you what, inherent goodness must be a preservative. Not even a wrinkle! Just a twinkle and a slight halo. Maybe, think Kit and Kat, life has a gooey centre after all — cherry perhaps or passion fruit. The kind of taste you'd associate with an easy-going Tuesday date. Then again, maybe it's something stronger. Coffee? Being in his presence certainly peps you up.
On the other hand, maybe chocolates aren't the best metaphor. Chocolate doesn't tend to encourage dancing — or at least not the ones that aren't filled with liqueur. And anyway, it's Thursday, so by Craig's own diary we should be making love to a hot date by now. That's not on the cards because Kit and Kat are just friends but, regardless, chocolates have long fallen by the wayside. And to be frank, Craig's rather more intoxicating than little shots of overly-sweetened booze. I have this on good authority. A few years back, in another time and another town, a normally fighty man at a Craig David concert got headbutted and smiled beatifically. Is Craig David a drug? He may be legal but apparently gives most a high. Is he a saint? He appears quite capable of working miracles.
Now to pop the question: can he fix Kit and Kat's rubbish lives? No, obviously and sadly not. That would involve being in his presence, constantly. It's not beyond the realms of the possible. Kit can play piano so she can join the band. Kat can dance or be a groupie or something. But — sorry to say — it is outside of the realms of the likely. He's not quite that miraculous. It's a sweet concert to be savoured and extra helpings are available on the BBC website. When Kit and Kat finally split, it's at least with an answer in common. What's your flava? Craig, obviously.