Black Flag, The Mill, Birmingham review – hardcore punk originators come up trumps |

reviews, news & interviews
Black Flag, The Mill, Birmingham review – hardcore punk originators come up trumps
Black Flag, The Mill, Birmingham review – hardcore punk originators come up trumps
Greg Ginn's crew set ears ringing and answer the doubters
Thursday, 10 October 2019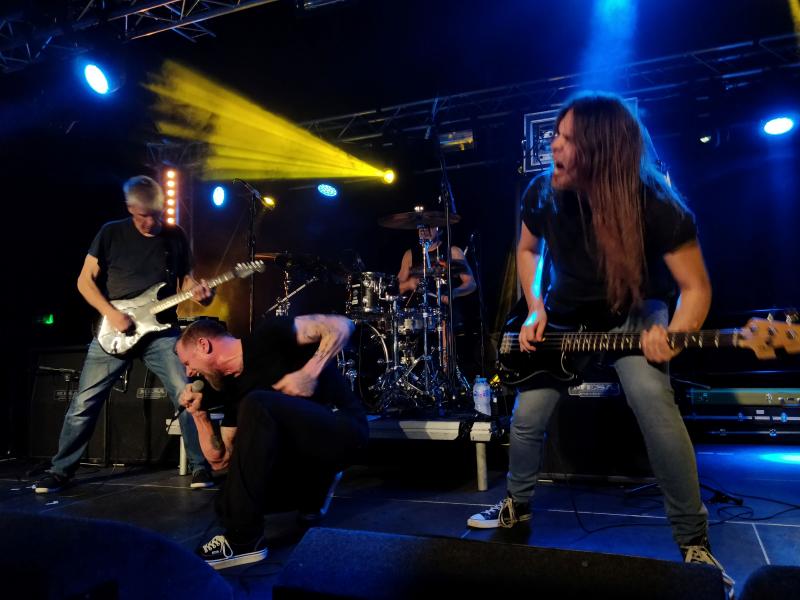 Black Flag (photography by Asya Draganova)
Prior to this week, it had been 35 years since hardcore punk firestarters Black Flag had set foot in the UK. That said, it was not without some trepidation that I made my way to one of Birmingham's more compact venues to see a band who had once been genre-defining, get on stage and do their stuff.
After all, Black Flag's golden years were more than a generation ago, in the mid-
1980s
, and with a very different line-up. Iconic vocalist, Henry Rollins has long since hung up his microphone to write books, tour his spoken word show and appear on all-manner of TV documentaries – mainly about punk rock.
Band leader, Greg Ginn, who is now in his mid-60s, however, was present and correct with a new crew. Mike Vallely, former professional skater took the microphone, while Joseph Noval and Isaias Gil provided the heft of a mighty rhythm section. Indeed, they proved fine replacements for the 20 or so musicians that had come before them at one point or another. For it was crystal clear, moments after the new Black Flag had taken to the stage that this performance was going to something far more entertaining than some lame heritage gig.
That said, things didn't look too promising when the band first wandered on stage looking less than enthusiastic, with a visibly grumpy Greg Ginn lugging his guitar that was still sitting in its case. Looks can be deceptive though. Launching straight into "Depression" from the band's magnificent debut album, Damaged, Ginn and his gang had the mosh pit going berserk from the very first notes, as kids who wouldn't have even been born when Black Flag first ground to a halt in 1986, threw themselves around with reckless abandon and didn't let up for the next hour.
Songs like "No Values", "I've Had It" and the mighty "Six Pack" from Black Flag's initial run of singles were spat at the audience like machine gun fire, with barely a pause between each one. Mike Vallely howled the lyrics at Birmingham and Birmingham howled them back again as the temperature rose and bodies ricocheted off each other. Greg Ginn was soon beaming too, his earlier less than sunny disposition forgotten, as the set took in the gonzo metal of "Slip It In", "Black Coffee" and "Can't Decide" and the crowd flailed around with ever greater enthusiasm.
As the band got ready to enter the final straight, Vallely finally spoke to the crowd with an almost embarrassed "Thank you" and introduced the band. From there, it was into "Revenge" and "Jealous Again". However, it was magnificent one-two punch of "TV Party" and the colossal "Rise Above" that finally had the crowd satiated, before Ginn and his cohorts slowed things down with a punch-drunk "Louie Louie". "We gotta go" sang Vallely and, with that, they were. No encores, no soaking up the crowd adoration that was undoubtedly in the room. They just unplugged their instruments and wandered off stage with Isaias Gil even unscrewing the cymbals from his drum kit, as the crowd chanted for one more song.
Mike Vallely howled the lyrics at Birmingham and Birmingham howled them back again
rating
Explore topics
Share this article