A Midsummer Night's Dream, Nevill Holt Opera review - sprinkled with musical fairy-dust |

reviews, news & interviews
A Midsummer Night's Dream, Nevill Holt Opera review - sprinkled with musical fairy-dust
A Midsummer Night's Dream, Nevill Holt Opera review - sprinkled with musical fairy-dust
An innocent, joyful take on Britten's ambiguous fantasy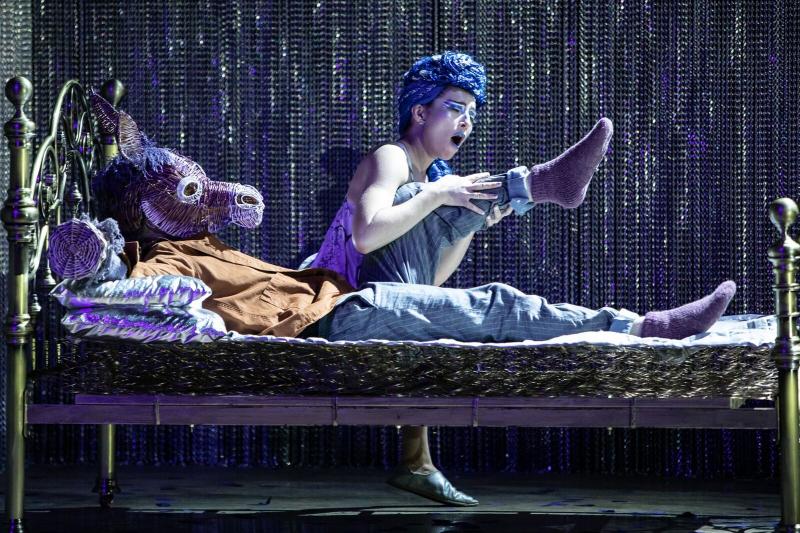 Methought i was enamoured of an ass: Tytania (Daisy Brown) and her beloved Bottom Lawson Anderson)
"For I have found Demetrius like a jewel. Mine own, and not mine own." Mine own and not mine own. This idea of transfiguration, of things familiar but somehow altered – is the spark that animates both Shakespeare's A Midsummer Night's Dream and Britten's adaptation. Uncanny, Freud would have called it. There may be magic and naughty sprites, laughter and happy endings, but this is no fairy story.
You only have to listen to those slithering glissandi in the cellos at the start of Britten's opera to know that all is not wholesome in this particular garden.
But the cruelty and violence of the piece are pushed firmly aside in Anna Morrissey's new production for Nevill Holt Opera. There's more than an echo of Robert Carsen's classic staging in a Dream that finds all its characters transported to the magical forest still in their pyjamas, day clothes roughly thrown over the top. A brass bedstead hangs suspended from the ceiling above Simon Kenny's two-level set, and the cast begin and end curled up in sleep.
A sweetly beguiling show, full of ideas and invention
But where Carsen explores the erotic potential of dreams, Morrissey keeps things sweeter and more PG. Her young lovers – and young they really are, more Lost Boys (and girls) than hormone-filled teenagers – are more interested in wrestling, romping and competing than in anything more adult. Sex, when it does break through, is played firmly for laughs – underpants on the head and all.
The result is a sweetly beguiling show, full of ideas and invention, but one that feels more like a series of episodes than a single story. How we square the innocence of these lovers with the sadistic, abusive relationship between Theseus and Hippolyta, the sudden sobs of Tytania (Daisy Brown, pictured below), separated from the precious Indian child, with the all's-forgotten resolution of the final scene is unclear. And the relationship between Oberon and Puck – so crucial to the tone of any telling – is left frustratingly undeveloped.
That said, this really is an enchanting night of music-theatre. Deftly conducted by Nicholas Chalmers, the Britten Sinfonia (what luxury as a pit band) use their slim string numbers to bring translucency and a spare, angular beauty to Britten's score. A cast of young voices (as well as a superb and immaculately drilled children's chorus from David Ross Education trust schools) sits easily on top of this shimmering pillow of sound and the warm, intimate acoustic of Nevill Holt's lovely new opera house also does its bit.
Leaping and vaulting (even tumbling and rolling during a deliciously physical mechanicals' pageant) his way to the front of an exciting cast is bass-baritone Lawson Anderson as Bottom (pictured above). His muscular voice rings with easy power and plenty of character, promising so much for the future. His backing group of mechanicals are a skilful set of pencil-sketched characters – from Tristan Hambleton's motherly Quince to Timothy Edlin's determined, earnest Snug.
Fine tenors are in rich supply in a cast featuring not only Peter Kirk's beautifully handled Lysander – soaring out in the lovers' quartet, generating more than his share of the evening's laughs – and Richard Pinkstone's Flute (pictured above, L-R with fellow mechanicals Brian McAlea, Tristan Hambleton, Oliver Brignall and Timothy Edlin), finding glittering bel canto brilliance in the pageant. Meinir Wyn Robert (Helena) and Martha Jones (Hermia) spar delightfully over their men, and Daisy Brown's soprano glistens and sparkles in Tytania's star-scattered music. Only Timothy Morgan's Oberon, woody and soft-grained, feels miscast – more junior prefect than king of the fairies.
But fairy-dust is in the air, and with a dream of a final theatrical gestures – opening up the back of the stage to reveal Nevill Holt's exquisite, real-life garden paradise outside, our own but not our own – this production pulls off its greatest trick, leading us full-circle and sending us out and away for another midsummer's night adventure.