Heathrow: Britain's Busiest Airport, ITV review - 80 million passengers but not much action |

reviews, news & interviews
Heathrow: Britain's Busiest Airport, ITV review - 80 million passengers but not much action
Heathrow: Britain's Busiest Airport, ITV review - 80 million passengers but not much action
Fifth season of meandering documentary gets off to an uneventful start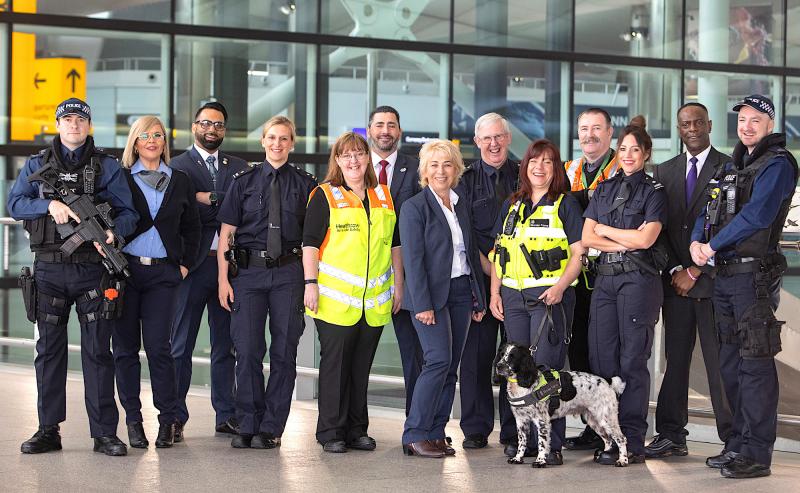 The Heathrow crew (with Airside Ian, fourth from right)
It's remarkable that this meandering observational documentary about the five square mile airport west of London has stretched to a fifth series. Heathrow may have 77,000 staff and expect 80 million passengers to pass through this year, but that doesn't mean everything they do is interesting.
For instance, a slender storyline about Thai Airways passengers stranded without a seat when the airline replaced a double-decker Airbus A380 with a much smaller Boeing failed to fizz when none of the passengers became violent or unreasonable. In fact they were delighted to be paid £535 compensation per head, especially when they were fairly rapidly allocated seats on other airlines.
Likewise, though Julie Walters' breathy voice-over warned of catastrophe, the story of a Virgin Atlantic aircraft which had to turn back with engine failure ended in bathos – fortunately – when it calmly made a perfect landing. More entertaining were the two policemen, Terry and Dave, who were preparing to render emergency assistance. Terry was explaining the Heathrow murals to Dave, including one of Rio de Janeiro's Christ the Redeemer statue. "They call him the Redeemer," said Terry. "It looks like Jesus to me," Dave objected.
Star turn was the maintenance man they call "Airside Ian". He spends most of his time birdwatching with the aid of an RSPB bird-recognition book – lapwings, falcons, kestrels and even firecrests are regular Heathrow visitors, he confided. In particular, he's always on the qui vive to scare away the crows that flock together around the airport, before they can collide with the aircraft. To do this, Ian drives around in his SUV bellowing imitation crow noises out of the window. His doomsday weapon is a black bin liner, which scares the birds because they think it's a crow-catching bag. However, the canny corvids are cleverer than Heathrow's humans – the bar isn't all that high – and it doesn't fool them for long.