L'heure espagnole, Mid Wales Opera review - Ravel goes like clockwork |

reviews, news & interviews
L'heure espagnole, Mid Wales Opera review - Ravel goes like clockwork
L'heure espagnole, Mid Wales Opera review - Ravel goes like clockwork
Ravel's clock shop farce ticks along delightfully in a small production big on character
Saturday, 01 December 2018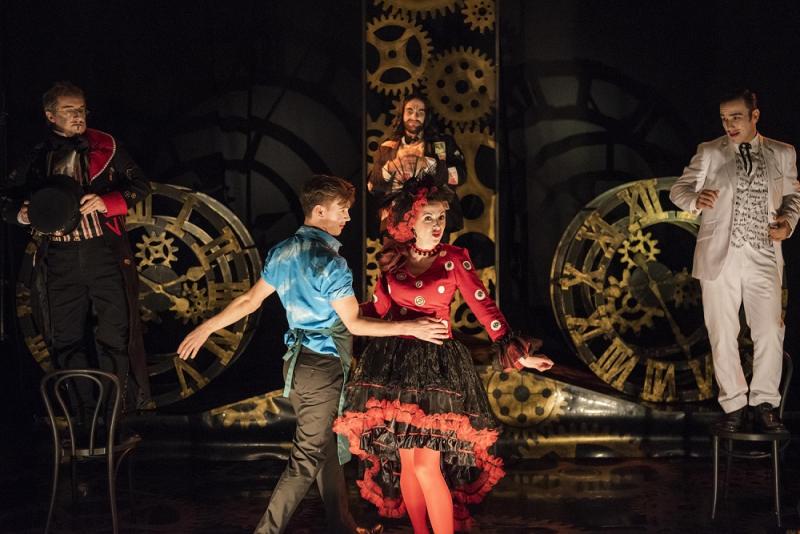 Mid Wales Opera's L'heure espagnole - not a minute wasted
Mid Wales Opera makes small-scale touring look fun – even when you suspect that, behind the scenes, it really isn't. Barely 24 hours before this performance of their current production of Ravel's L'heure espagnole, and 11 dates into their current 16 date tour, their Torquemada, Peter van Hulle, was invalided out.
Companies this size, and working on this budget, can't carry understudies. So up stepped tenor Joseph Doody to sing the role from the wings and up, too, stepped the company's artistic director (and this production's director) Richard Studer, who mimed the role on stage with such ease and flair that if we hadn't heard the pre-show announcement, we might have assumed that it was all part of the overall concept.
That's part of the genius of this staging: it takes the necessities of touring – the small scale, the limited resources – and turns them into music drama that's simultaneously intimate and pretty much indestructible. Everything about this production fits together as elegantly as a handmade watch. In the same way that MWO arrives in a town like a troupe of travelling players so, with white faces and stylised cartoon-bright costumes (all designs are by Studer), Ravel's characters become a commedia dell'arte company. A simple but surprisingly versatile set surrounds them with black and gold cogs, springs and numbers. Well, didn't Ravel himself claim to be "artificial by nature"?
That lover of all things intricate and miniature would surely have been delighted with Jonathan Lyness's four piece chamber orchestration. A harp for magic, a violin for pathos, a bassoon for humour and a piano to fill out those super-refined Ravel harmonies – it turns out that you don't really need much more, especially when all four players cheerfully pitch in on percussion to supply the necessary ticks, tocks, chimes and cuckoos (Lyness, directing from the keyboard, popped these softly in on what looked like a tenor recorder).
And Studer directs the whole show as a playful piece of choreography – one long, wittily detailed but deliciously artificial pas de cinq. Inspired casting has become a trademark of MWO productions under Studer and Lyness's leadership, and the whole thing revolved, as it must, around Catherine Backhouse's spirited Concepcion (pictured above, with Anthony Flaum). Darting about the stage, eyes flashing, she shaped Ravel's artfully artless lines with an easy grace (the English translation, by turns sly and saucy, is by Studer too), and her voice – silvery and translucent at the top – had a core of satisfyingly sultry darkness.
Around her, in steadily closer circles, spun the men: and if Anthony Flaum as a white-suited, pencil-moustachioed Gonzalve sounded as if he might be reining it in slightly (and understandably - the front row of audience at the SpArC Theatre in Bishop's Castle is barely two metres away from the singers), he too phrased like he was singing a Poulenc mélodie. Nicholas Morton's genial, put-upon Ramiro (carrots took the place of donkey ears in his straw hat, pictured below) and Matthew Buswell, whose Don Inigo blustered on with a bass-baritone as dark and juicy as a glass of port, completed an ensemble that combined pantomime physical energy with real musical refinement.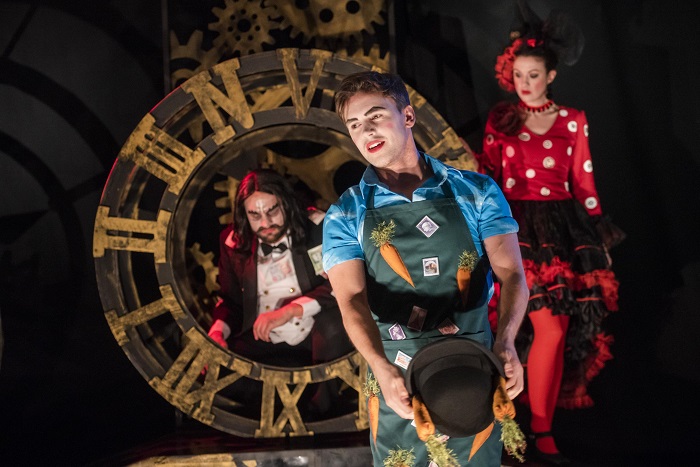 They were all back on for the second half of the evening: a revue-style selection of songs both Spanish (Backhouse sang a hauntingly languid Falla "Nana") and pseudo-Spanish (a selection of arias from Carmen). Flaum finally let his tenor flag fly with "Granada" (in a shimmering, harp led arrangement by Lyness) – a gloriously uninhibited bit of can belto that had the capacity audience all-but out of their seats. Studer set the whole thing up with a droll narration of Alan Ridout's "Ferdinand the Bull", stepping in again for van Hulle, though the way violinist Edward McCullagh threw off Ridout's unaccompanied double stops and left hand pizzicati would be impressive on any occasion. (A replacement singer has now been cast to perform Torquemada for the last three dates of the tour).
The whole company finished with an extremely silly rendition of – what else? - "Y Viva España". Studer and Lyness would no doubt say that MWO's aim is to entertain new audiences as well as to please regular operagoers. This show does both, though it was the Ravel that really stayed with me; not so much because of the ingenuity with which MWO overcame the limitations of a touring production, but because the result felt so perfectly pitched, and so musically and dramatically satisfying. It's hard to imagine that Ravel – had he found himself at a loose end on an autumn night in the Welsh Borders – would have been anything other than enchanted. Catch it if you (still) can.