theartsdesk in Gothenburg - Wagner's gold turns green |

reviews, news & interviews
theartsdesk in Gothenburg - Wagner's gold turns green
theartsdesk in Gothenburg - Wagner's gold turns green
Stephen Langridge talks about his eco-friendly Swedish 'Ring'
Thursday, 29 November 2018
River of humanity: Stephen Langridge and Alison Chitty's 'Rheingold'
Before we hear a note, extras dressed as maintenance staff potter about the stage. They try to erase a scrawled slogan on a wall that reads "Hur allt började": how it all began. "It" is the story of Wagner's Ring cycle as presaged in the introductory drama of Das Rheingold, which kicks off the tetralogy.
Prior, though, to the ominous, mesmeric swell of the E flat chord that anchors the
Rheingold
prelude, Stephen Langridge's production for Gothenburg Opera shows us a busy, dogged human world of toil. This sphere may be alien to the passions and quarrels of gods, dwarves and giants we will soon witness, but – for good or ill – it depends on their capricious power. Then the throbbing menace and ecstasy of that prelude builds. A procession of extras – young and old, a mother with an infant, someone in a wheelchair – flows across the stage to represent the Rhine itself. This torrent of humankind belongs to nature rather than standing imperiously above it.
That striking and moving vision of humanity as part of nature ushers in a Rheingold that has little time for quasi-divine gestures. It pairs modestly ingenious stagecraft with an emotional directness sustained in all departments by a strong, and sympathetic, cast. The Fricka of Katarina Karnéus, Anders Lorentzson's Wotan, Brenden Gunnell's Loge and – outstanding even in this golden-voiced company – Olafur Sigurdarson's Alberich head a muscular pack of immortals. Their singing, and acting, always brings out the all-too-human loves and hatreds that flourish around Wagner's mythic Rhine. Vocally, and dramatically, this Rheingold has an intimacy and flexibility that sets it far apart from the static, heavyweight slugfests of the gloomiest Ring tradition. "A lot of people have been saying, 'I thought I hated Wagner but I really enjoyed this'," Langridge tells me as we talk in the admin block of the handsome multi-purpose modern house (opened in 1994) that stands near the harbour by the waters of the Göta älv. "I even got stopped in the supermarket."
After five years in charge of this innovative, genre-hopping company in Sweden's second city, next year Langridge will move to Glyndebourne to take over as artistic director. He has scheduled his Ring – the first ever in Gothenburg – to run until 2021, when the port city celebrates its 400th birthday. One episode will open each year. With Glyndebourne's consent, he plans to quit his new Sussex home for a spell every autumn to return to Gothenburg and rehearse the remaining segments of the cycle. "Our Swedish chapter is not 100 per cent concluded," he says. His wife, attached to the city's university, works on education projects with refugees in the city. Indeed, that silent throng whose constant presence does so much to mitigate the pride of the gods in his Rheingold includes recent migrants who have taken part in the opera's community and outreach ventures.
The human figures whose wordless work frames the stunts and spats of the gods hints at the democratic sensibility Langridge brings to this most patrician of epics. From the flesh-and-blood waters of the Rhine to the exploited workers in the blood-red caverns of Nibelheim, he makes us see the fragile forms of life whose fate ultimately hangs on the quarrels of Wotan, Fricka, Loge, Alberich and their supernatural cronies. So does, we grasp at every turn, the well-being of nature itself. This Gothenburg Ring proclaims its "green" credentials not only in the tilt of the direction and design – by Langridge's frequent collaborator, Alison Chitty – but in the material conditions of the production and its home.
As a flagship venue in a city and country that take their environmental commitments seriously, Gothenburg Opera has always aimed for sustainability in its work. Langridge mentions that the house and company already have a zero energy footprint: "It's all bought from sustainable sources". Sweden itself "imports other people's rubbish" for recycling. From the paint selected for the scenery workshops to the enormous solar panels and even the beehives on the roof, the opera house has already gone greener than any of its counterparts. Langridge's Ring cycle will push the process further, from its recycled sets, props and costumes to the non-polluting artificial "fire" on stage– an essential contribution to the drama during Wotan and Alberich's stand-off in the hellish smithy of Nibelheim.
Rheingold pivots on the plunder of natural wealth to serve private greed, as Wotan, Alberich and the giants Fasolt and Fafner wrangle for the ring of power forged from the stolen river gold. Thus the idea of a "green" production feels like a deep-rooted interpretation, not a gimmick to ape contemporary trends. The set components have a distressed and ramshackle look – ladders, uprights, struts, panels and joists – which is creatively deployed to persuade us that Rheingold unfolds around a kind of a building-site. Wotan and Fricka plot to take possession of their dream-home of Valhalla, to be paid for by the purloined gold. Langridge allows this project-management aspect its comic side: the giants (sung by Mats Almgren and Henning von Schulman, pictured above) wear hard hats and hi-vis jackets. All the business with interlocking components sometimes suggests that IKEA should have sponsored this Ring. But the swinging hammers and infernal fires of Nibelheim confirm that the demonic forces unleashed by the theft of the earth's irreplaceable resources lie at this opera's molten heart. In this context, the production's all-round insistence on sustainable materials and practices – even down to the strange scrap-steel dress that Fricka sports – makes absolute dramatic, and thematic, sense.
Langridge points out that a sustainable production can yield surprise benefits: for instance, the acoustic properties of the recycled wood used to make the sets. Alison Chitty has transformed a motley array of second-hand costumes into "a world that makes sense". Yet, for all its stringent economy, this Rheingold does not feel particularly minimalist. Langridge says about his collaborations with Chitty that they "always try to engage the imagination of the public. Both of us would say that you don't do that by giving them everything… The natural storytelling style of myself and Alison is in many ways economical and spare". Our imaginations must make the Rhine, Nibelheim and Valhalla spring to life. At the same time, "People want to be wowed" – especially by Wagner. "I hope to wow them in this show."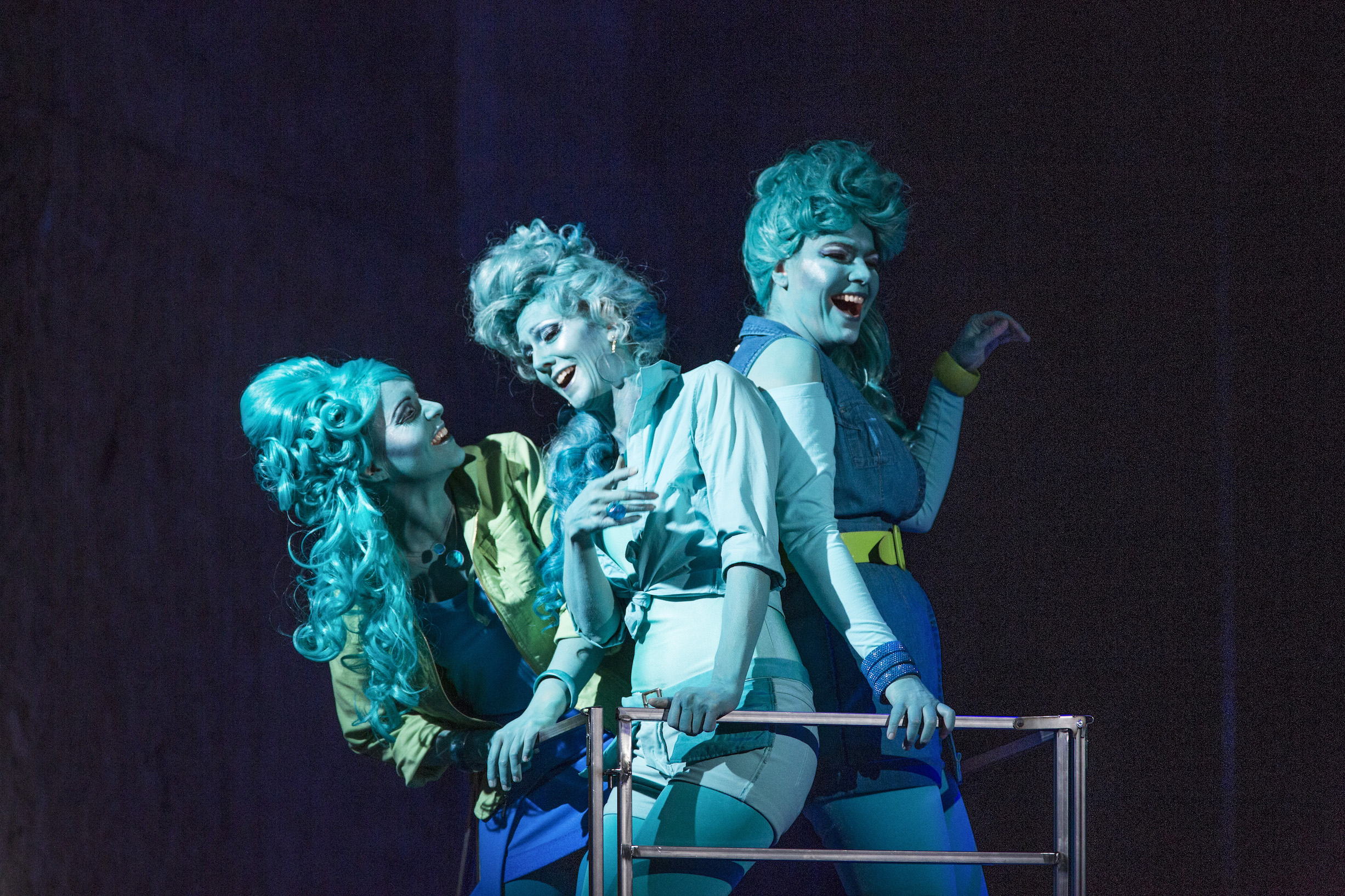 That he does. One coup, emotional as much as visual, involves the personification of the stolen Rhine booty as a "golden child", played by Sara Suneson (pictured top with Olafur Sigurdarson). Her capture, confinement and maltreatment by both Wotan and Alberich gives a poignant human form to the abuse of nature on which the plot, and this production, turns. Then, at the close, the entry of the gods into Valhalla prompts a show-stopping use of the stage turntable. Sorted in rainbow colours, items of plastic junk rotate around the stage in an ironic, and minatory, counterpoint to the bliss heralded by the music – but then undercut as the Rhine maidens (sung by Mia Karlsson, Frida Engström and Ann-Kristin Jones, pictured above) wail a plea for the restitution of their lost treasure. Like an airport baggage-reclaim carousel or the prize belt on some downmarket gameshow, this garish riposte to some of Wagner's most sublime arpeggiated scoring affirms that the twilight of the gods awaits all the immortals – a toxic decline, in this reading, to be strewn with cheap throwaway trifles.
Conducted by Evan Rogister, the Gothenburg Opera orchestra rose to their heaven-storming climaxes with relish – half-a-dozen harps, quartet of Wagner tubas and all. But they also scaled back the sound to supply an alert, sensitive enrichment to the quieter, more domestic episodes in Wotan's drive to power. At intervals, the nicely-detailed suburban-couple sparring and jostling of Lorentzson's Wotan and Karnéus's Fricka (pictured above) reminded me that, on stage and screen, Chitty has also worked for decades with Mike Leigh. With its alternating moods of comedy, pathos, horror and grandeur, crafted from unostentatious means, this green Rheingold offers flavour in abundance. It's not an operatic equivalent of the sort of one-pot vegan supper that would send you out into the chilly Gothenburg night feeling virtuous but unfulfilled.
The commanding voices of Karnéus, Lorentzson, Sigurdarson and Gunnell – joined later on by Hege Høisæter's spooky Erda – wove a luxurious texture of their own. The band never shrank from the Wagnerian heroics. And, from that river of humankind to the heart-breaking plight of the "golden child", Langridge coaxed from all his cast a richness of emotion that matters more than big-budget pyrotechnics. Langridge, whose background features spells of work with "poor" theatre and opera in non-standard settings, does not seem to crave the gold-hungry extravagance of traditional opera palaces. "I love performance," he says. "I love story-telling. I love imagination. I'm not so interested in delivering everything." His sustainable Rheingold has no lack of heart-quickening moments. It may be "green" but it is not austere. Yet our human imagination – embodied in those silent, necessary helpers – still has to work to make it real. On this evidence, Glyndebourne has made a bold, and timely, choice.