The Cry, BBC One review - every parent's nightmare |

reviews, news & interviews
The Cry, BBC One review - every parent's nightmare
The Cry, BBC One review - every parent's nightmare
How do you cope with the unthinkable?
Unfriendly skies: Joanna (Jenna Coleman), Alistair (Ewen Leslie) and baby Noel en route to Melbourne
Following the runaway success of Bodyguard, Jed Mercurio is no doubt popping more champagne and saying "follow that". Stepping up to BBC One's Sunday 9pm slot is The Cry, which transports us from suicide bombs and political intrigue and instead immerses us in the emotional plight of new mother Joanna (Jenna Coleman) and her partner Alistair (Ewen Leslie).
Adapted from Helen FitzGerald's novel, The Cry is going to be a dark and tortured journey into failed relationships, parenthood in crisis, accusations and loss, and this first of four parts set the ball rolling ominously. Screenwriter Jacqueline Perske and director Glendyn Ivin have conspired to create their narrative from a fractured time-scheme which roves freely between past, present and future, using the narrative strands to spin a steadily-tightening noose around the protagonists.
The idea of a nightmare foretold was set up at the start, with Joanna pondering aloud, apparently talking to the camera, about the worst thing that could possibly happen to you, and walking a public gauntlet of being stared at and judged. As the episode progressed, it became clear that this was part of a conversation between Joanna and a psychiatrist, in the aftermath of the traumatic event which lies at the core of the story. Glimpses forward in time to Joanna walking into a house teeming with cops and cordoned off by police tape, preparing to go into a courtroom for trial, and a montage of scenes of her enduring various ordeals by paparazzi conveyed a queasy sense of unease and impending doom.
Joanna's life wasn't always as grim as this, and we got flashbacks to the way she first met and fell in love with Alistair. Still, even that wasn't without its warning signs, not least the way Alistair's first wife Alexandra (Asher Keddie, pictured above) and daughter caught them having sex at their home. Then there's the fact that Alistair works as a spin doctor to David Fossery (Nicholas Farrell), a minister in the Scottish parliament, so you'd need to think twice about believing anything he told you. Part of his job was trying to manage the fallout from a crisis in Fossery's private life which was about to explode across the media, so presumably he wouldn't shrink from doing a similar snow-job on his own situation (later on, we saw him with Joanna just prior to making a televised appeal to the public, asking her "do you think you might cry?").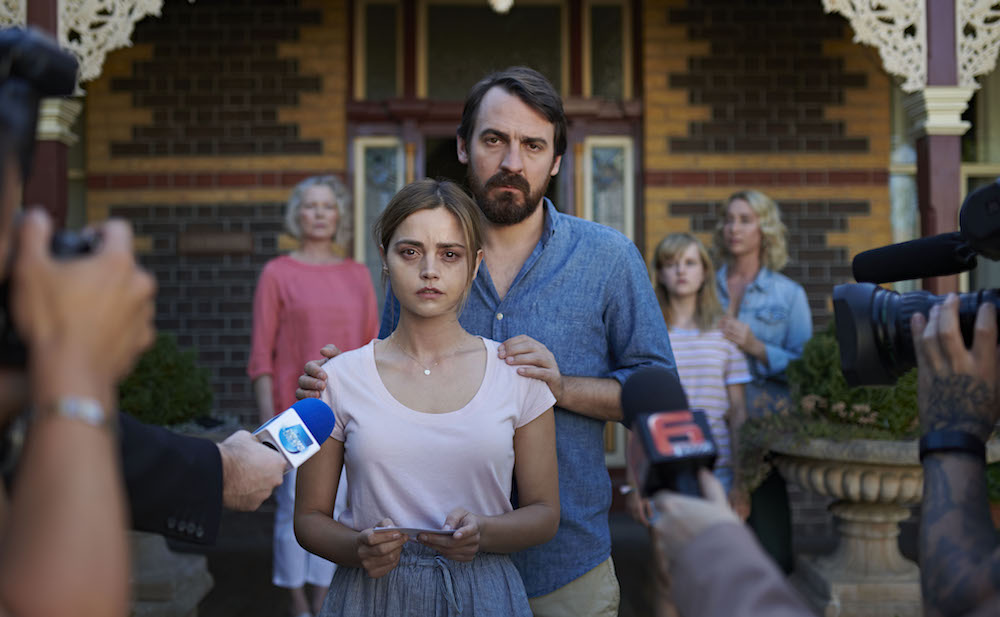 It's a story which prospective parents might be advised to avoid. Joanna is being tested to the limit by the demands of the couple's young baby, Noel, and with Alistair working long hours and not doing much to help when he is at home, she's feeling like she's scraping the barrel of her inner resources just to keep going. When Alistair decides he must return to his native Melbourne to try to gain custody of his teenage daughter Chloe (Marella Kavanagh), it doesn't seem to occur to Joanna that this could be like a typhoon hitting their relationship, and she's only worried about the imminent prospect of taking the baby on a 24-hour flight (with good reason actually, since he cries most of the way and provokes anger and loathing from their fellow passengers).
But the worst is yet to come. Think the notorious "dingo baby" case or the McCann saga and you're getting the idea. Buckle up, it's going to be grim.