Renzo Piano, Royal Academy review - worth the effort |

reviews, news & interviews
Renzo Piano, Royal Academy review - worth the effort
Renzo Piano, Royal Academy review - worth the effort
Church spires informed the shape of the Shard
Friday, 14 September 2018
Installation shot of Renzo Piano: The Art of Making Buildings
Architecture is notoriously difficult to present in an accessible way and this survey of Italian architect Renzo Piano, who gave London the Shard, does not solve the problem.
With 16 tables arranged in rows over two rooms, the
Royal Academy
show looks more like a busy office or a reading room than an exhibition.
Subtitled The Art of Making Buildings, it tells the story of 16 projects from the point of view of the design team. Drawings, photographs, models, letters and magazine articles provide insight into the unique challenges posed by each commission and the solutions arrived at to deal with them.
Chairs are provided to encourage you to linger and sift through the information, but it takes an act of will to sit down and concentrate. Luckily a film by Thomas Riedelsheimer offers another way into the mind of Renzo Piano. Speaking with enormous clarity about his approach to building and his beliefs about the importance of his profession, Piano is a delight to listen to.
Born in Genoa in 1937, he adores sailing. He built his first boat as a young boy and has made five more since then, each one a little larger than the last. A photo taken of him in fancy dress, in 1987, shows him attempting to steer a clunky boat made from a dismembered wardrobe. It was his entry into a race set up for the staff of his Building Workshop in Genoa, in which all vessels had to be made for less than $100. Its probably a good thing that that anarchic sense of fun is absent from the work. In its place is the precision and economy needed to design and build a serious sailing boat. Piano (pictured right by David Parry with a model of the Shard) describes his buildings as "flying vessels" and, having watched his elegant yacht glide past under full sale, you begin to notice the same spare elegance in the buildings and to spot shapes reminiscent of masts and sails, hulls and rigging. In an aerial shot of the Shard taken by Chris Martin (pictured below left), the gleaming glass tower resembles a sailing ship floating over the rooftops of London towards the sunset.
The display tells you about the eight overlapping facets that form London's tallest building, whose conical shape was influenced by our church spires. Six different types of glass were used for the double glazed interior units and two more for the outer glass skin; this variety allows the structure to reflect the ever changing light at different times of day and in all weathers. "Lightness is not just a physical event", says Piano. "Beauty is one of the few things that can change the world."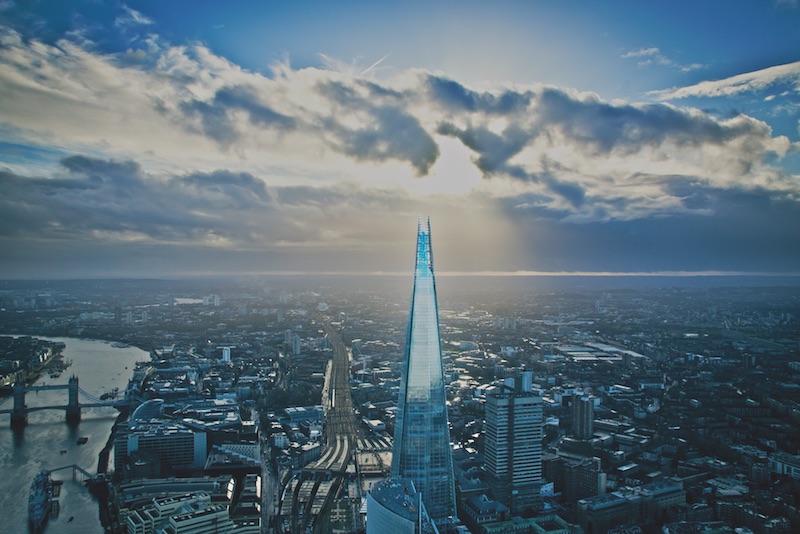 "Architecture is the art of making a place for people", he adds. "You need to understand why you are doing things; you need to be a humanist." Yet there is precious little in the exhibition about other people's experience of his buildings. Why are there so few photographs of the actual buildings and no videos walking you round the outside or taking you through the interior spaces? Does Piano always succeed in his goal of making beautiful and uplifting structures ? From an aeroplane the Shard may look light, ethereal and mysterious, but the view from the ground is very different. Towering over the walkway leading to London Bridge station, the building makes the meagre space at its base feel cramped and oppressive.
Standing in a niche on the staircase leading to the exhibition is a wooden structure resembling a sled. Its a model for the walls of one of Piano's most interesting projects – the Jean-Marie Tjibaou Cultural Centre, built in 1998 near Nouméa in New Caledonia (pictured right by Sergio Grazia). A celebration of Kanak culture, the centre consists of ten pavilions inspired by traditional Kanak dwellings made from a wooden framework interlaced with plant fibres. Using iroko, a wood too hard even for termites to chew, Piano created an elegant modern equivalent. Two layers of slatted wood are held in place by steel braces. Adjustable louvers let the wind blow through the slats to alleviate the oppressive humidity of the semi-tropical climate. Rising above the surrounding trees like woven baskets the bowl shaped structures provide a fitting arena for theatre, music, dance and a library.
Renzo Piano's father and grandfather were both builders, and he describes architecture as a step by step process of addressing one challenge after another, always trusting that you will find an elegant solution. In helping to elucidate that process, this exhibition is not only informative but it should act as an inspiration for all wannabe architects. "To be creative you just have to decide", says Piano. "To be creative, you jump!" But in focusing primarily on the view from inside the Workshop, it overlooks the other side of the equation – the view from the street.
Speaking with enormous clarity about his approach, Piano is a delight to listen to.
rating
Explore topics
Share this article