Love's Labour's Lost, Sam Wanamaker Playhouse review - in praise of a fantastical Spaniard |

reviews, news & interviews
Love's Labour's Lost, Sam Wanamaker Playhouse review - in praise of a fantastical Spaniard
Love's Labour's Lost, Sam Wanamaker Playhouse review - in praise of a fantastical Spaniard
The ladies of France shine in a production that otherwise makes over-emphatic weather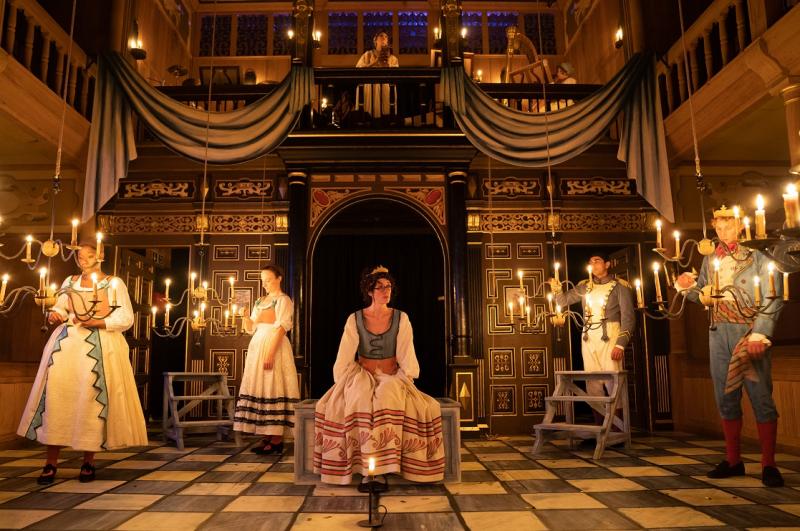 A courtly scene: from left, Leaphia Darko, Jade Williams, Kirsty Woodward, Dharmesh Patel, Paul Stocker
The early
Shakespearean
comedy may once have hit a highpoint for verbal wit, but much of that context – the word play, the allusions, the sheer stylistic preening that must have had a certain in-joke quality for its initial courtly audience – has rather evaporated over the centuries.
So it's to the credit of Nick Bagnall's new production that the Playhouse audience clearly comes away on an upbeat note. And that's despite that perplexing final scene, one that disrupts the traditional marriage ending ("our wooing doth not end like an old play"), even if Bagnall's cast of eight still go out on a dance that closes proceedings as if all was rather sunnier.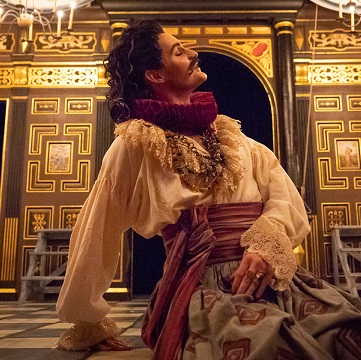 It takes quite a degree of condensing leverage to bring the players down to that number. That Shakespeare's quartet of lovers becomes a trio – and so farewell, Longaville, Maria – may not count for much, given that Berowne is the courting courtier whose loquacity captivates (though Dharmesh Patel's delivery doesn't: greater enunciation would be welcome). It's more of a loss that the role of Costard is divided between cast members, with a loss of comic consistency, though costuming maintains identity. Jaquenetta is doubled, too, which makes for some quick changes, but Jade Williams (also Rosaline) is as agile as any of the players here in an action that nimbly reaches out well into the auditorium.
However, it's Jos Vantyler as Don Armado (pictured above left) who really steals the limelight, and his comic braggadocio energy overcomes (largely) a lingering sense of cultural dodginess about the portrayal of this "fantastical Spaniard", one that certainly plays up to present-day tropes. If it wasn't enough that he gets plenty of contempo interpolations – a rendition of "To All the Girls I Loved Before" included – Bagnall has also given him responsibility for playing his own servant, Moth. That might easily sound like a gimmick, but the way Vantyler accomplishes it – like he's talking down to a diminutive, invisible puppet, then replying to himself in a squeaky Yorkshire accent – is actually enormously engaging, and the actor deserves the round of applause he gets for the moment when he's even triple-playing roles.
The distaff side of the cast not only outwits the male suitors but roundly outplays them
Whether it leaves the audience simply baffled, at least until they twig the japery, is another matter (let's face it, Love's Labour's is not a text many of us have ever actually gained). And japery – "not a word but a jest" – is key to the interaction across the sexes that's on display here. The distaff side of the cast not only outwits the male suitors, whose opening renunciation of the pursuits of love for study is made with all the conviction of reading the meter, but roundly outplays them: "We are wise girls that mock our lovers so", indeed. That's right across the board, from Kirsty Woodward as a bookish Princess of France and Jade Williams as Rosaline, to Charlotte Mills as Boyet (pictured below, front, with Kirsty Woodward, Jade Williams), whose gender-swap here seems to prove that women really do multi-task better.
Because when Tom Kanji (Dumaine) and Paul Stocker, as the King of Navarre, do so in their doubling as Sir Nathaniel and Holofernes respectfully, the effect is groanworthy. Which, in fairness, it has to be, both from the text itself, and no less for how it fits into this production, something also illustrated by the trio's ripely ham appearance in Muscovite disguise. Presenting the Pageant of the Nine Worthies, another element that creaks anywhere, when you're at least a man down was always going to be a push.
There's nowt wrong with a romp, of course, though you're left with the impression that the place for this one might have been the wide-open space of the Globe's main stage. But Bagnall's production, with its conceit that the action unfolds from within the Princess of France's dressing-up trunk and other elements more suited to the gilded finery of the Playhouse, rather falls between two stools. There are music-box allusions too, and co-composers James Fortune and Laura Moody offer a rather lovely score, albeit one that sometimes seems to have only tenuous relation to what's going on beneath the musicians' balcony.
Not least because it's such a rarely staged play, memories of Christopher Luscombe's RSC production (double-billed with Much Ado) are fresh; if that one left behind anything, it was a sense of wider spaces, broader characters, more evocative perspectives. This is a Love's Labour's played for reductio effect, its mental as well as physical japes marked up too much to reveal any more subtle skein of emotion.
It's Jos Vantyler as Don Armado who really steals the limelight, and his comic braggadocio energy (largely) overcomes a lingering sense of cultural dodginess
rating
Explore topics
Share this article