The Lieutenant of Inishmore, Noel Coward Theatre review - Aidan Turner makes a magnetic West End debut |

reviews, news & interviews
The Lieutenant of Inishmore, Noel Coward Theatre review - Aidan Turner makes a magnetic West End debut
The Lieutenant of Inishmore, Noel Coward Theatre review - Aidan Turner makes a magnetic West End debut
Martin McDonagh revival brings Poldark to the London stage, guns blazing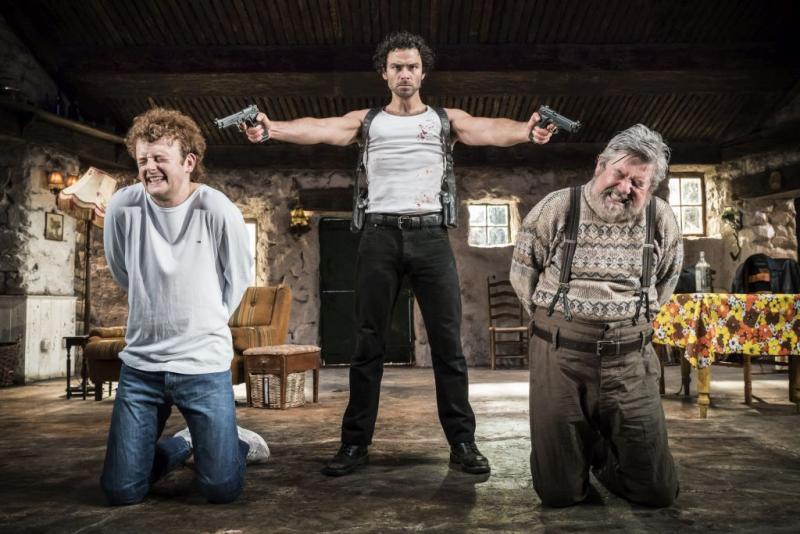 Times up: Aidan Turner (centre) in 'The Lieutenant of Inishmore'
Aidan Turner may not reveal those famously bronzed pecs that have made TV's Poldark box office catnip in his West End debut.
But what Michael Grandage's funny and fiery revival of
The Lieutenant of Inishmore
reveals in spades is the irresistible charisma and stage savvy of an actor fully at home in what can only be called
Martin McDonagh
-land. Bring Turner's full-on brio together with an ensemble who mine every mountingly absurdist moment of the play's deathly landscape and you've got a star vehicle that turns out to be far more than that, as well: a bruising tonic for our troubled times.
By this point, McDonagh's gift for outrage is widely-known, as is an unerring moral compass requiring his audience, whether onstage or film, to look beyond the more self-evidently shocking remarks and actions to the landscape from which they spring. The hesitancy with which some London managements first reacted to Inishmore is well-chronicled by now, the play ending up within the repertoire of the RSC before transferring to the West End and then on to Broadway. But even more than did the director Wilson Milam the first time round, Grandage here finds the ache underpinning the farcical anarchy in a play whose violence invites comparison with Titus Andronicus and King Lear. The writing traffics in comic lunacy, to be sure, but also something longer-lasting.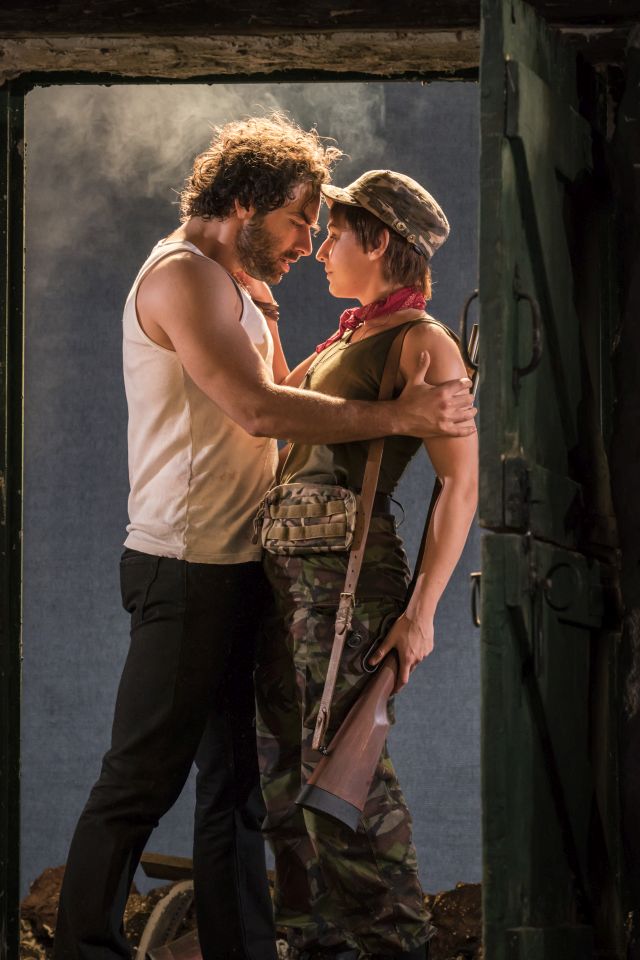 The scenario seems simple enough but plays itself out to startling effect. The hapless 17-year-old Davey (Chris Walley, in a winning stage debut) is in a tizzy as the play begins, having inadvertently killed the beloved cat belonging to local sociopath Padraic Osbourne (Turner), an INLA revolutionary who is said to be "mad enough for seven people". Not especially generous towards his fellow humans (when first seen, he is having mutinous fun chopping off the toenails of a local drug dealer), Padraic regarded the now-dead "wee Thomas" as his best and only friend, and his father Donny (a blissfully deadpan Denis Conway) is among those not quite sure how rabidly this young zealot will respond to so severe a loss. (Short answer: not well.)
Padraic finds a kindred female spirit in Davey's sister Mairead (a feral Charlie Murphy, pictured above with Turner), an activist who's made something of a habit of blinding cows and who ends up in the erotic clinch with Padraic – notwithstanding his reservations about her short hair. (Her gay brother has the more feminine locks, at least for as long as they are allowed to go unshorn.) Might Padraic himself be gay? The suggestion sends the "lieutenant" of the title into a momentary rage: there are "no boy-preferrers in terrorism", we're helpfully informed, even if Donny is revealed to be a comparably unusual hyphenate: a "mam-trampler".
McDonagh's linguistic exuberance is everywhere in evidence, and one wonders were he writing the play now whether the more mature, Oscar-friendly artist he has become might not curtail moments where the writing reaches for effect or where a particular image or verbal circumlocution is run into the ground. As it is, one is keenly aware of a writer using language to detonate as Padraic might well employ a bomb, and this author's gift for a comic punchline remains nonpareil. A particular remark on the subject of Irish tourism is made for quotation, but I remain partial to Padraic's ferocious demand in extremis to "put wee Thomas on the phone".
Grandage has revived McDonagh before: a revival five years ago at this same theatre of The Cripple of Inishmaan, a play whose budding female firebrand, Helen, can be seen as a junior version of Mairead here. But even more this time out, one feels this director's customary creative team all working as one. The designer Christopher Oram's rural Irish environs come with a peat-encrusted curtain that raises and lowers like some sort of Padraic-inspired guillotine, while Neil Austin's lighting soaks the start of the second act in an infernal glow hinting at the bloodbath to come.
Disturbing? Yes, as it must be, but devilishly funny as well, not least via a trio of INLA sidekicks who discuss amongst them which of the three may be the most "sensitive". Turner's appeal, in turn, lies in an ability to shade Padraic's gathering psychosis with genuine gregariousness and good cheer, as a reminder, perhaps, of the decency that might have prevailed had a life devoted to gutless violence not caught his attention instead. And if those craving a view of his career-making chest find instead a blood-spattered vest, well, let's hope they extend their gaze further to a first-rate actor for whom with any luck this first step on the London stage will lead to many more to come.