Duran Duran: There's Something You Should Know / A Night In, BBC Four, review - chaps on film |

reviews, news & interviews
Duran Duran: There's Something You Should Know / A Night In, BBC Four, review - chaps on film
Duran Duran: There's Something You Should Know / A Night In, BBC Four, review - chaps on film
The highs, the lows, and the cultural influences of the old-time New Romantics
Semi-bespoke Tayloring: the wild boys of Duran Duran
Forty years on. You could have got attractive odds on Duran Duran still being here when, on a yacht carving the seas off Antigua, a cream-suited Simon Le Bon mimed "Rio" astride an unapologetically phallic bowsprit. "A ripple in a stagnant pool," sniffed the NME upon first catching them live.
But that was then and this is now and four of the original five, having spent many years as a three, are still at it, 14 albums down.
Naturally, therefore, they were due a BBC Four homage, which came in the form of not one but two films: There's Something You Should Know was a bog-standard soup-to-nuts sprint through the history, and then in A Night In the band walked us through the cultural influences which formed them, followed by a 2011 concert in Los Angeles.
The first thing to say is that they are simply lovely, level-headed charmers. A girl could take any one of them home to meet her mum, and for a period in the early Eighties several million girls would have been happy to do just that. Although they'd probably have preferred their mum to be out. "We were a lot more alike then," mused John Taylor, looking at old snaps (such as below).They're way more identical now. There's the tall one and the chubby one and the eyelinered one and the one who never says anything, but basically you couldn't fit a Rizla paper between four craggily tanned middle-aged metrosexuals with Smashy and Nicey accents. (Duran scholars and boffins, feel free to disagree in the comment box below.)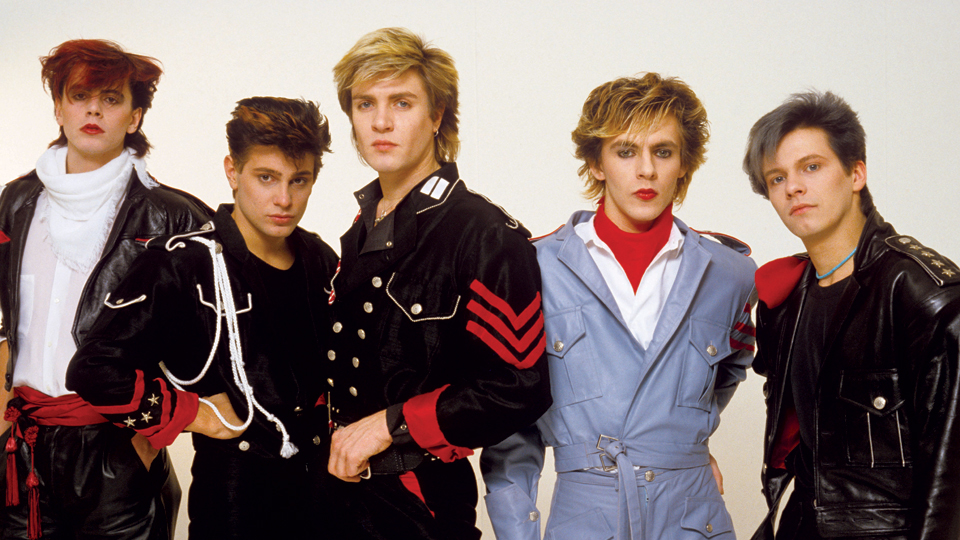 John, one senses, was and is a bit of bossyboots with a slight chip. Not that you'd twig from his lyrics, but Simon is something of a wag. "Little bit ahead of the beat there," he said as he listened back to himself singing "O For the Wings of a Dove" as a treble chorister in Pinner. "That's something I've worked for decades to overcome." Modest too. Roger is somewhere between Ringo and Bill Wyman, offering a wide berth to egregious displays of charisma. And then there's Nick Rhodes, who remains carbon-datingly pretentious. I think I lost count of the number of times he said "stylisation".
They were interviewed separately and together. John was met in LA, Simon on a speedboat on the Thames (pictured below by Gavin Elder), Roger got the short straw and did the tour of Birmingham, albeit in a very nice car. The stories were told, the highs and lows traversed. Simon was frank and astute about the latter. Some questions went unasked. When precisely did they shed the Brummie accents? Did Roger never mind that there was another drummer called Roger Taylor? Why was 60 percent of the band called Taylor anyway? How long have they all been calling Simon Charlie?
Also, what about the predatory sexism? Simon/Charlie conceded that the video for "Hungry Like the Wolf" looks at first glance like a bloke chasing a woman through a jungle. "Slightly uncomfortable actually," he conceded. But no, he explained, really "it's us chasing our career". That metaphor was accidentally submersed under several substrata of hairspray and bikini wax. So yes, there could have been more interrogation of the way Russell Mulcahy's videos objectified women. But Cindy Crawford, recalling her teens with a twinkle, didn't seem to mind. Nor obviously Boy George.
Other things we learned. Neither Simon nor Roger are very good at snooker. Andy (Taylor) wore sunglasses a lot in the Noughties, which should have rung alarm bells. And the NME later named Rio one of the top 100 albums of all time. "Ironically," remarked the caption, superfluously. There was no mention of Spandau Ballet nor any other contemporaries wailing to synths in pseudo-military bumfreezers.
A Night In was a sort of celebrity nostalgia edition of Gogglebox. As a template this could catch on. Four men on stools watched a telly and fondly remembered the Sixties and the Seventies (with a coda about how they influenced everyone else in the Eighties). Mentioned in dispatches were Barbarella, Warhol, Tomorrow's World, Bolan, Clockwork Orange, the Pistols, the Smash ad. And many more. Seminal influences all, apparently. We've all of us, of a certain vintage, had similar conversations in pubs without alas becoming multi-millionaires in bands. So there must be a bit more to creating perfect pop than keeping your eyes and ears open.