Partenope, Iford Arts review - a midsummer night's dream of a Handel comedy |

reviews, news & interviews
Partenope, Iford Arts review - a midsummer night's dream of a Handel comedy
Partenope, Iford Arts review - a midsummer night's dream of a Handel comedy
A featherweight baroque treat from a talented young cast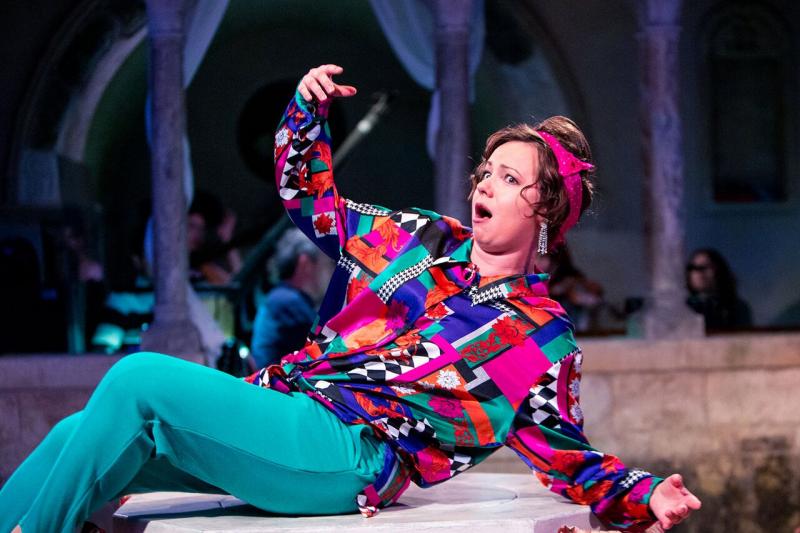 Queen Partenope of Naples (Galina Averina) becomes a glamorous 1980s despot
Rejected by London's Royal Academy of Music in 1726 on grounds of frivolity, Partenope is the ultimate Handelian rom-com – a comedy whose intriguing is carried out with a smile, a swagger and a sparkle in the eye.
But what raised eyebrows in the
18th century
– unusually short arias, plenty of pacy recitative and an exuberant
buffo
spirit that constantly leaps out from behind the elegant classical pillars of opera seria – raises hopes and glasses in the 21
st
. Light on its dramatic feet, with a deliciously assured heroine at its centre, the work is the perfect stuff of summer opera.
And if there's a more perfect setting for that summer opera than Harold Peto's Italianate gardens and cloister at Iford Manor it's hard to imagine. Which makes it all the more heartbreaking that this season will be the festival's last in this venue, although it plans to continue in a new home next year. So if you've been putting Iford off until "next year" this really is the time to go try out this smallest and most enchanting of the English opera festivals.
In a crowded market (particularly crowded this year with Handel, with the Grange Festival currently staging Agrippina and Glyndebourne's double offering of Giulio Cesare and Saul), Iford's USP is not just its setting but its young casts, and there's a real sense of energy and gung-ho abandon to Christopher Cowell's Partenope. Sung in a new English translation by Cowell himself – a little uneven in tone, at its best in the snappy, throwaway felicities of the recitative – the work has an easy directness and plenty of much-needed pace, thanks to some judicious cuts.
Love has rarely been as light-hearted a battlefield as among Partenope's three suitors (four, if you count the cross-dressed Rosmira, who must play the suitor while secretly hoping to win back her own errant lover, Arsace). Cowell and designer Holly Pigott recognise this, bringing plenty of colour and silliness to a production that ends with Cupid – a cut-price deus ex Matalan complete with plastic wings and a natty white suit – firing his love-darts into all concerned to bring about a happy ending.
Classical Naples here becomes an Eastern or African banana republic in the 1980s. Iford's cloister is reimagined as the gaudy, palm-and-chandeliers palace of Partenope – a monarch whose taste in men is as questionable as her fondness for big hair, stretch pants and hot pinks. Less a concept than a style choice, whose visual references are magpie-many and only loosely literal (Emilio's rival troops, pictured above with Jorge Navarro-Colorado as Emilio, are kitted out as Mohawk-sporting punks and goths, while Partenope's troops fight with swords in what looks a lot like Edwardian military dress), the production is better simply enjoyed moment-to-moment than mined for any coherent insight – a sharp kick from Partenope's leopard-print stilettos could send it tumbling.
A young cast is led by Galina Averina's sparky Partenope (pictured above with Beth Margaret Taylor as Rosmira), who captures the queen's kittenish charm, though not perhaps her emotional stature. Crisply efficient coloratura dispatches "L'amor ed il destin" convincingly, and there's an unexpectedly minxy quality to the lilting dance "Qual farfalletta" that works well. There's perhaps a little too much acid for comfort in the tone of Alexander Simpson's Arsace, but the countertenor pulls off the contrasting demands of the explosive "Furibondo spira il vento" and the breathtaking ballad "Ch'io parta" convincingly, the latter giving just a hint of a truer, less worked voice, beneath the various dramatic effects.
Tom Scott-Cowell gives us creamier countertenor tone as Armindo, tenor Jorge Navarro-Colorado makes much of Emilio's arias and promising mezzo Beth Margaret Taylor is a strong presence both dramatically and musically as the wronged Rosmira. All are sympathetically supported by conductor Christopher Bucknall and his stylish ensemble Contraband (complete, rather wonderfully in this small space, with horn and trumpet), who kept us dancing to Partenope's tune from start to finish.