The Abduction from the Seraglio, The Grange Festival review - enjoyable if conventional production |

reviews, news & interviews
The Abduction from the Seraglio, The Grange Festival review - enjoyable if conventional production
The Abduction from the Seraglio, The Grange Festival review - enjoyable if conventional production
Traditional take on Mozart classic delights country house audience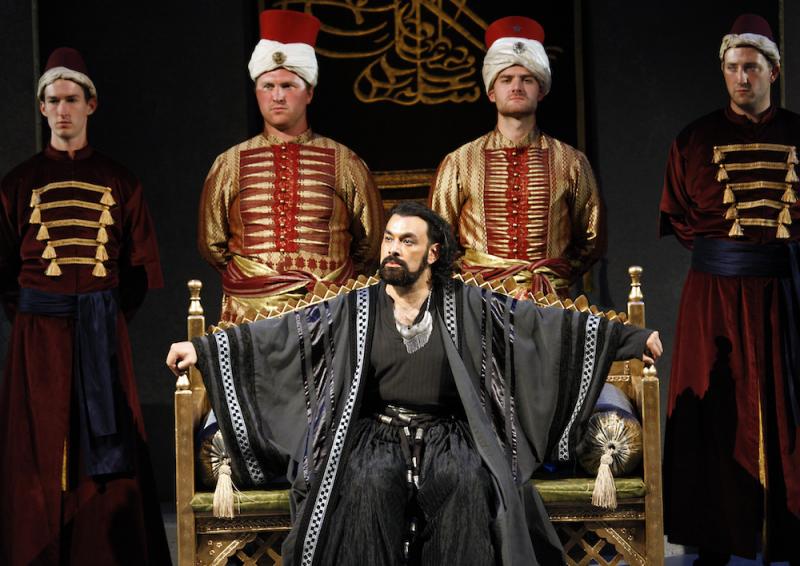 Alexander Andreou (Pasha Selim) in Grange's English-language 'The Abduction from the Seraglio'
Just as the Last Night of the Proms is an end-of-term party with a concert tacked on, The Grange Festival (like other similar venues) offers a massive picnic interspersed with some opera.
Unlike the Proms, however, where anyone can get in wearing anything they like for just £6, the English country house opera is the preserve of the well-heeled and genteel dressed in their finery, sipping expensive drinks.
But as well as being socially elite, there is also a more admirable tradition of artistic elitism at these summer festivals, where top directors and singers do often fine work for the enjoyment of their well-fed audience. Grange's new production of The Abduction from the Seraglio, by the veteran director John Copley, was one such enjoyable evening, albeit in a very traditional vein.
Mozart's opera was in some respects his breakthrough work, a Singspiel, in German with spoken dialogue. The decision here to sing (and speak) in English was a wise one, and helped chart a path through the sometimes convoluted plot.
It took a little while to warm up, after a disappointingly flat overture. Jonathan Lemalu (pictured above by Simon Annand) as Osmin soon got things moving in his Act 1 arias, although there is to modern sensibilities a troubling Orientalism about the dramatic portrayal of this character. Lemalu offered an appropriate pomposity and short-temper, but the constant carping on how ugly, old and stupid Osmin is could, in another production, have made him more sympathetic.
All the five principals sang very well, although some of the acting was a bit overwrought. Ed Lyon's Belmonte was urbane and adept in his set-piece aria. Paul Curievici (Pedrillo) was great vocally – nowhere more so than in the serenade aria of Act 3 – but could be a bit hammy. Kiandra Howarth (Konstanze, pictured below) had a technique equal to Mozart's pyrotechnical demands, although her big voice was not always as subtle as it was athletic. There was perhaps more light and shade in Daisy Brown's singing as Blonde, and the Blonde-Pedrillo relationship was more convincingly romantic than Konstanze-Belmonte. In the middle is the tricky, non-singing role of Pasha Selim, taken by Alexander Andreou. He has to do a lot of reacting to other people singing, and be both mercurial and regal. He was the solid centre of the piece and got the biggest laugh of the night.
Musically the highlights were the ensembles, where Mozart's dramatic and compositional gifts come together quite breathtakingly. The four lovers achieved energetic counterpoint in their quarrel and a lovely vocal blend in their reconciliation. The chorus is notably under-used by Mozart, appearing only twice, but sounded impressive.
Tim Reed's set was simple but did the job, not suggesting an exotic Turkey but something more European. The Bournemouth Symphony Orchestra was conducted by Jean-Luc Tingaud, who negotiated the many changes of character and tempo, and the orchestra was much better in the second half, where in the first there had been some co-ordination issues with the stage. Copley received a warm reception during the curtain calls. His difficulties early in the year do not seem to have diminished his appetite for creating new work at an age when I intend to be putting my feet up.
Companies like the Grange Festival need to stay in the middle lane to continue to attract the audience they do: that is, one not especially interested in breaking new ground. But, unsubsidised as it is, with the show itself as a kind of loss-leader, Grange Park (like the other country houses) at least offers a future model for opera, even if it is older, whiter and more affluent than might be desirable.
The four lovers achieved energetic counterpoint in their quarrel and a lovely vocal blend in their reconciliation
rating
Explore topics
Share this article