Studio 54 review - boogie wonderland |

reviews, news & interviews
Studio 54 review - boogie wonderland
Studio 54 review - boogie wonderland
Documentary revisits the most celebrated discotheque of them all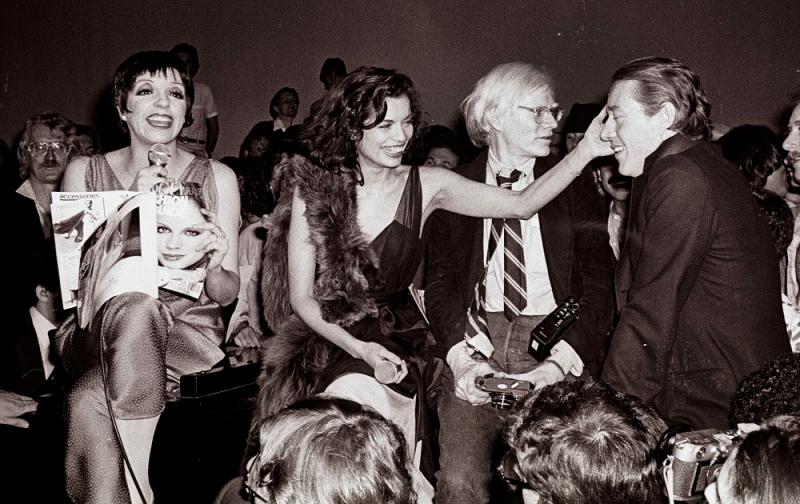 Liza Minelli, Bianca Jagger, Andy Warhol, and Halston at Studio 54
You need to be of a certain age to recall the sheer ubiquity of Studio 54. For a few years in the late 1970s, even the sterner British newspapers were routinely stuffed with stories of who was there and what went on within the hallowed citadel (if not who went down, and on whom).
As for the
New York
prints, publicists were on a bonus scheme incentivising them to get the hottest
discotheque
onto front pages.
As explained in a new documentary, for a couple of years after the US pulled out of Vietnam Studio 54 was a watering hole which attracted not wildebeest, zebras and antelopes but exotic bipeds of similar plumage. On some nights you could have dropped a bomb on the place and wiped out world celebrity. You didn't have to be ridiculously famous to get past the rope, but it helped. Apparently the less vaunted members of the Rolling Stones had to stump up to get in. The club's velvet rope was New York's Checkpoint Charlie. Regular bridge-and-tunnel punters had no chance, especially if they hadn't taken the trouble to shave. To Anthony Haden Guest, usually deemed the model for the venal toff hack Peter Fallow in The Bonfire of the Vanities, the crowds stranded out on Eighth Avenue "were like the damned looking into paradise".
Studio 54's frontman was Steve Rubell, a gurning young lizard with disappearing hair who would do more or less anything to burnish the club's reputation for exclusivity. It became a tolerant haven for gay men looking to get their hands (and much else besides) on one another. The basement seems to have been a more erotic version of that snake-infested Egpytian tomb into which Indiana Jones was lowered armed with only a bullwhip: a dungeon of writhing flesh. Someone called it a sex pit.
The dress code was sort of optional, a removeable feast. Stills from those golden nights show lissome Ganymedean bus boys on roller skates (pictured above by Allan Tannenbaum) competing to display more bare nakedness than the lady starlets whose dresses did an awful lot of accidental slipping. In this braless utopia Elton John was snapped copping a feel of Divine's mammaries. Mick Jagger was also caught in a clinch with a white horse. It was as if no one was allowed into this free knocking shop unless they'd studied the Caligula chapter in Suetonius. Suspended between the arrival of the pill and of HIV, it was a perfect window of time for all comers.
Forty years on, the rollercoaster story of this X-rated Disneyland is told in Studio 54, directed by Matt Tyrnauer (Citizen Jane). It features the recollections of Ian Schrager, now better known as the boutique hotel guy but back then the Brooklyn school buddy and silent partner of Rubell. Schrager was the designer who took an old TV studio and turned it into a glittering mecca. Rubell was the salesman who explained that "you have to build a nice mousetrap to attract the mice". (Pictured below: Steve Rubell and Ian Schrager outside Studio 54 by Allan Tannenbaum)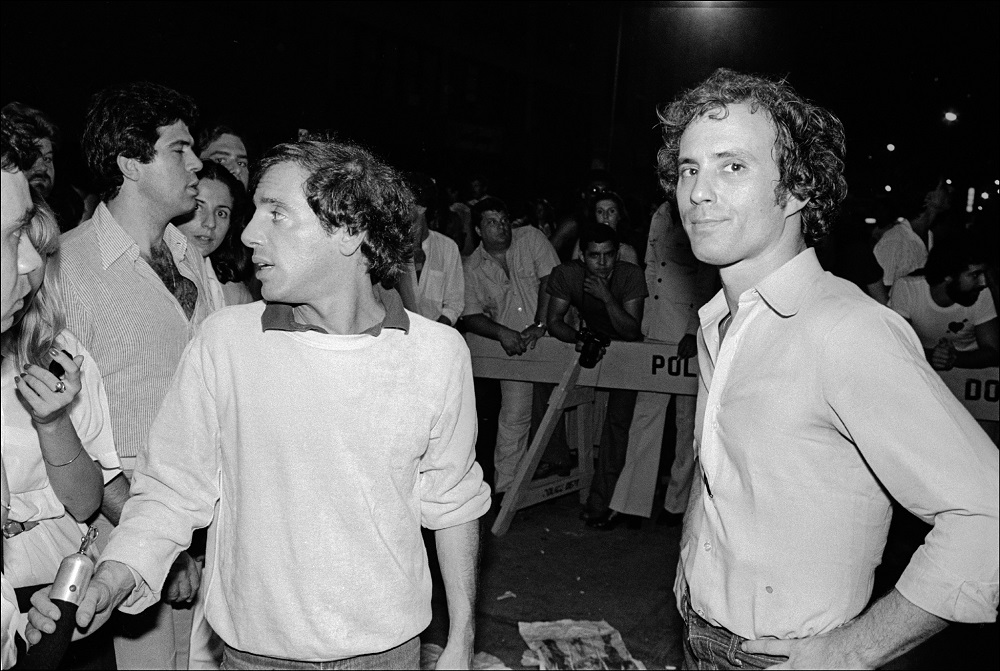 The last third of the film tells of the pair's squalid downfall, the jail time and the plea bargains. It all went tits up when the IRS noticed the lack of a liquor licence and some fairly piratical tax avoidance. The management skimmed off not a modest portion of the take but a gargantuan 80 percent. "They were pigs," recalls a still shocked tax inspector. The club's most rigorous double-entry book-keeping recorded which drugs had been supplied to which celebs. Their lawyer (one of 35 or so) was Roy Cohn, the sulphurous scuzzbag who also represented D. Trump. Butter still doesn't melt in Schrager's mouth. (His old man was a wise guy known as Max the Jew. His mother ran the till.) "I'm still embarrassed about it," he says to Tyrnauer. "It's one of the things I was hoping you weren't going to get into."
The documentary competently mixes in pulsating disco music, a whirl of stills and loads of old talking heads. As a homage to an epicurean Eden, it makes you wish you were there, without quite being able to take you.