Reissue CDs Weekly: John Foxx |

reviews, news & interviews
Reissue CDs Weekly: John Foxx
Reissue CDs Weekly: John Foxx
Three-disc reconfiguration of 1980's synth-pop landmark 'Metamatic'
At home amongst the concrete: John Foxx in 1980
Although a minimalist approach informed John Foxx's first solo album, the new "Deluxe Edition" reissue of Metamatic expands what was two sides of vinyl to a three-CD, 49-track box set.
After leaving Ultravox following their early 1979 American tour, he quickly signed with Virgin Records and began recording with a couple of
synthesisers
and a rhythm machine. A bass guitar cropped up intermittently. The album's lead-off single "Underpass" used only six of the recording studio's available eight tracks. Despite the pared-down sensibility,
Metamatic
was organic and imbued with a human sensitivity.
Ultravox reconfigured their line-up by recruiting new frontman Midge Ure. Foxx told theartsdesk that "what Midge had done was a very skilled conversion of what we had arrived at into a more popular form." The made-over Ultravox's first single, "Sleepwalk", was issued in June 1980 and "Vienna" would chart in early 1981.
Foxx was moving faster than the band he left behind but Metamatic had a protracted birth process. He signed with Virgin in May 1979, was given his own imprint Metal Beat and started working at North London's Pathway Studio (usually identified with pub rock and punk bands). The release of an album titled Fusion / Fission was announced for October 1979. Its tie-in single was to be "Like a Miracle"/"Metal Beat". Test pressings were manufactured, but with "A New Kind of Man" as the A-side. Eventually, Metamatic and "Underpass" were issued in January 1980.
At this point, Foxx's contemporary context was the emerging synth-pop milieu. Amongst the period's fellow travellers in making music with newly affordable synthesisers were The Normal, whose "T.V. O.D." single had come out in May 1978, The Human League with "Being Boiled" (June 1978) and Thomas Leer's "Private Plane" (September 1978). Gary Numan's Ultravox-influenced Tubeway Army released "Down in the Park" in March 1979, the best-selling Replicas album (April 1979) and the hit single "Are 'Friends' Electric" (May 1979). By this point, the Human League were, like Foxx, with Virgin and their debut album came out in October 1979: maybe a reason Metamatic was put back (they could play live to promote their records – he could not). Foxx's "Underpass" duly became a minor hit.
Heard now, Metamatic feels as much about melody as the then-current musical tools. "He's a Liquid" and "Touch and Go" had been played live by Ultravox so, clearly, Foxx was honing some of the album's songs before they were recorded; there was pre-planning. There's also a timelessness, born from to the combination of Foxx's chops as a songwriter and the use of pre-digital synths which had to be configured manually. The sounds and arrangements Foxx came up with were his own. The only track which has dated is "Metal Beat" due to its borrowings from elements of Kraftwerk's "Showroom Dummies" and "The Robots". Overall, Metamatic is poppy, romantic, and refracts the aura of concrete-filled urban environments and the power they exert.
Rather than effecting dehumanisation, these manufactured cityscapes created situations where, in "He's a Liquid", "he pulls, she pushed, they read the bible about the flood, she draws the curtains, 'cos now she's certain he's a liquid." For "No-One Driving", "someone's gone liquid in the sheets." Transfigurative sensuality was still possible in a potential dystopia.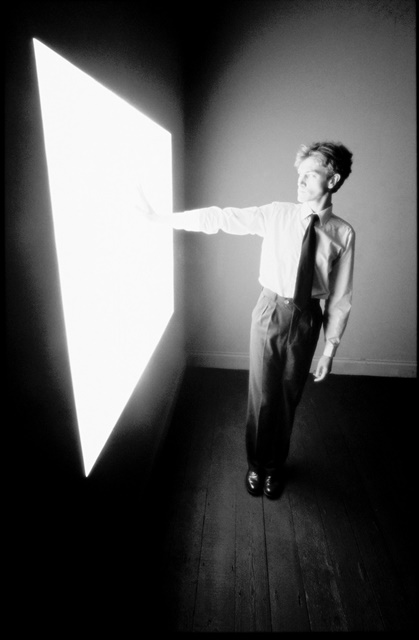 Metamatic has been reissued before. A 2001 single-disc version distractingly appended non-album singles and B-sides after the original conclusion of Side 2. A 2007 repackaging took it to two CDs, did not monkey with the flow of the album's ten tracks by keeping them as Disc One's sole contents and collected 13 tracks on a second disc. The new Disc One also reproduces the original album without bonuses (pictured left: an unused shot from the album cover session). What is heard now is a precise remastering undertaken from the master tapes in 2014.
For the maximalist "Deluxe Edition", most of Disc Two is as per tracks 1 to 13 of the second disc of the Demon Records 2007 reissue of the album, though they are sequenced slightly differently. Five of the new Disc Two's 18 tracks are previously unheard.
Disc Three's 21-tracks are previously unissued and mostly instrumentals recorded at the album sessions. Where there were no titles, Foxx's notebooks from the period have been used to provide them. Amongst the unearthed curios is "Miss Machinery", an aggressive early version of the B-side "20th Century".
The bulk of these instrumentals are impressionistic, suggesting Foxx had more on his mind than creating a song-based album. While there are nods to Cluster, the overriding sense is of a spikier trial run of the more ambient music he began exploring around 1997. Hints of the pastoral and psychedelic lines he took in 1981 and 1982 are absent.
With a striking design by regular Foxx collaborator Jonathan Barnbrook (also the designer of the sleeve for David Bowie's The Next Day), this is a stylish package and the illustrations of Foxx's synthesiser settings are enlightening. Its booklet, though, lacks liner notes and details of exactly when individual tracks were recorded. Everything was taped at Pathway between June and November 1979, but it would have been good to track the album's creation. Even with these oversights, the "Deluxe Edition" Metamatic is the definitive entry point into the solo career of this fascinating British musical maverick.
Next week: Gene Clark Sings For You, a startling collection of demos recorded by Clark shortly after leaving The Byrds

'Metamatic' is poppy, romantic, and refracts the aura of concrete-filled urban environments and the power they exert
Explore topics
Share this article