Jack and the Beanstalk, New Wimbledon Theatre review - Al Murray's panto debut |

reviews, news & interviews
Jack and the Beanstalk, New Wimbledon Theatre review - Al Murray's panto debut
Jack and the Beanstalk, New Wimbledon Theatre review - Al Murray's panto debut
Less than the sum of its parts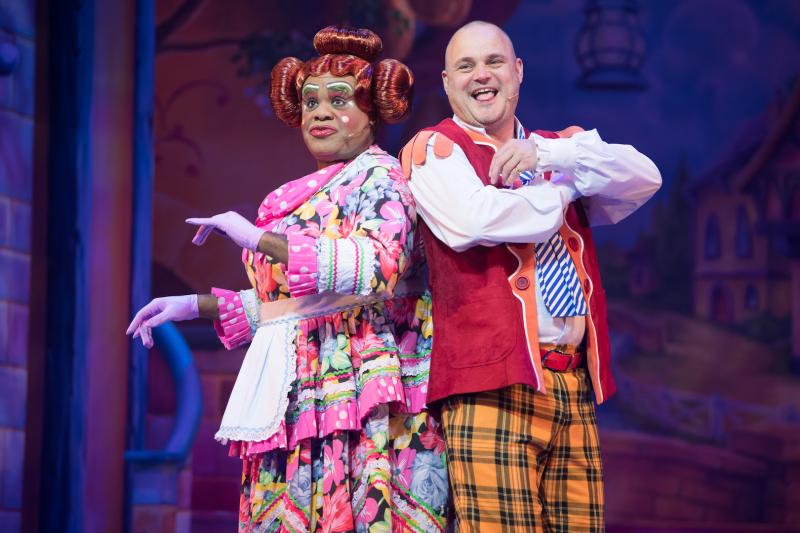 Clive Rowe and Al Murray have some nice comic scenes together as Dame Trot and her son Barman Al
It raised some eyebrows when Al Murray announced he was to make his pantomime debut – top comics rarely make that crossover these days – but, considering his alter ego The Pub Landlord is already an over-the-top creation, the character fits right into this production.
It's at a theatre recently famed for its starry and glitzy pantomimes; First Family Entertainment used to stage the pantos here, but now its old rival, Qdos, working in partnership with ATG, is running the show. On this evidence the new producers are yet to find the same magic. Yes, Jack and the Beanstalk has big names in Murray as Barman Al (who runs a pub in the village) and Clive Rowe, one of the greatest Dames of our time, is Al's mother, Dame Trot, but the show is disappointingly less than the sum of its parts.
Fans of Murray will recognise large chunks of The Pub Landlord's act, shoehorned as they are into Alan McHugh's weak script, including some rather unpanto-like goading of members of the audience. Those individuals targeted took it in good part the night I saw it, but one suspects that may not always be the case during the run. Panto is, of course, meant to be fun for all the family and wee ones may not understand why some adults have to undergo this particular form of torment, which has absolutely nothing to do with the show.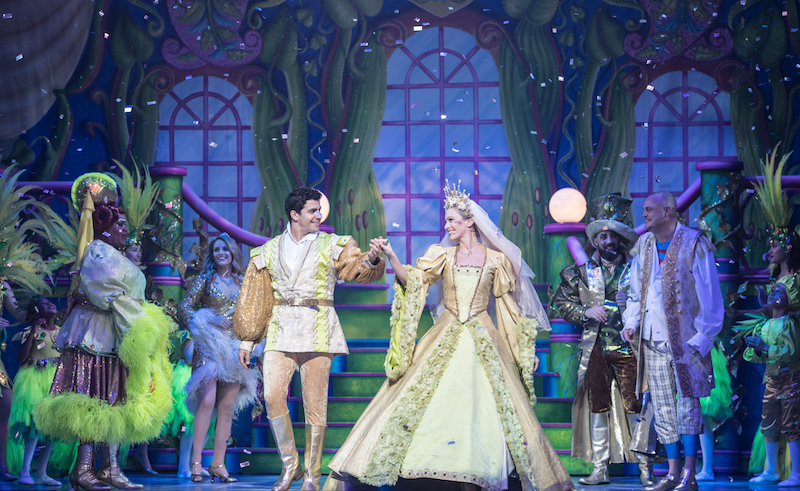 Giving so much stage time to Murray means that much of traditional panto has been lost, and the relationship between Jack and Princess Apricot (Liam Tamne and Charlotte Gooch, pictured above) is rushed. Their scenes together are sweet and tuneful, but the central narrative, being truncated, is confusing if one doesn't know the story in detail (as perhaps young ones may not).
There are things to enjoy: the sets by Ian Westbrook and the 3D creations – as one has come to expect of this theatre's panto – are glittering and magical, and the scenes between Murray and Rowe, particularly the complicated wordplay in an Apple Watch sketch, are a laugh. The music, under the direction of Barry Robinson, is tuneful and poppy, and Rowe is, as ever, a powerful singer, even if he is underused as a comic device.
Director Thom Southerland, a veteran of musical theatre, moves things along apace. It's a pleasant enough musical entertainment and the second-act 3D scenes set in the cave of riches are great fun, but traditional panto it ain't.
Fans of Murray will recognise large chunks of The Pub Landlord's act, shoehorned into Alan McHugh's weak script
rating
Share this article