The Crown, Series 2, Netflix review - all our yesterdays, cunningly rewritten |

reviews, news & interviews
The Crown, Series 2, Netflix review - all our yesterdays, cunningly rewritten
The Crown, Series 2, Netflix review - all our yesterdays, cunningly rewritten
Private passions and public crises batter the royal household
Trouble and strife for the Queen (Claire Foy) and Philip (Matt Smith)
Beneath the creamy overlay of gowns, crystal chandeliers, palaces, uniformed flunkies and a sumptuous (albeit CGI-enhanced) Royal Yacht, a steely pulse of realpolitik fuels The Crown, returning to Netflix for its much-anticipated second series.
Vaulting straight back on the horse, creator Peter Morgan pitches us into a royal marriage heading for the rocks, a weak and wobbly
Prime Minister
getting sucked into a disastrous escapade in the Middle East, and the story of the
Queen
's troubled younger sister trying to a find a place in the world away from the flotsam of European royalty offered up as suitors by her mother ("he used to be in the Luftwaffe but we won't hold that against him").
It's our collective past so we ought to have heard it all before, but Morgan's get-out-of-jail card is the way he avoids the trap of getting boxed in by the dry architecture of history and stretches his drama into the realms of what-if and did-they-really? It works to his advantage that so much of the royal family's history has managed to remain off the official record, even though everyone has a pretty good idea of what really went on. Or so they think.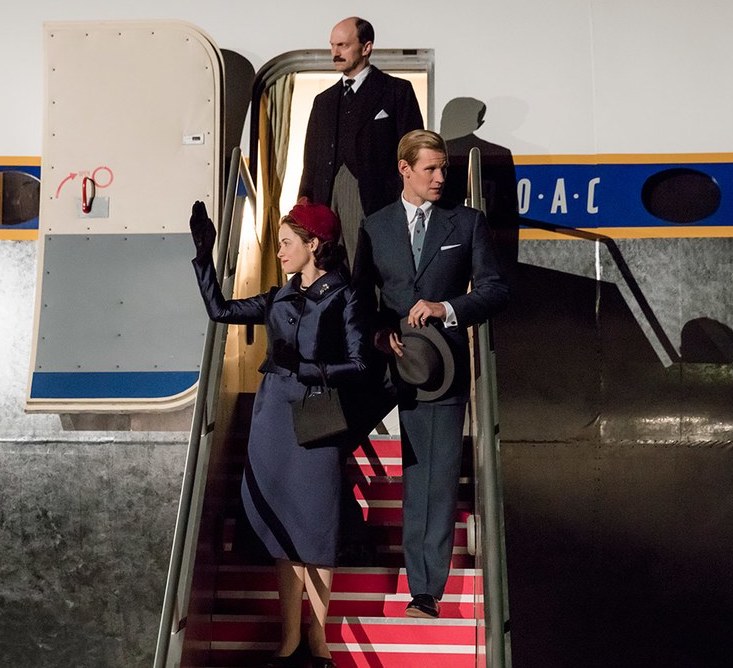 A case in point is Philip's rumoured extra-marital activity, which is taken for granted in an anecdotal kind of way, but somehow never pinned down to specific names, dates and times. Series two opens with Philip (Matt Smith) and Elizabeth (Claire Foy) having a crisis meeting in Lisbon in an attempt to fend off a landslide of inflammatory press reports, and we get an intimate playwright's-eye-view of the kind of things they discussed. Probably. The Queen tells her husband that "you're lost in your role and you're lost in yourself." He replies that he hates being infantilised and humiliated by the Palace lackeys, whom he refers to as "the moustaches". Happily, this will in due course prompt the reappearance of the cold-eyed, black-hearted Palace fixer Tommy Lascelles, played with best-eaten-cold relish by Pip Torrens.
Liz makes it clear that "divorce is not an option", but asks wilting Phil what it will take to keep him committed to their marriage. When she then signs him up to be her stand-in on a five-month tour of far-flung Commonwealth territories, the inference, should you choose to draw it, is that she may have taken the pragmatic view that (as somebody puts it) "what happens on tour stays on tour". She couldn't have foreseen that Philip's closest aide, Mike Parker, would doltishly let the cat out of the bag by putting some of their laddish escapades in writing. Frequently, Foy is left to depict the Queen's feelings in long, dialogue-free shots in which emotions seem to pass across her face like breezes ruffling still water.
Meanwhile it's 1956, so as Phil wends his way towards Melbourne to open the Olympic Games, Prime Minister Anthony Eden has made a calamitously inept decision to invade Egypt and take back the Suez canal, which has been seized by General Nasser. The episode is deftly covered with just enough scene-setting shots of bombers, tanks and paratroopers, but the real juice is in the scalpel-sharp portraits of the chief protagonists.
Eden (Jeremy Northam) is depicted as a vain, petulant snob, entering into a disastrous secret alliance with France and the Israelis to satisfy his personal pique against Nasser. Waiting to strike at Eden, who's already seriously ill, is Chancellor Harold Macmillan, played with knife-under-the-coat guile by Anton Lesser, who first seems to pander to Eden's urge for war, then turns against him when the adventure turns into a catastrophe. In time, we learn more about Macmillan, not least his wife's decades-long affair with Bob Boothby. When he becomes Eden's replacement, and tries to pass off Suez as "Eden's war", he's sharply reminded by the monarch that he originally backed the invasion and was part of the government's collective decision to launch it. Morgan made an odd comment to Radio Times that the Queen is "of limited intelligence", but you'd conclude from watching this that she was tough and smart.
She is also doggedly conservative in her behaviour, and likes to curl up in bed alongside her husband and read books about horse breeding. By contrast, her sister Margaret (Vanessa Kirby) has already fast-forwarded into the Sixties, succumbing to the brazen charms of photographer Anthony Armstrong-Jones (Matthew Goode, pictured above trying his luck with Kirby), who has made her feel like a natural woman by giving her exciting rides on his motorbike and asking her impertinent personal questions. The future Lord Snowdon shoots from (and for) the hip in black and white, and has no patience with the old fairytale-style royals, as floridly pictured by Cecil Beaton. "I'm sorry, but Cecil is a disgrace," he tells Mags. There's a whiff of revolution in the air.