Reissue CDs Weekly: The Moody Blues |

reviews, news & interviews
Reissue CDs Weekly: The Moody Blues
Reissue CDs Weekly: The Moody Blues
The majestic 'Days of Future Passed' is given a 50th-anniversary makeover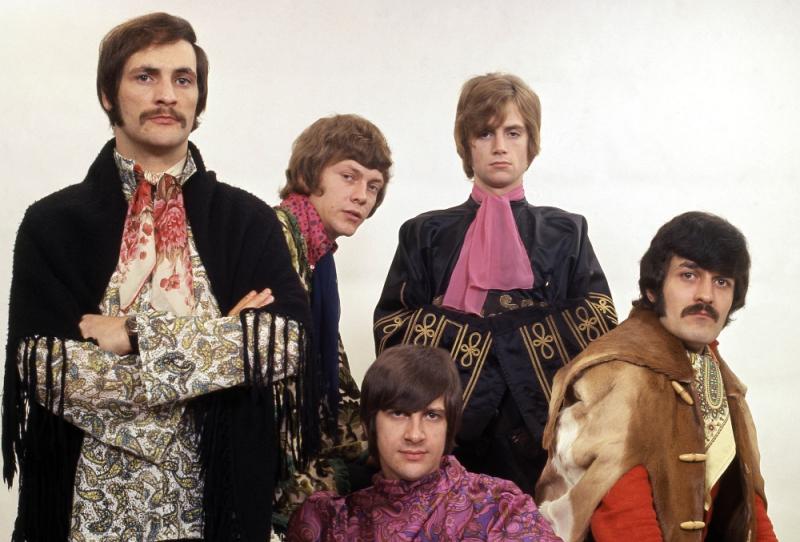 Dressed to impress. The 'Days of Future Passed'-era Moody Blues take an unrestrained approach to their wardrobe
In early 1965, Birmingham's The Moody Blues topped the British charts with a forceful reinterpretation of Bessie Banks' R&B ballad "Go Now". In early 1968, after some line-up changes and a radical musical rethink, they hit 19 with "Nights in White Satin". Although as moody as "Go Now", this was a different Moody Blues.
"Nights in White Satin" is a staple of oldies radio and, as such, has been robbed of much of its power to astonish. Nonetheless, it was bold. As was its parent album Days of Future Passed. At one stroke, The Moody Blues invented orchestral pop and pointed the way to progressive rock. It is unlikely Genesis and King Crimson would have been what they were without them. Possibly Yes too.
The shift from R&B and soul to a fresh sound falling in line with psychedelia wasn't unique. The Beatles had done so in stages. More abruptly, so had The Alan Bown, Eric Burdon, Zoot Money and (out of the public eye) Pink Floyd. In the liner notes to a new and splendid 50th-anniversary edition of their Days of Future Passed album, The Moody Blues' Justin Hayward – who joined in September 1966 – explains what generated their transformation. It happened after a show at The Fiesta Club in Stockton-On-Tees.
"A guy came back to our dressing room after the show," reveals Hayward. "He said 'you're the worst band I've ever seen in my life. I take the wife out every Thursday night, spend two pounds and ten shillings and you're bloody terrible. I just thought someone should tell you.' We were stunned, but in the van on the way home that night we all realised that he was right. We weren't very good. We had been playing music that wasn't suited to our characters. We were lower middle class English boys singing about life in the deep south of the USA and it just wasn't honest. As soon as we began to express our own feelings and to create our own music our fortunes changed."
Pondering what they were told, they began to exploit the Mellotron they had bought. The sampling keyboard played tape loops, on which any sound which could be recorded and had helped define the atmosphere of The Beatles' "Strawberry Fields Forever". Armed thus, The Moody Blues decamped to Belgium, worked on new songs and began playing two separate sets at live shows: the first featured the old, R&B and soul-slated material; the second with band-member Ray Thomas on flute, the Mellotron and a repertoire of new, expansive songs. Days of Future Passed was taking shape.
In practical terms, The Moody Blues were at a make or break point. They had a £5000 debt with their record label and were teamed with producer Tony Clarke and arranger Peter Knight to make a version of Dvorak's Symphony No. 9 with an orchestra. The idea was discarded once the band disclosed they had their own song cycle: one loosely telling the story of the passage of a day. What they created can be seen as two sides of overblown cheese. But it is not. Days of Future Passed is crammed with beautiful, sensitively rendered songs. The orchestration balances perfectly with the band's questing instrumental line-up and poised vocals.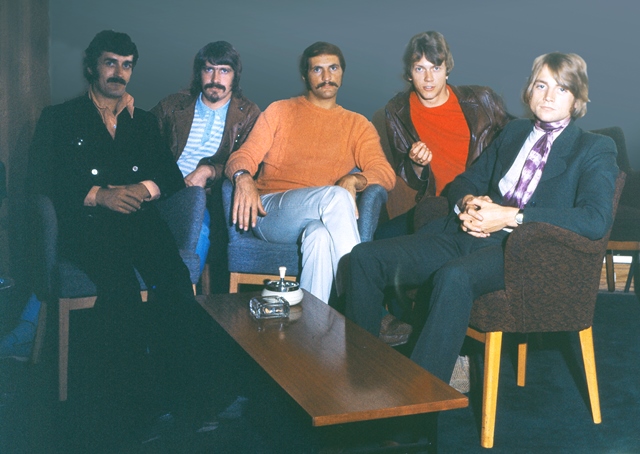 Anyone who has previous CD versions of Days of Future Passed needs this new, three-disc configuration as it marks the first digital appearance of the 1967 stereo mix as it was issued then. The original master tape was damaged so, for all versions of the album released from 1972 and later, a mix made then from the multi-tracks was used. Now, the 1967 master has been repaired and the album can be heard as intended. For reference, the 1972 version is heard on Disc Two.
The other bonuses include, on Disc One, three BBC radio sessions which reveal the band could play these lush songs outside a standard recording studio. The earliest includes an eccentric, jarring, take on The Animals' "Don't Let me be Misunderstood" showing them still to have been in a transitional phase. The extras on Disc Two feature the uniformly superb non-album singles and B-sides from the era as well as engaging stripped-down mixes of album cuts with no orchestration. Disc Three is a DVD collecting a new surround-sound mix drawing from a 1972 Quadrophonic version of the album. The DVD's most exciting feature, though, is footage of the band playing France's MIDEM music business conference in January 1968. Amazingly, over three songs, they pull off the Days of Future Passed approach on stage.
Days of Future Passed defined – and, of course, it took its lead from The Beatles – a new way of framing pop music. And due to its assured songs, it also stands apart as a landmark solely for what the band composed. With this astute, well thought out reissue, it once again makes the case for itself.
Next week: Intriguing best-of dedicated to Phil Seymour – dubbed, in the title, the Prince of Power Pop
'Days of Future Passed' can be seen as two sides of overblown cheese. It is not
Share this article