Bad Move, ITV review - Jack Dee resettles in the middle of the road |

reviews, news & interviews
Bad Move, ITV review - Jack Dee resettles in the middle of the road
Bad Move, ITV review - Jack Dee resettles in the middle of the road
Grumpy country comedy is long on sitcom DNA, short on originality
Thursday, 21 September 2017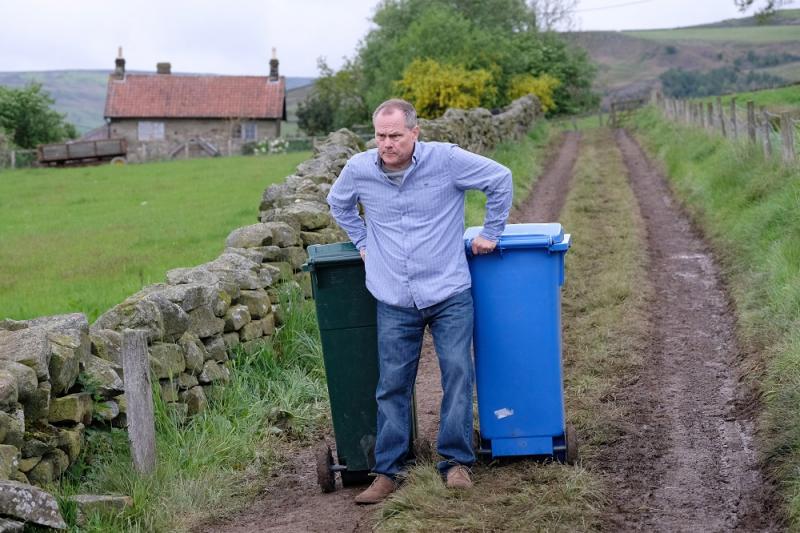 Recycling: Jack Dee is grumpy in the country
That the countryside is a dump where all good things come to a dead end is hardly a new punchline. There are plenty of novels and memoirs, and indeed newspaper columns, about trading the toxic metropolis for the green and unpleasant pastures of the rural life. The joke is it's mainly horrible for a narrow spectrum of predictable reasons. It's muddy, petrol costs a bomb, bored kids are forever after lifts, and as for the people…
Now Jack Dee is in on the joke. Bad Move, which he has co-written with Pete Sinclair, finds Steve and his wife Nicky (Kerry Godliman), who seem to be childless, upping sticks and moving to the middle of nowhere. This being Jack Dee, there are plenty of irritants to keep that tortured scowl smeared on his face. The funniest running joke was the noise pollution laid on by a local quad biker – "the sound of our ruined lives," says Steve.
Dee's miserablism is a gift that keeps on giving
No sooner have they moved in than they've been conned by a local knife-sharpener who's made off with half their kitchen implements. The internet won't work because, as everyone queues up to remind the newcomers, their house is in t' dip. And then there are all the neighbours from the ninth circle of hell, led by the simpering mixed-race nuclear family who smugly concoct their own yoghurt.
Bad Move barely bothers to disguise its pilferings from the DNA of other comedies. The self-sufficient neighbours are descended from the Goods of The Good Life. The grouchy shopkeeper who barks questions at an invisible husband out back is a straight lift from Little Britain. There are Tykeish traces of Last of the Summer Wine. The main joke of the recent sitcom This Country was that the countryside is a moral and intellectual cul-de-sac. But the show's main ancestor is Lead Balloon. Bad Move is Lead Balloon in wellies.
It's hard to tell yet whether Dee's grouchy web designer will be as good company as his perpetually thwarted writer in Lead Balloon, and whether rural Yorkshire's cast of supporting players can supply anything other than sketchy gargoyles. No one's exactly stretching themselves – Miles Jupp as the smug paterfamilias next door in particular feels like he's phoned one in he did earlier, and Seann Walsh as the overgrown rock star next door is a wild card with limited appeal.
At the moment it looks as if the script has sent away its knives for sharpening and not got them back yet. But Dee's miserablism is a gift that keeps on giving. "We can't even take the easy way out and slash our wrists," he concludes. Might have to see how this one pans out.