Camp Bestival 2017 review - family festival drenched but exuberant |

reviews, news & interviews
Camp Bestival 2017 review - family festival drenched but exuberant
Camp Bestival 2017 review - family festival drenched but exuberant
Mister Maker, Right Said Fred and a few thousand families face down rain-storms with aplomb
Wednesday, 02 August 2017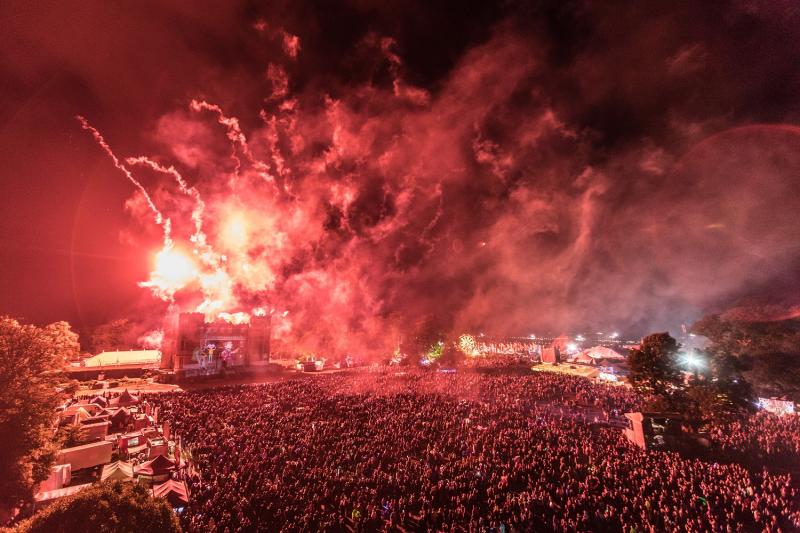 Sunday night fireworks explosively topping everything off
Camp Bestival 2017 was defined by the weather and how everyone reacted to it. DJ-impresario Rob Da Bank's family festival, which reached its tenth edition this year, took place, as ever, on the Lulworth Estate in Dorset. However, where the previous nine have cast the grassland surrounding the rebuilt 17th Century castle in balmy, blissful sunshine, the tenth most certainly did not.
The weather, then, is where theartsdesk starts and ends its overview, sandwiching a multiplicity of juicy reviews and other festival stuff…
THE WEATHER (Part One)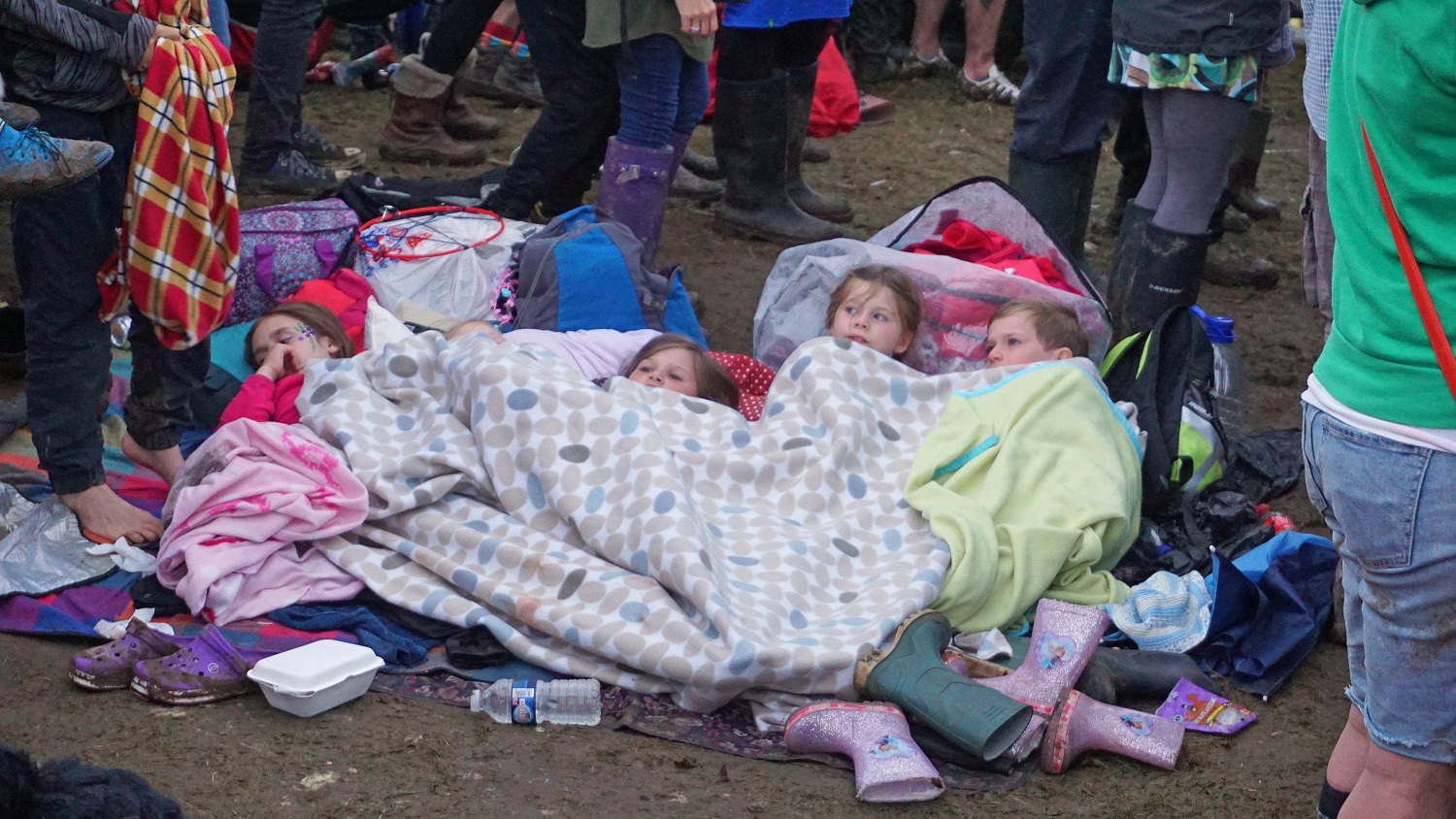 Friday and Saturday were dominated by an assault of rain and gusting wind, with only Sunday relenting, its post-storm sunshine a glorious treat for those who stayed the distance. Days one and two were the worst kind of weather for festivaling. It didn't just chuck down rain then remain greyly cloudy and muddy, the usual Brit festival way. Instead, Friday saw crowds gale-whipped, rain riding in on it, while Saturday, despite a brief break in the evening, culminated in full monsoon downpour. By then, the air was a cloud of damp and well-travelled paths had become gloop.
I've long wondered how Camp Bestival would respond to such weather. The idea of tending small children in these conditions, after all, sounds wearisome, but after an early slump the site rose to the challenge. Sure, some tents bit the dust early, wiped out by perpetual wind, a few gazebos flying off bodily across the encampments, but people adapted. Our neighbours' large tent with inflatable ridging didn't have the power to withstand the tempest and was soon attempting to touch its peak onto the soggy, flattened grass. But they had another and put it up. Our own party (four adults, three 14 year old girls) cannibalized their cast-away tent to make our battered event shelter waterproof. My own tent was finally wrecked by the elements on Sunday evening, but we simply found a discarded tent and rebuilt it to sleep in comfortably.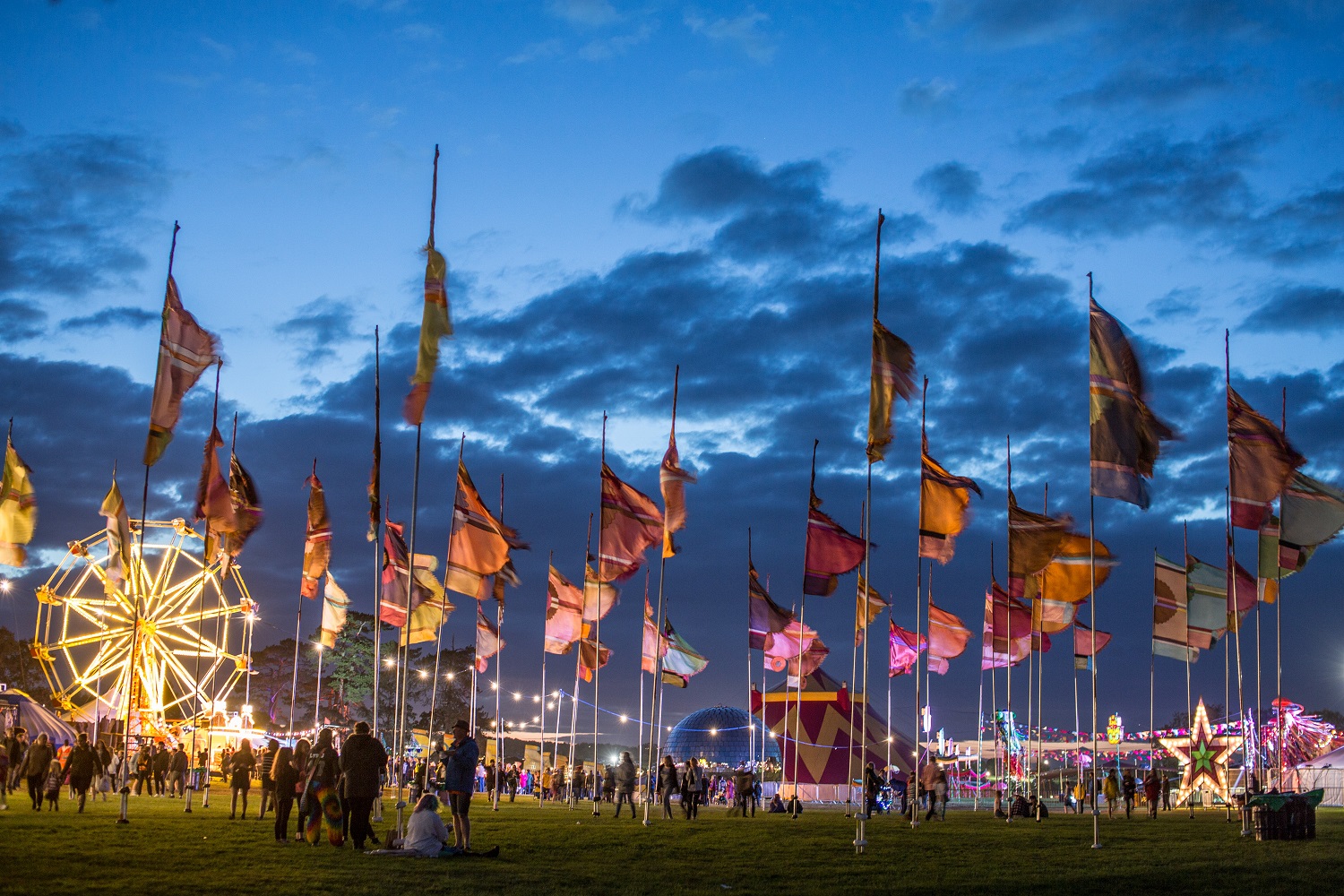 All around, small children loved the mud, sploshing about the soggiest patches with joyful deliberation in their Peppa Pig wellies and Paw Patrol macs. Marquees that on sunny days would have remained sparsely attended suddenly became rammed, so that artists called Samsam Bubbleman or The Crumble Lady had record audiences. Certainly, parents were put to the test, hauling their broods around in swiftly insulated trollies through claggy brown and, indeed, Sunday saw a greater off-site exodus than usual, but not by much. I heard surprisingly little end-of-tether dad'n'mum exasperation or miserable infant wailing.
We found that on Friday the relentlessness of the weather wore us down but steeled us to its attack so on Saturday, with rum cocktails and bourbon in serious doses, we picked up the pace. You had to see the funny side, dancing to "Summertime" by DJ Jazzy Jeff & the Fresh Prince under a vast awning, yet still being quickly soaked as rain blew in. On Saturday afternoon, beside a house-sized glitterball, the skies still pelting with vicious glee, families jigged and whooped beneath all manner of colourful plastic rainwear as Rob da Bank played "We Are Family" on the nearby sound system. Beside him something that looked like a cross between a Moomin and a hippo danced with deranged glee, heedless of the surrounding mud (it was, apparently, the disco-tastic Ubercorn from CBeebies' programme, Go Getters). The image summed up Camp Bestival 2017 nicely.
TEN BANDS
1. Madness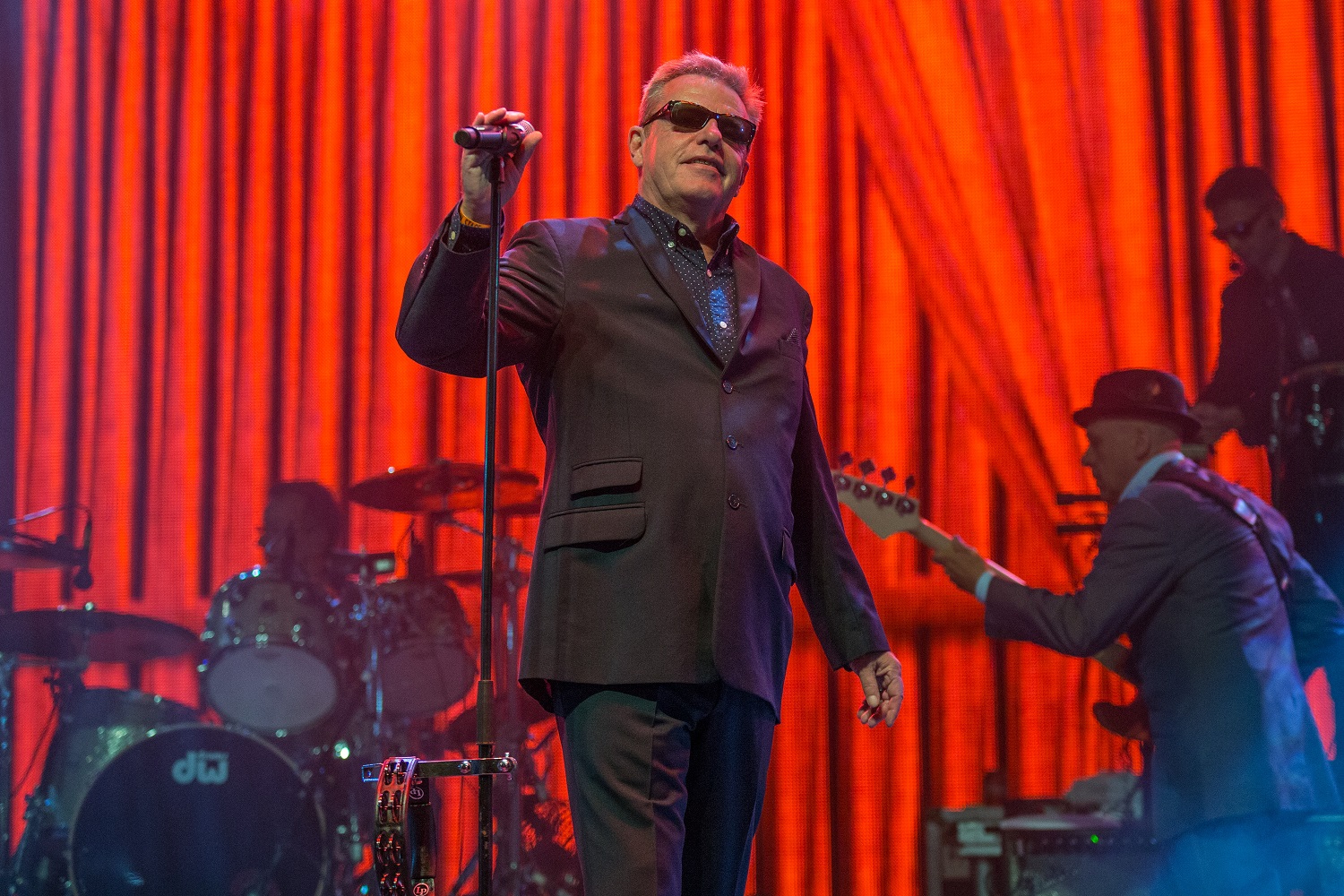 Camden's nutty boys are a pop goldmine whose work is up with the greatest yet they're often sidelined by media arbiters of heritage musical taste. They shouldn't be. Their live set, opening with a charged take on "Embarrassment", is crowd-pleasing yet dynamic from start to finish. They never seem like a band going through the motions, just wheeling out the hits. They combine in-band repartee, especially concerning the hedonic antics of saxophonist Lee Thompson, with invigorating takes on songs from last year's Can't Touch Us Now album, such as the catchy single "Mr Apples", the bouncy "Herbert" and the great Amy Winehouse tribute "Blackbird", as well as a welcome cover of the Max Romeo classic "I Chase the Devil". Of course, the biggest crowd love is reserved for the deathless likes of "Baggy Trousers", "House of Fun" and "It Must Be Love", before they end in a storming stage invasion take on "Night Boat to Cairo". They appear to be a band whose verve, creativity and enthusiasm won't quit, and they gave the best performance I saw at Camp Bestival 2017.
2. Leftfield
Leftism by Leftfield is an album that entirely captures the spirit of the 1990s. It certainly emanates the true feel of the decade across the whole UK far better than all that Britpop stuff so regularly misconstrued as key. Neil Barnes, the sole remaining member of the original duo, delivered its druggy stew of techno, dub and tribalism at an appropriately loud decibel level to sweep the crowd into a mesmerised collective danceathon. He also had original vocalists such as MCs Earl 16 and Cheshire Cat on hand, and an especially riveting performance from Djum Djum on "Afro-Left". There were a couple of quibbles. Guest vocalist Jess Mills on "Original" rendered Toni Halliday's deadpan stylings as simply lifeless and, more problematically, the album's raging highlight, "Open Up", featuring John Lydon (not present), had it's ballistic chorus, "Burn, Hollywood, Burn," mostly blurred, tweaked, turned down and avoided, presumably due to the terrorist-obsessed times we live in. This was a pathetic move. However, other than that, the set was a scorcher with tracks such as "Space Shanty" and "Release the Pressure" simply perfect hunks of dancefloor treasure.
3. The Cuban Brothers
Part of me wishes that Rob Da Bank's favourite cabaret party turn wouldn't keep being so bloody good. They should surely not regularly be one of the most entertaining things at festivals packed with proper hit-making stars? Once again, however, lead by the foul-mouthed Miguel Mantovani (AKA Scottish actor Michael Keat), their gumbo of hip hop, breakdancing, funk and rude, off-the-cuff comedy gathered a huge crowd, dancing and laughing in equal parts. James Marsters, who played blonde, Billy Idol-esque Spike in the TV series Buffy The Vampire Slayer, once said something to the effect that in real life he was just a jobbing actor but at Buffy conventions he's a superstar. Thus it is with the Cubans and Bestival events, where they remain a much-anticipated prime draw. Mantovani's humour is supremely close-to-the-bone, yet done with such effervescent good humour he always gets away with it, even when he calls a 10 year old child "a dickhead", meanwhile the acrobatic skills of, especially "Young Domenico", simply astound.
4. The Ska Vengers
Late at night in the Caravanserai tent, this Indian outfit, fronted by MC Delhi Sultanate and sexy bob-wigged female singer Begum X, summon up a tent-packing amalgam of ska, punk, politics and festival-friendly hoedown. Their set runs the gamut from a dubby cover of Dawn Penn's "You Don't Love Me (No, No, No)" to their own fierce "Frank Brazil", a tribute to executed 20th-century Indian revolutionary Udham Singh. As a live outfit, they're ones to catch.
5. The Bootleg Beatles
Brown-suited and sticking to the first half of the Sixties back catalogue, the Bootleg Beatles could hardly fail, due to performing some of the best-loved songs in pop with gusto. Only "George Harrison" looked much like the original George Harrison (although "Paul McCartney" also has a weirdly plastic similarity to Sir Paul) but that's of little consequence as they smashed through the likes of "She Loves You", "Help", "Hard Day's Night" and especially "Twist and Shout".
6. Los Pacaminos feat. Paul Young
Who knew that Eighties pop star Paul Young, king of the appalling soul cover version, was now touring his own country'n'western outfit? Yet they were a good fit as the sun came out on Sunday afternoon. Apparently they've been doing this since 1992. It shows. Completely at ease with Texan border and bar room, tear-in-my-beer music, all wearing pale cowboy hats, they served up a set of charming chatty songs, marinated in a deep love of Americana.
7. Brian Wilson
It's all very well listening to "Brian Wilson perform Pet Sounds" but he's not really, is he. His 12-piece band, led by ever-present leader, Darian Sahanaja, did a perfect job recreating the gorgeous music of one of the 20th century's premier songwriters, with Beach Boy Al Jardine on hand to provide added authenticity and vocal verisimilitude. Who could resist singing along with "Help Me, Rhonda"? Or losing themselves in a spot-on, uplifting "Sloop John B"? But return to the present and stare at Brian Wilson for a minute and it all came unstuck. In his pastel shirt and crumpled jacket, his face veered between blankness and confusion. Maybe he's enjoying himself, who knows, but he doesn't look like he is. He looks like a bemused old dude who's wheeled on and off, sitting at his piano, occasionally attempting to join in, mostly wondering what's going on. It would be preferable if he were just allowed to lounge on a litter so the band can say, every now and then, "This guy wrote these unbelievable songs!". It's been a good run since his first reappearance onto the global concert circuit back in 2004, and anyone who wishes to has now had a chance to see Brian Wilson in the flesh playing his hits. Now, however, it's surely time to call it a day. The Californian feel-good factor just doesn't feel so good anymore.
8. Holly Johnson
Holly Johnson also seemed worryingly confused about what was going on. He kept having to confer to check where he was in his set and what was happening. Looking svelte, cyber-punk and a bit Front 242, in black leather tie and giant sunglasses, he gave us "Welcome to the Pleasuredome" and "Relax", the latter so much filthier when sung by thousands of children alongside their parents. Unfortunately, he bulked out his set with new tracks and filler to such an extent that had no time left to play "Two Tribes". This did not go down at all well and can be counted as Camp Bestival 2017's supreme fail.
9. Right Said Fred
Right Said Fred are a strange conundrum, in that they don't take themselves seriously and yet they do. Their lyrics are a witty send-up of the usual pop wordage, yet they seem to have very serious musical aspirations. Singer Richard Fairbrass, prowling the stage lip in a white skirt, was a genial yet slightly steely persona, and there's something about their froth-pop that has ambitions towards the stadium epic. They miss a trick in nor performing "Raining in England" from their recent album, given the weather and the fact it's one of the catchiest songs they've ever written, but the stomping, inane, pubby "You're My Mate" ("a hit in Germany") was the worst song I heard at Camp Bestival 2017. Nonetheless, the likes of "Deeply Dippy" and, eventually, an extended "I'm Too Sexy" are unapologetic quirk-pop, injecting bubbly fun into an easy Sunday afternoon.
10. Mark Ronson/The Blockheads
Finally, Friday night's headliners. I started with the Blockheads in the Big Top. Fronted by grey hippy-haired Derek Hussey in purple velvet jacket and Lennon shades, a right character, with the Ian Dury Cockney vocal thing down pat, things initially looked good. However, it soon became clear that the band, all virtuoso musicians, were into having a bit of a jam. By the time they reached 1979's "Inbetweenies", the endless funky fret-widdling, more like Carlos Santana in jazz fusion mode than the snap of the post-punk era, was wearing thin. Even the member of our party who'd seen them before and was gagging to again reckoned so, thus we headed for Mark Ronson on the main stage. I was expecting him to have his band, but he was in DJ mode, backed by stacks of lights. At first it was a welcome frolic, familiar song snippet after familiar song snippet, from Skepta's 'Shut Down" to Missy Elliott's "Get Ur Freak On" to Gloria Jones's "Tainted Love" to Rihanna's "Work", but it soon became clear he was just trying to gauge what people wanted to hear and playing familiar clip after clip after clip, like a glorified wedding DJ, as if we had the attention span of gnats. Even his exhortations that we were the best crowd ever somehow didn't ring true. A good DJ leads from the front, taking the crowd on the proverbial journey. At Camp Bestival this certainly means mixing in the blatantly populist but Mark Ronson, perhaps thinking barefaced idiot accessibility was the only way to battle the rain, lacked thrills and, more importantly, a sense of musical adventure.
FANCY DRESS
The theme this year was Pop Stars and Rock Stars and, despite the endless squalls, the crowd rose to the challenge. The most popular choices were Amy Winehouse, Aladdin Sane Bowie and the Spice Girls, with Geri Halliwell's Union Jack dress an especial favourite. Full marks too to the whole family who attended as Ed Sheeran. Our group became Elton John, Lady Gaga, Vince Neil of Mötley Crüe, and a generic gold lamé-clad rocker. Oh, and I went as "…One More Time"-era schoolgirl Britney Spears, in full pigtails, tummy-tied white shirt and over-knee socks regalia. I'm 49 years old and, after a few beers, there's a certain rotundity to my belly. It looked very wrong and I've rarely received so much attention. People were literally spitting out their drinks in horror and/or probably lust when they saw me, and the photo requests were non-stop. It made me want to dress as Britney on a regular basis. Watch this space.
THE MIDDLE-CLASS THING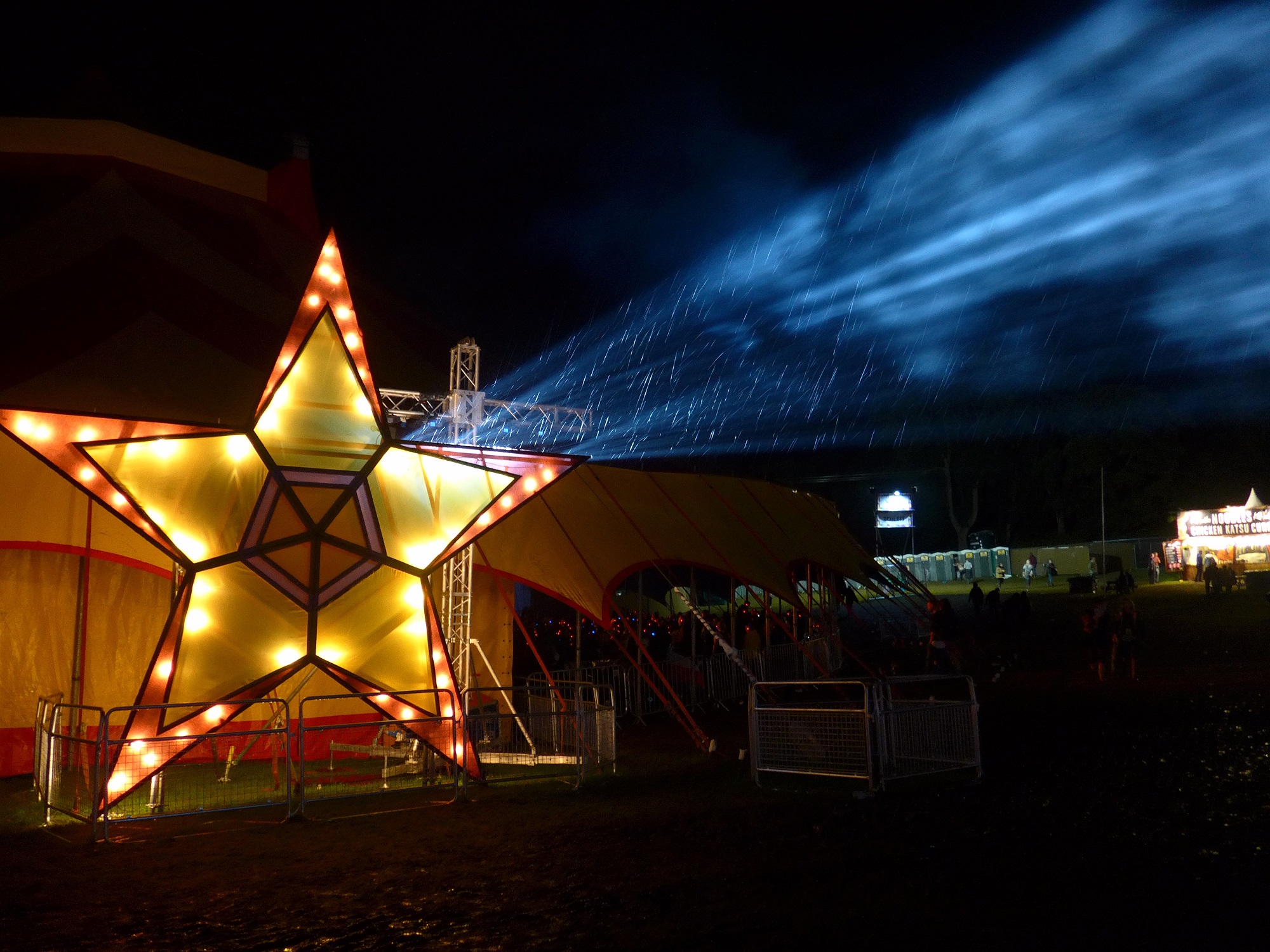 Camp Bestival is often mocked for its middle class-ness. I've spun many a gag based on the notion, especially when the festival first appeared, comparing it to the countercultural values of old school festivals. However, it's no longer as simple as that. The place is full of people from all classes and walks of life. Sure, there are Guardian-reading climate change consultants, but there's also a multiplicity of families whose bread-winners are engaged in working-class professions, who speak with heavy accents from all regions. Anyone can buy the nigh-on-£200 ticket (under-18s £15-£125, dependent on age), and people from all over Britain do, regardless of their background. To suggest otherwise is the equivalent of suggesting that working-class people always holiday in Butlins Skegness, or its equivalent, rather than Spain or Florida. It is to under-estimate people's intelligence and aspirations. Camp Bestival is a safe haven. Its middle-class nature is certainly writ large as part of that, is perhaps even part of its appeal. But anyone who thinks it's mostly populated by people called Annabella and Barnaby is out-of-date and off track.
FOUR VERY CAMP BESTIVAL THINGS
The Waitrose Tent
And so, straight into a mocking bit about the middle class-ness of Camp Bestival. I've often referred to Camp Bestival as the Waitrose of festivals but this year – tah-dah! - there actually was a Waitrose space. Waitrose at a festival! People were taking their Waitrose cards up and getting free coffee while spotless couples quaffed Prosecco and quinoa salads in a polished restaurant space. I don't even have the words.
Mister Maker
A large crowd gathered in the misting downpour at 11am on Saturday morning for the 25-minute slot by CBeebies arts and crafts sensation Mister Maker. I attended on the off-chance there might be an appearance by the show's highlight, The Shapes, an anthropomorphised pink circle, yellow triangle, blue square and red rectangle who sleep on a shelving unit then jump down to perform a dance to their theme tune. I was not disappointed as, after a regulation mass run-through of "If You're Happy and You Know It" and similar, The Shapes duly appeared and we all danced with them. I can now die happy.
Julian Clary & David Roberts
In a large circus marquee called The Greatest Tent on Earth on Saturday lunchtime Julian Clary and David Roberts presented their series of children's books about a family of hyenas, the Bolds, who live in suburbia disguised as regular humans. Due to the corral of trollies and wagons around the perimeter, it was almost impossible to get in, one of the hazards of a weather-beaten Camp Bestival, but when we did, it was a well-spent 45 minutes. Clary had turned down his usual pith and filth shtick tenfold, although he couldn't resist commenting on a picture of a cat licking its bum, "I can't do that… and I've tried." Meanwhile, illustrator David Roberts swiftly drew images of the book's characters while children were asked to contribute ideas. The pair rode a fine tightrope between dirt and innocence, their cheerful teetering on the brink coming over as genial entertainment.
Art Town & The Science Tent
These two spaces were jammed with younglings, staying out of the wet and involving themselves in all manner of projects. In Art Town little ones were guided in making tassled leather-effect wrist bands, designing their own records, and a large haphazard section was strewn with materials that were being sewn, pinned and woven into allsorts, notably a sack bag with a pink unicorn on. My favourite sight was a child of about four decorating a heart-shaped cardboard lollipop with glitter and sequins. Pride of place in the centre of this shrine was a black'n'white print of grime kingpin Stormzy. The Science Tent was a similar hive of activity, with a range of fossils on display out front. When I was there an outfit called The Punk Rock Scientists were delivering ultra-lo-fi versions of Europe's "The Final Countdown" and Katy Perry's "Roar", undoubtedly with some sciencey, academic higher purpose that passed me by.
TWO POST-MODERN TRIBUTE BANDS THAT SUM UP OUR STRANGE RETRO-POP TIMES
Mexrissey, from Mexico, cover the songs of Morrissey and The Smiths in an ebullient mariachi style, while Elvana give us Nirvana's back catalogue, via a self-confessedly iffy Elvis Presley frontman. Both are strange conceits that nail 2017's weird relationship with music, in that we're apparently unable to generate much in the way of groundbreaking populist mass movements, but are happy to syphon the past in increasingly original and bizarre ways. Mexrissey were initially hampered by weird sound levels and audience ambivalence, the latter clearly frustrating the band. Despite a storming version of "Panic", replete with projected images of a piñata Donald Trump being thrashed into pieces by a gladioli-wielding Morrissey, it wasn't until a ska-powered "Bigmouth Strikes Again" that they finally made some kind of connect, before closing with "This Charming Man", which briefly mutated into the "Macarena". Elvana had no such problems. In the Big Top stage on Saturday afternoon, they were aided by unyielding downpour, which gave them an ever-growing captive audience which they made the most of. Clad in glitzy lounge band tuxedos with Vegas-era jumpsuit Elvis at the front, they assayed a surprisingly faithful, roaring replication of the original Nirvana, and were an unlikely but explosive success.
TWO ONCE-HUGE BANDS I ONLY GLIMPSED
1. T'Pau
It was a strange thing, indeed, to wander into the main Castle Stage field and find flame-haired yesteryear pop star Carol Decker leading a huge crowd through her 1987 mega-hit power ballad. Hands raised, they bellowed, "Don't push too far, your dreams are china in your hand," presumably as bemused by the opaque, prog rock-ish lyrics as they ever were, but swept away, all the same.
2. All Saints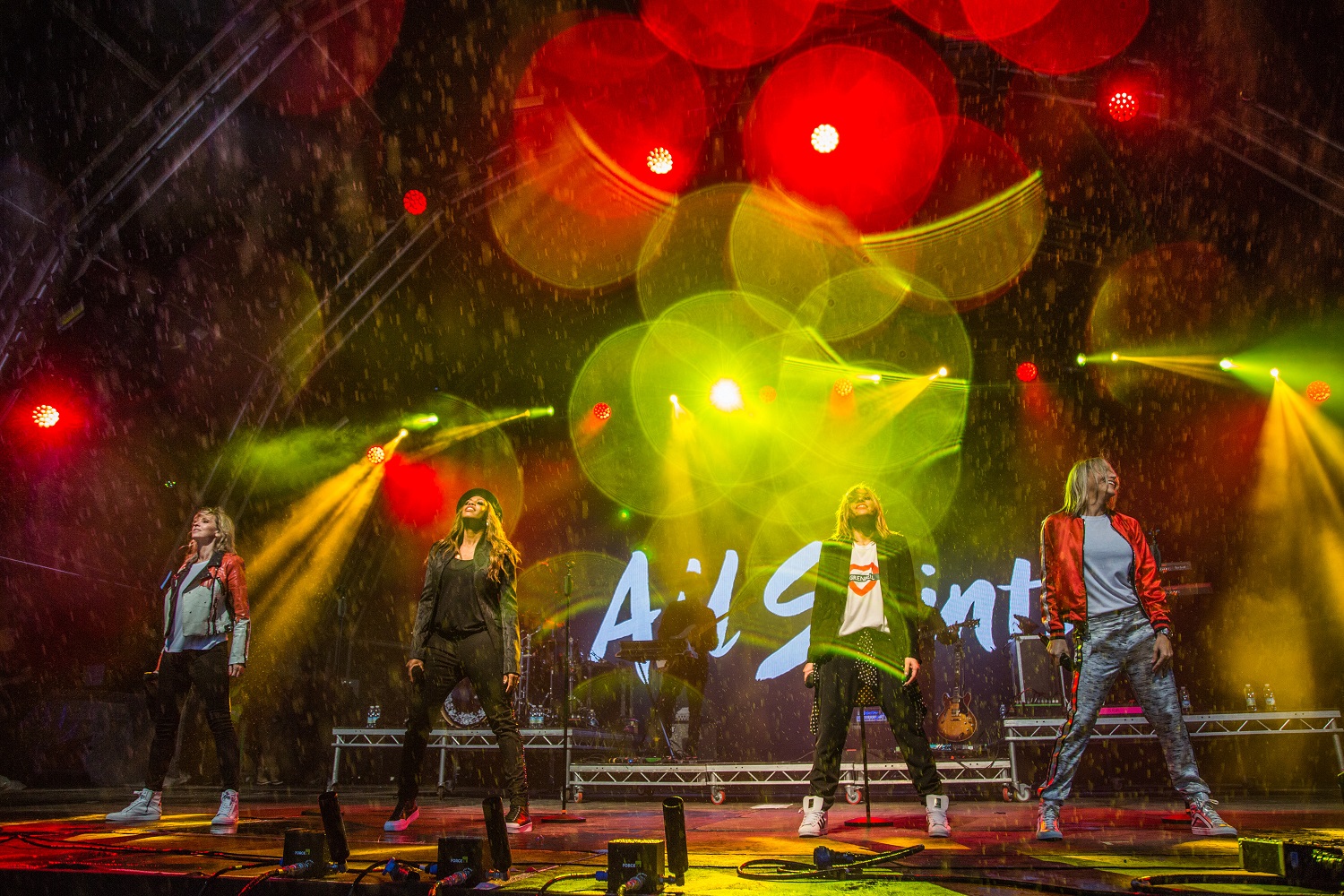 The end of Nineties pop queens All Saints' set saw a sea of ecstatic 30-something women rally around the stage-front to jog along to chart-toppers "Never Ever" and "Pure Shores". The latter Melanie Blatt suggested, in vain, might "bring some sunshine". Looking in fine form and little changed since their prime, the four All Saints women exuded bonhomie and fronted a tight band that did their trip hop trance pop songs justice.
FOUR THINGS I MENTIONED LAST YEAR THAT WERE EQUALLY GOOD BUT I HAVE NOTHING NEW TO SAY ABOUT
The chatty and entertaining Camp Bestival programme; the Caravanserai enclave, much expanded and repositioned; the ever-enthusiastic Blue Coats' non-stop surrealist kids' games; and the firework climax of Sunday night.
ONE SONG I NEVER WANT TO HEAR AGAIN
House of Pain "Jump Around"
Jaysus, I was already sick to the back teeth of LA hip hop outfit House of Pain's 1992 hit before Camp Bestival. It appears to have become the go-to party-saver for every second DJ on the planet. "Jump Around" no longer makes me want to jump around, it makes me want to repeatedly hit my own head with a large chunk of flint. It is the "Dancing Queen" of hip hop, a brilliantly constructed party song overplayed until it's unbearable, and the sooner all those DJs realise it's now wedding disco cheese of "Birdie Song" calibre, rather than an imaginative crossover choice, the better. I must have heard it at least four times a day at Camp Bestival 2017. Please. Have mercy. No more.
ONE FINAL SNAPSHOT (The Weather - Part Two)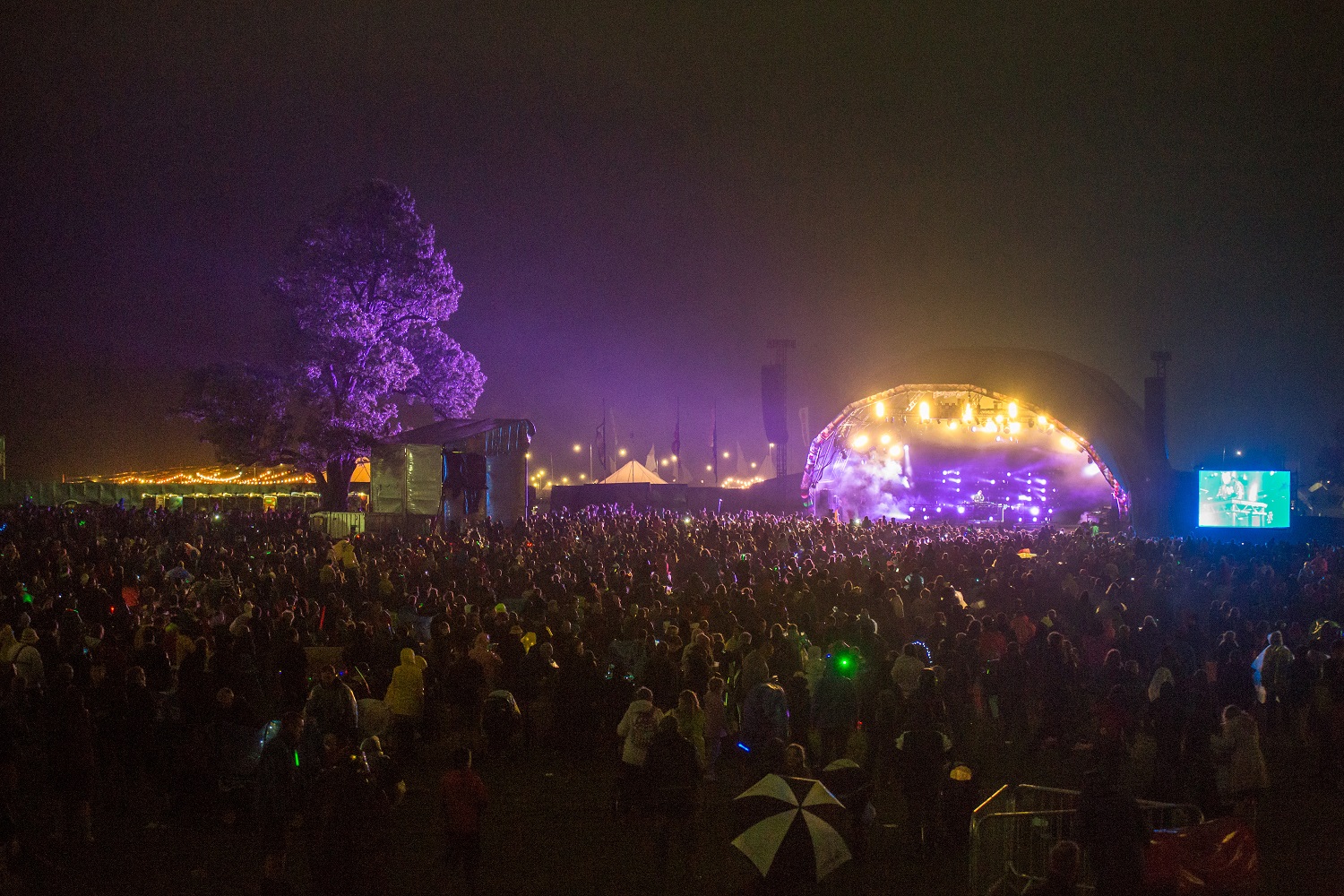 On Friday evening at an outdoor stage called Oberon's Observatory, London sibling duo Xylaroo played in some of the worst conditions I've ever watched a gig. Their music is beautiful, simple, harmonic, with Coco Chant on acoustic guitar/backing vocals and sister Holly's stunning, emotive bluesy voice upfront. Their set was at least half new material, boding well for a second album, but much of it was based around sunshine and heat, from a song called "Tropical Love" to another about the beaches of Sri Lanka. It was, then, almost surreal as their small but devoted audience, swathed in cagoules, ponchos and plastic bags, braved a battering from hammering gale-driven drizzle. In the end, Xylaroo tried to draw the audience under the meagre awning at the front of the stage but there was no escaping the pelting rain.
Here's the thing, though.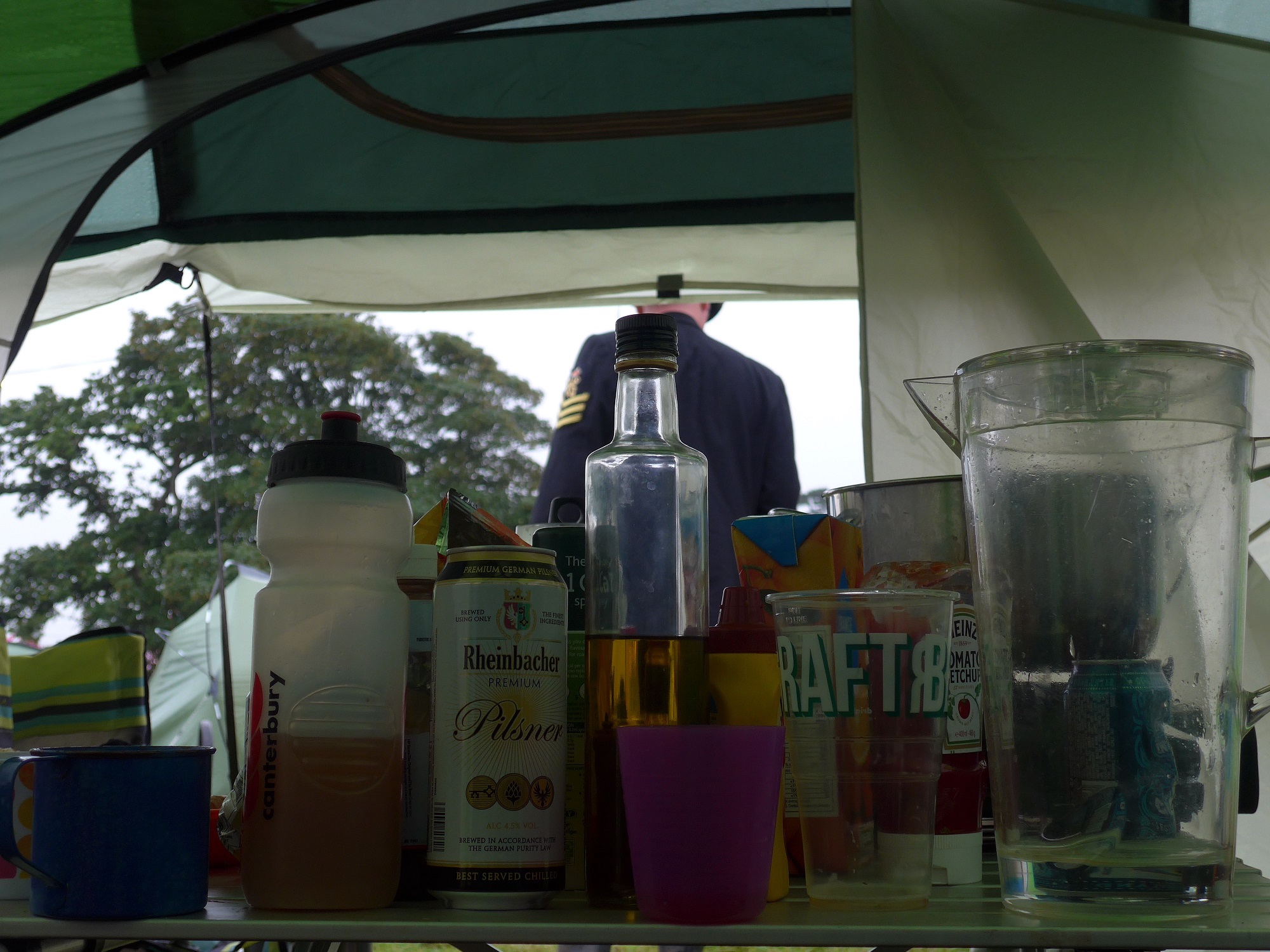 No one minded. It was part of the adventure. When they ended with an astonishing take on Gloria Gaynor's "I Will Survive", which they turned into a heart-wrenching soul ballad, it was a small victory for humans enjoying music, whatever the elements. My 14 year old daughter said afterwards that it made the whole thing invigorating and exciting. She said the same about the way the weather affected the festival as a whole. "It was great to have it like this for one year," she said, "but that's probably enough." Indeed so.