A Midsummer Night's Dream, Snape Maltings |

reviews, news & interviews
A Midsummer Night's Dream, Snape Maltings
A Midsummer Night's Dream, Snape Maltings
A starry cast cannot quite bring this blurred 'Dream' into focus
'I do wander everywhere': the drama of Netia Jones' Dream doesn't quite live up to its visual impact
It's all there in the first few bars of Britten's music – that unsettling tension between beauty and familiarity, and eerie, undefinable otherness. Those cello glissandi might end in glowing major chords, but the tentacle-like slides throw them into doubt. We're no longer in a binary world of major or minor, but a harmonic landscape of infinite possibility.
Netia Jones's
A Midsummer Night's Dream
delights visually in shades of grey, a gorgeous shadow-play of a production, but when she drained her designs of colour she also stripped it from the drama, leaving Britten's opera a wan reflection of its true self.
Jones's signature video projections and animations dominate a production that is less about concept than a more generalised sense of atmosphere and sensation. The imagery draws heavily on the natural world. Spiders, deer, a monkey and a monochrome Eden of flowers and foliage (complete with snake) all bring life to the silhouetted landscape with all the grainy precision of pen-and-ink drawings. It's a bit too emphatically literal at times but generates some gorgeous stage-pictures.
Both Shakespeare's play and Britten's opera might revel in the other-worldly trappings of a story that plunges its quartet of lovers into a magical wood, but ultimately both are more interested in human nature, in the jealousies, loves, ambitions and desires that drive everyone, whether man or fairy, to action.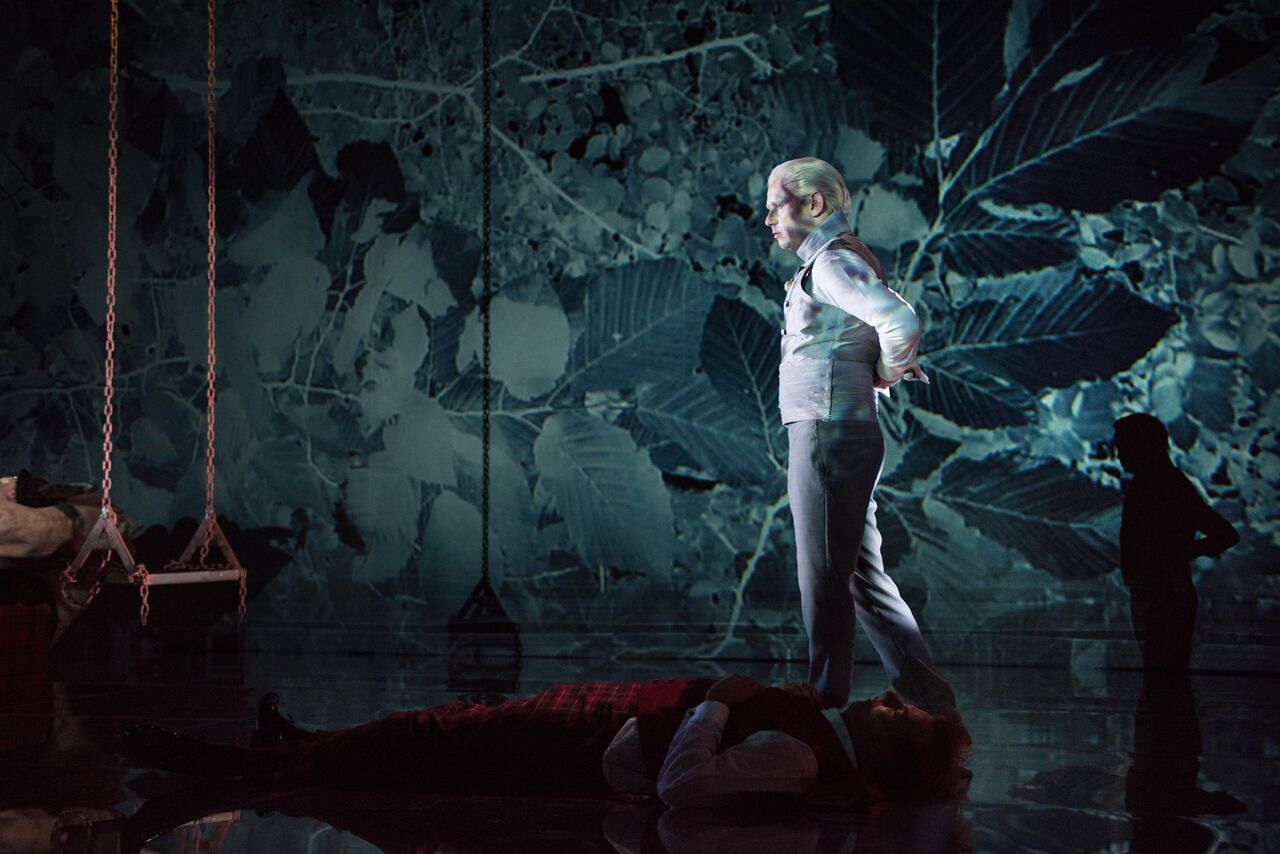 So to reduce Oberon (Iestyn Davies, pictured above) and Tytania (Sophie Bevan, pictured below) to a pair of stylised ciphers – he a rigidly immobile Andy Warhol-like figure, complete with bleached hair and blanched face, she a stardust-scattered Gibson Girl – and explore no real relationship between them and their fairy charges (little Victorian schoolboys in top hats, their dark glasses an echo of Oberon's own) beyond a little predictable violence towards Jack Lansbury's barefoot urchin Puck, is to hollow the work out. There's some consolation to be had in the squabbling lovers, but almost none in the Mechanicals whose scenes seem actively to avoid laughs, but without offering anything much (a real-life dog and a bicycle aside) to replace them.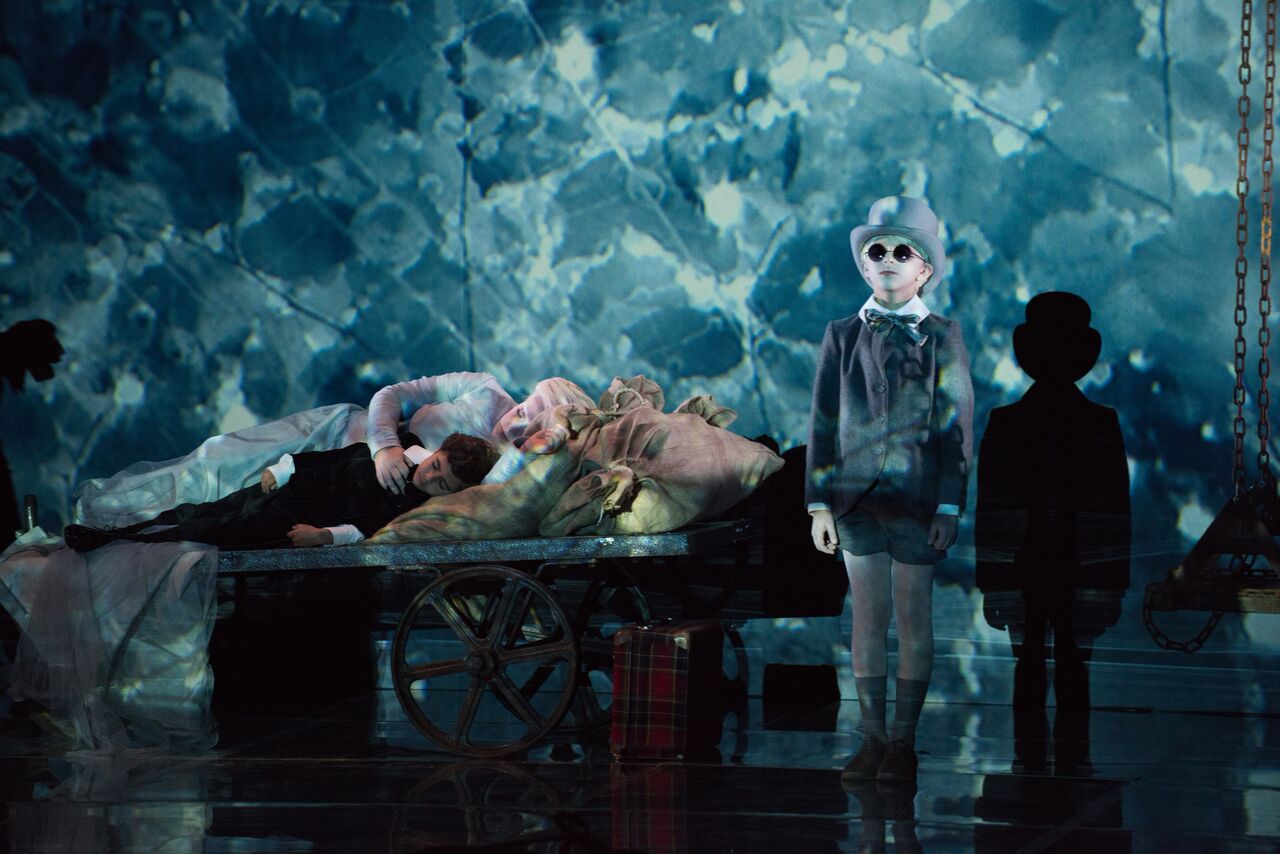 But if the direction lacks magic, the cast is every bit the advertised dream. Channelling all the character denied him in his movements into his song, Iestyn Davies makes a steely Oberon, all androgynous beauty and hypnotic control, spinning his melodies like a web. Blooming blowsily rich next to his purity, Sophie Bevan's Tytania was indecently sensual – not for her the crystalline precision we more often hear in this role. Lovers Nick Pritchard, George Humphreys, Eleanor Dennis (pictured below with Humphreys) and Clare Presland remind us just how much young British vocal talent is currently available, while Clive Bayley's late cameo as Theseus is a luxurious afterthought.
Hampered dramatically by Jones's understated approach and by an acoustic that muffles all text beyond comprehension, the Mechanicals are at least allowed to flourish musically. Lawrence Wiliford's ravishing Flute catches the ear, and Matthew Rose's Bottom is at once the emotional and musical anchor of the production. Chelmford Cathedral's choristers sing with character and confidence, and Ryan Wigglesworth draws an efficient, if uncomplicated, account of Britten's score from the Aldeburgh Festival Orchestra.
Missing that awkward, indefinable sense of the uncanny, that transformative element both Britten and Shakespeare demand, this Midsummer Night's Dream might look the business, but its moonlit happenings are ultimately all lantern and thorn-bush.